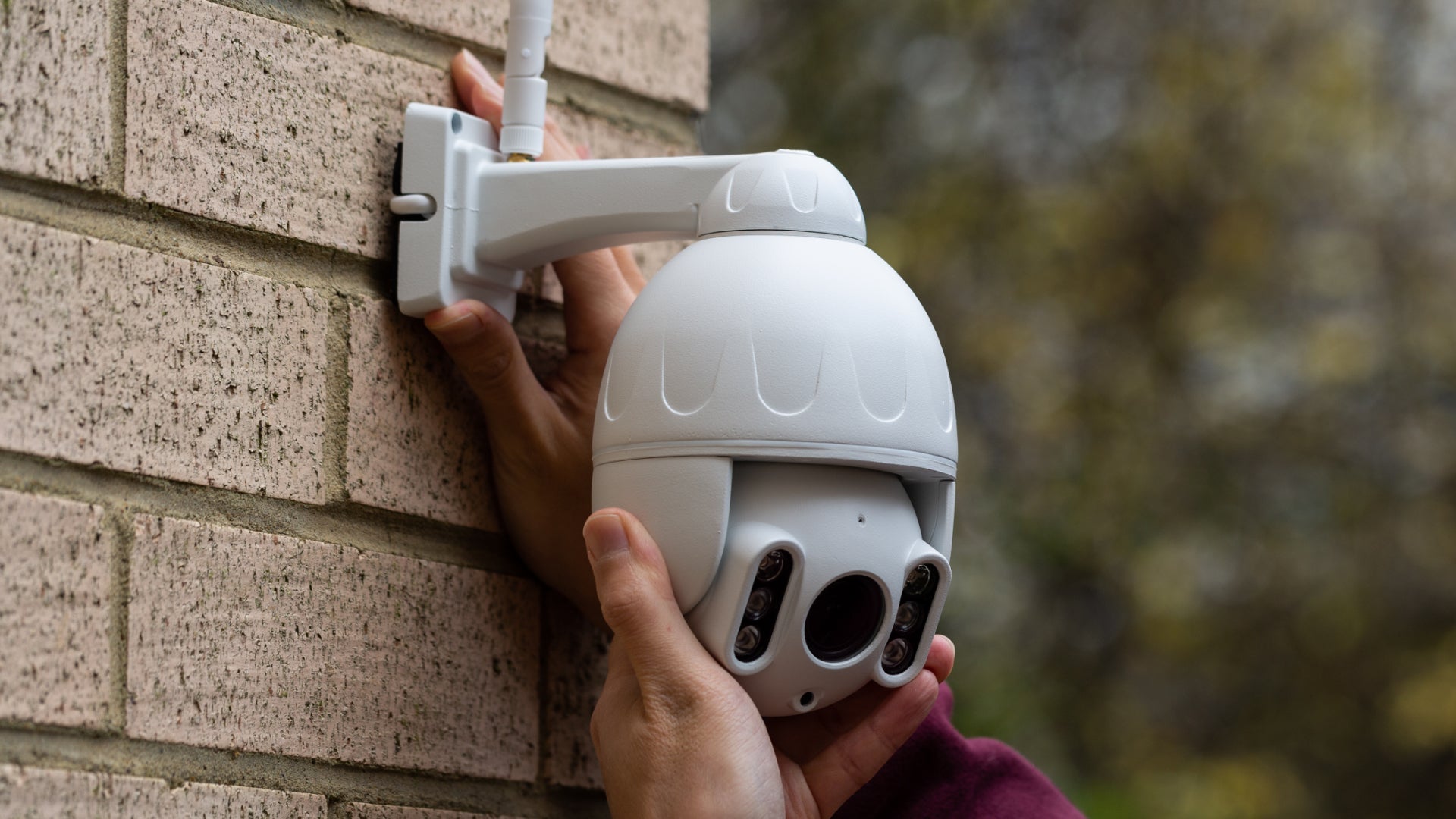 PTZ CCTV Security Cameras
PTZ CCTV Security Cameras
What is a PTZ camera?
PTZ stands for "pan-tilt-zoom", and refers to the capabilities of the camera. A PTZ camera is able to be adjusted remotely so that any suspicious activity is closely followed. The mechanisms within the camera mean that users can easily manoeuvre the camera whenever they need to. This helps to provide greater detail on a specific area within the wider range of the camera.
Some PTZ cameras have sensors which allow them to track movement independently when it is sensed. There is no need to manually adjust the camera, it will automatically follow detected movement by focusing and zooming as appropriate. This is perfect for situations where someone may not be constantly checking a live feed, but it is still necessary to capture any potential problems. It also means that the camera is only recording when it detects unusual activity, greatly reducing the amount of unnecessary footage that takes up storage space.
IP vs Analog
The Zxtech range of PTZ cameras can be categorized into two separate types: IP and analog. Whether customers are replacing existing cameras or looking to expand their security measures, it is important to find the right type of PTZ camera. IP stands for "internet protocol", and refers to a type of camera that transmits footage onto a security network via the internet. This can be done wirelessly or through an ethernet cable connection. IP cameras are preferable for those who want to access a live stream of the footage from a remote location because the system allows this opportunity for anyone with access.
Alternatively, analog cameras do not transmit files directly to the internet. The footage must first be sent to a digital video recorder (DVR), which then converts the files into a digital format that can be stored locally as well as uploaded onto the network. Although for some customers the DVR is a bulky addition to their security system, it means that files are compressed smaller and take up less storage space, perfect for systems that have multiple cameras generating multiple simultaneous files. Analog cameras also require less bandwidth to work, as they don't need to transmit directly across the internet, reducing the strain on the network connection.
These differences determine how the footage from the camera is transmitted and stored, but it does not have a direct impact on the quality of the camera itself. All of the Zxtech cameras offer high-resolution images and clear focus. Often, the best camera for a situation will be one that is capable of integrating with an existing security setup. It is easier to find a camera to match a system already in place, than having to buy an entirely new setup based on a camera.
Benefits of PTZ cameras
Incorporating PTZ cameras into a security system means that there are far greater opportunities to capture events in detail. Because the cameras are capable of automatic adjustment, any potential unsavoury event or movement can be focused on, without the need for human intervention. Often it is not possible to be constantly checking a security live feed, but these cameras ensure that all of the necessary information is still recorded. Details such as facial features or number plates are focused on, so that identification becomes an easier process.
Although standard PTZ cameras are generally already quite useful, there are many added features that can be found on different models as well. Many PTZ cameras offer total night vision so that details can be captured even in complete darkness. Some of the cameras offer coloured night vision for maximum security. Some PTZ cameras also come equipped with microphones to pick up audio. For many situations, audio is just as important as video when it comes to security, although it is often overlooked. Even for those PTZ cameras that do not have this function, it is easy enough to find a compatible external microphone.
PTZ cameras can provide some of the widest coverage from a security camera, thanks to their mobility. The camera can automatically or manually rotate, and many of the Zxtech cameras can move around a total of 360 degrees. This ensures that no matter where they are placed, your commercial or residential building is as safe as possible.
Some of the PTZ cameras are wireless and don't need to be physically connected to the internet. This creates far more opportunities in regards to placing the cameras because they are no longer constrained by the fact that they need to be physically close to a modem. Wireless models can still connect up to 300 metres away, provided that there is no interruption. This means that cameras can be placed everywhere around the property for maximum security.
The camera feed can be accessed remotely anytime, anywhere. Customers can view live or saved footage on their mobile phone or tablet, simply by downloading an app and joining the security network. The app can be used to adjust the camera remotely, as well as receive notifications about detected movement. This convenience means that the security system can be accessed immediately in an emergency, or just whenever it is needed.
PTZ cameras are built to last
PTZ cameras are an investment, therefore it is important to find models that are going to withstand daily knocks. Zxtech has created a line that is all weatherproof and can withstand extreme heat and cold. The metal and glass exteriors of the cameras ensure that they are all totally waterproof. Any of the Zxtech PTZ cameras can be used inside or outside, with great results. The strength of these cameras also means that they are far more difficult to damage intentionally, preventing vandals from easily breaking them. The cameras are versatile, and can easily be used again even if the rest of the security system needs to be changed and upgraded.
Domar strongly believes in the integrity and value of the PTZ cameras on offer. Each of the models comes with a 1-year guarantee so that customers are safe knowing that they are covered for any unexpected issues.
Remote PTZ (Pan, Tilt, Zoom) AHD or IP CCTV Camera. The camera provides a wide area of coverage with one view. Giving excellent quality with Full HD, 3MP, 8MP, 4K, Ultra HD Resolution from Zxtech. Secure your property with our IP and Analogue Range of PTZ cameras, ideal for residential or commercial use. Expand your CCTV kit with the speed dome PTZ cameras with the feature of remote control access using a mobile, PC or recorder.
Next Business Day Delivery
Place orders before 3pm for next business day delivery. Free shipping for all kits.
Customer service
Reach out Mon-Fri, 9am-5pm. Response within 24 working hours.
Refer a friend
Earn rewards when your friends make a purchase.
VAT Invoices
We always include your VAT invoices in your delivery.
Discover everyday privacy protections.
Privacy is Our Priority.
Privacy is a fundamental human right. At Domar CCTV, it is also one of our core values. Your devices are important to your safety. We sell our products to protect your privacy and give you control over your information. It's not always easy, but those are the principles we believe in.

Face Detection Data
Our cameras come with smart face detection features. Face detection data exist only on your device and can be deleted at any time. It does not go anywhere else. Face detection features can be turned off at any time.

Video Footage
Your security footage is protected by your password and cannot be accessed without it. Once you have changed the default password of the device, only manufacturer can reset it, after confirmation of purchase and identity.

Audio Data
Audio recording can be turned on and off if the camera is equipped with a microphone. It cannot be accessed without your password.
App Access
One device can link up with a single mobile app account. However, you may share it with another account and cease sharing at any time.