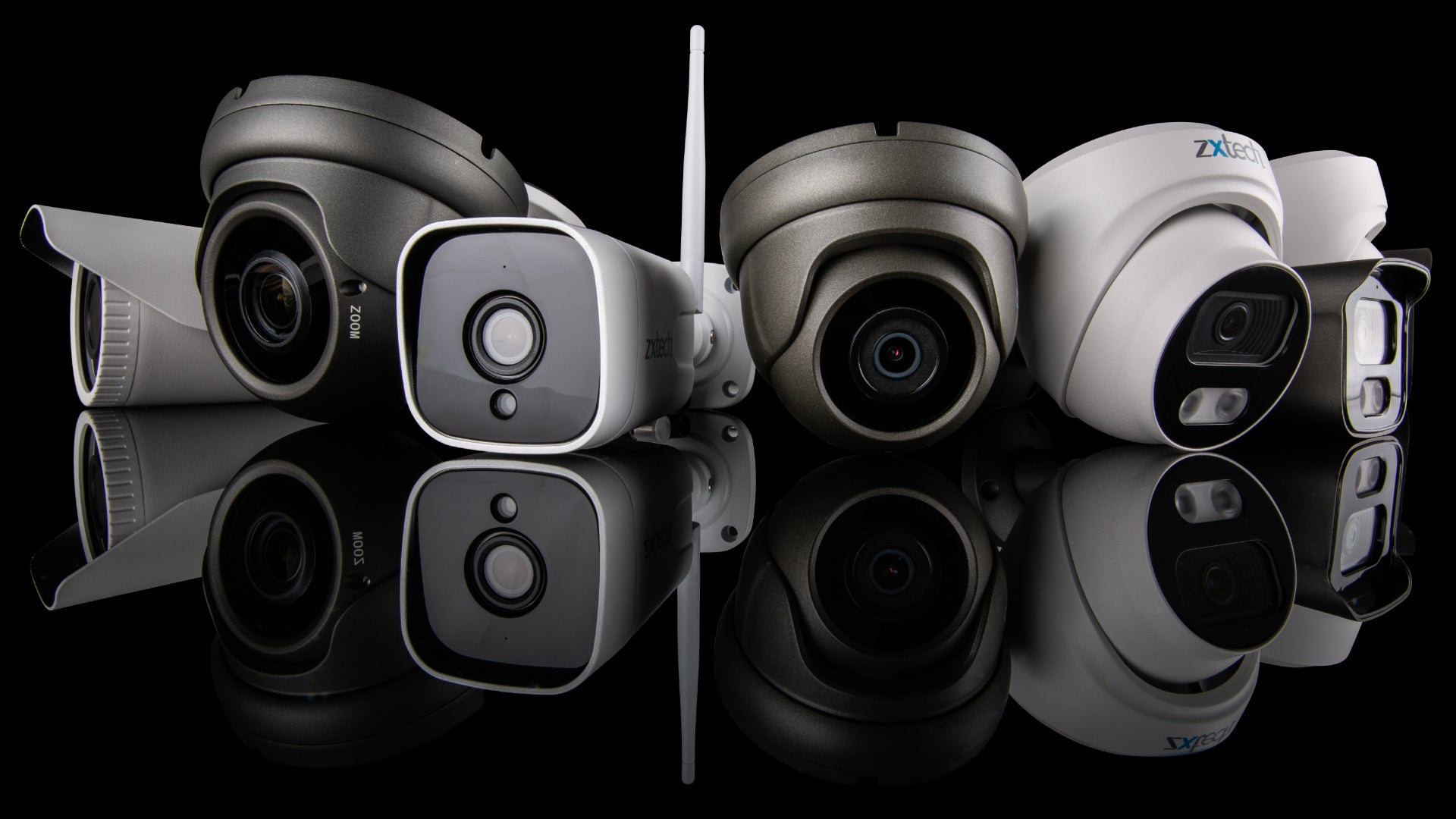 Zxtech CCTV Security Cameras
Zxtech CCTV Security Cameras
Zxtech CCTV Camera System
Zxtech Supply High-Quality IP and analog CCTV Cameras. We work to provide fast Delivery and Warranty for all products. Night Vision, Motion Sensor, IR are key features for any camera provided. Order online or visit In-Store. Protect and Monitor your property or business. We also provide pre-sale and after sale advice and Technical Support. 2.4MP, 3MP, 5MP or 4K (Ultra HD) Cameras.
Design and Craftsmanship
Beautiful, Functional, 360 Degree Rotation
The Zxtech team is involved in every part of the product development. From blueprint, 2D conception, 3D rendering and mould creation. They make sure their badge is printed on a product which we are proud to sell and proud to show to our friends and family. We want their product because it is not only beautiful but also functional, flexible and future-proof.
Waterproof Shell for Outdoor and Indoor Use
Tightly Sealed Body for even the Toughest Weather
British weather is unpredictable. Having a properly sealed camera housing is vital to prevent water damage. Zxtech has invested in developing a waterproof structure that has an IP66 rating. Install your camera indoor or outdoor, exposed to the elements with peace of mind.
Super Wide Angle with 160 Degree View
Great Solution for Small or Large Premises
Super wide angle CCTV lens creates a great viewing angle that is enough for front doors, tall ceilings, Large rooms, big offices, large gardens, car park, shopping centres, warehouses, open fields, farms, manufactural facilities. A great solution for all needs such as domestic, business and manufactural use.
Vandal-proof Steel Casing
Polished to the Finest Detail
Zxtech camera casings are created with intense care. All of their dome and bullet cameras are strong, seamless, tough, and highly polished. This gives the inner components long-lasting protection against vandalism and weather. Our precision leaves no imperfection.
Great Night Vision
Next Generation Infrared Technology Makes the Invisible, Visible
Zxtech Infrared technology gives your camera a brilliant night vision. Whilst infrared light is invisible to human eyes, the camera can see it clearly. Even when it is pitch black, your camera can still see what is going on. Even perfect for long gardens.
Fixed Lens for Brighter and Clearer Image
Easy Installation, Instant Sharpness
Fixed lens kick starts your installation with instant sharp vision. The popular fixed lens makes your camera hassle-free to install. Fixed 3.6mm, 5mm, 6mm lens has less light loss, it creates better colour and Brighter picture.
Varifocal 2.8-12mm Zoom and Focus Lens
Zoom in to see Car Reg, Zoom out to see Car Park
Varifocal Lens is suitable for both large and small spaces. It is flexible to zoom in and focus on a small part and zoom out to overview the landscape. If it is hard to decide lens specification, varifocal is your best solution.
Zxtech Next Generation Chip with Sony Processor
A Very Powerful Brain for Your CCTV System
By working with great chipset partners, the Zxtech chipset turbocharges your CCTV setup. A good chipset removes the bottleneck of your CCTV system allowing your camera to achieve its maximum potential. Zxtech only use the most appropriate chipset to be the brain of your cameras.
Greater Colour with IR Cut Technology
Infrared Filter Enhances the Vibrance of Your CCTV Footage
Extra IR-Cut Filter Removable (ICR) uses a mechanical shutter. It is controlled by a dedicated motor. In daylight, it automatically switches on to block infrared light allowing only natural light to pass through creating beautiful natural footage. At night time, the ICR switches off to allow infrared light to fall on the sensor, creating a sharp and crispy night vision image.
I.P. & Wireless CCTV Camera System Features
100 Metre Wireless Range
Far reaching wireless signal
If there is no obstacle, your wireless camera can reach as far as 100 metres. It is suitable for both small houses and large properties.
Universal Router Compatibility
Stand Alone Possibility
Powerful backend software provides universal compatibility with common routers and modems such as Cisco, D-Link, BT, Virgin, Netgear, Linksys, TP-Link and more. This means your wireless cameras can work alone without any additional special equipment.
Cut the Cord!
Wireless. No data cables needed.
Zxtech strongly believes in a wireless future. Zxtech are committed to cutting the cord on future devices and make the setup and installation as simple as possible.
Remote Viewing Anytime, Anywhere, Any Device
iPhone, iPad, Android Devices, PC, Mac, Chrome, Safari - Anything Relevant
Zxtech smart cameras work on all relevant computer and mobile devices. This includes PC, Mac, modern browsers, iPhone, iPad, and Android devices. It is easy and quick to set up, allowing you to be pro-active in viewing your CCTV footage in real-time - anywhere, anytime.
Modern Homes use Internet Cables
Gigabit Data Bandwidth
Ethernet cables handle data more efficiently. The bandwidth of an ethernet cable can handle more than a gigabit of data per second. It easily has the potential for 4K CCTV for your future-proof expansion plans.
Power Over Ethernet a.k.a PoE
Power and Data with Just 1 Cable
PoE saves time setting up your cameras because it just needs a single cable to connect. Both data and power travel through the ethernet cable from your camera to your recorder. No extra power cable and power adapter is needed. One camera, one cable.
AHD CCTV Camera System Features
Universal Compatibility with Plug&Play
Future-Proof with TVI, CVI, AHD
Zxtech FusionConnect Technology provides universal compatibility to all BNC type cameras. Peace of mind if you are extending your CVBS traditional system. Peace of mind when the technology progresses in the future, such as TVI, CVI, AHD and much more.
AHD with Real-time HD
High Definition at a Smooth 25 fps
Zxtech believes High Definition is the only way forward. By using an AHD camera sensor and a high power chipset, your camera captures a smooth video stream which is transmitted to your CCTV monitor in real-time at a minimum 25 frames-per-second. AHD has no annoying 2-second streaming delays compared to other types of CCTV system. AHD has no interference by network signal. Every frame appears spot on time.
CCTV System Resolutions
Experience 1080p with Full HD
Full High Definition a.k.a FHD
1080p a.k.a Full HD, a.k.a FHD, has in total 2.4 million pixels. Its the widely recommended full high definition standard that is used in high end TVs. It is nearly 3x sharper and clearer than the traditional HD concept and 4.3x sharper than traditional TVL cameras.
3.4x Clearer than HD with 3 Megapixels
150% Clearer than 1080p
3 Megapixels a.k.a 3MP have in total 3.1 million pixels. Its a step up version of the full high definition standard that is used in premium TVs. It is nearly 3.4x sharper and clearer than the traditional HD concept and 150% sharper than Full HD.
5.4x Clearer than HD with 5 Megapixels
2.4x clearer than 1080p
5 Megapixel a.k.a 5MP has in total 5 million pixels. Its a double step up version of the full high definition standard that is used in super premium TVs. It is nearly 5.4x sharper and clearer than the traditional HD concept and 2.4x sharper than Full HD.
4K, Ultra HD, Enough Said
400% sharper than 1080p. 900% sharper than HD
4K a.k.a Ultra HD a.k.a UHD has in total 8.3 million pixels. It's the extreme version of high definition standard that is used in premium and concept TVs. It is nearly 400% sharper and clearer than Full HD 1080p and 900% shaper than the traditional HD concept.
Turn on the Future with H.265
Much Less Bandwidth, Much Higher Performance
H.265 allows 4x Higher Resolution; 1.2x Better Colour; 2x Smooth Video; 4x Higher Efficiency, and endures 40x complexity. Enough said.
Next Business Day Delivery
Place orders before 3pm for next business day delivery. Free shipping for all kits.
Customer service
Reach out Mon-Fri, 9am-5pm. Response within 24 working hours.
Refer a friend
Earn rewards when your friends make a purchase.
VAT Invoices
We always include your VAT invoices in your delivery.
Discover everyday privacy protections.
Privacy is Our Priority.
Privacy is a fundamental human right. At Domar CCTV, it is also one of our core values. Your devices are important to your safety. We sell our products to protect your privacy and give you control over your information. It's not always easy, but those are the principles we believe in.

Face Detection Data
Our cameras come with smart face detection features. Face detection data exist only on your device and can be deleted at any time. It does not go anywhere else. Face detection features can be turned off at any time.

Video Footage
Your security footage is protected by your password and cannot be accessed without it. Once you have changed the default password of the device, only manufacturer can reset it, after confirmation of purchase and identity.

Audio Data
Audio recording can be turned on and off if the camera is equipped with a microphone. It cannot be accessed without your password.
App Access
One device can link up with a single mobile app account. However, you may share it with another account and cease sharing at any time.