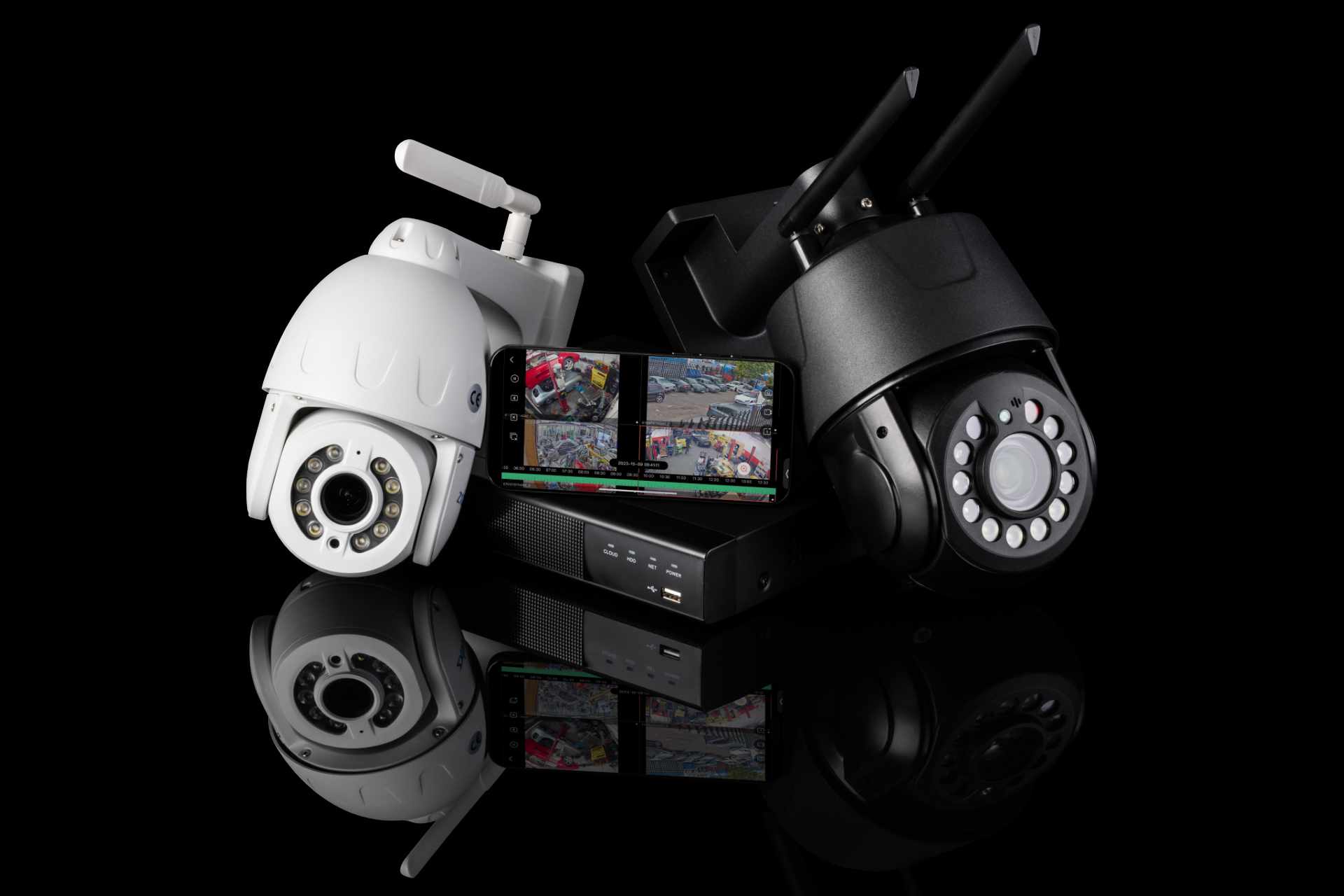 PTZ CCTV System Complete Kits
PTZ CCTV System Complete Kits
Introducing Our PTZ CCTV Kits
Explore the future of surveillance with our extensive range of PTZ CCTV kits. These systems provide the capability to remotely pan, tilt, and zoom your camera, all from the convenience of a smartphone or computer. Stay connected and maintain vigilance from any corner of the globe.

Flexibility at Your Fingertips
Gone are the days of climbing ladders to adjust your camera's view. PTZ cameras offer unparalleled flexibility. Their nimble design lets you follow individuals and zoom into suspicious activities seamlessly, ensuring your property's safety at all times.
High-Speed, High-Quality, and Cost-Effective
Our PTZ cameras are equipped with high-speed motors, ensuring rapid surveillance of your surroundings without breaking the bank. These systems strike the perfect balance between efficiency and affordability.
Zoom to Suit Your Needs
Our range of cameras caters to diverse needs. From the 5x motorised lens suitable for residential areas to the 20x zoom for expansive farm properties, you're guaranteed unmatched clarity. With 4K resolution, even distant objects appear crisp, ensuring you miss nothing.
Superior Night Vision with Sony Starvis Sensor
All our PTZ systems feature the industry-leading Sony Starvis imaging sensor. This cutting-edge technology offers superior night vision capabilities. Whether you're looking for detailed colour videos in the dark or infrared night vision, our cameras guarantee optimal results, setting a benchmark in the security industry.
Future-Proof Your Surveillance
Our cameras range from 5-megapixel lenses to ultra-clear 8-megapixel 4K lenses. These advanced systems are designed to serve you for years to come. With 4K resolution offering four times the detail of standard 1080p, even our 5-megapixel cameras capture 250% more detail in footage, ensuring you're always ahead of the curve.
Advanced Patrol Features
Elevate your surveillance with our advanced patrol features. With state-of-the-art automation techniques, boost your camera's motor performance and set up timely patrols around your property. While you have the freedom to set numerous pre-defined points, typically, 3 to 4 points ensure comprehensive coverage.
Comprehensive Package with Optional Upgrades
Every PTZ system we offer comes with the essential power plugs, cables, and recorders. For those looking for extended recording durations, we also offer optional hard drives, enabling up to two months of recording with a storage capacity of up to 8TB.
Invest in peace of mind and security with our state-of-the-art PTZ CCTV systems, a harmonious blend of technology, functionality, and affordability.
Next Business Day Delivery
Place orders before 3pm for next business day delivery. Free shipping for all kits.
Customer service
Reach out Mon-Fri, 9am-5pm. Response within 24 working hours.
Refer a friend
Earn rewards when your friends make a purchase.
VAT Invoices
We always include your VAT invoices in your delivery.
Discover everyday privacy protections.
Privacy is Our Priority.
Privacy is a fundamental human right. At Domar CCTV, it is also one of our core values. Your devices are important to your safety. We sell our products to protect your privacy and give you control over your information. It's not always easy, but those are the principles we believe in.

Face Detection Data
Our cameras come with smart face detection features. Face detection data exist only on your device and can be deleted at any time. It does not go anywhere else. Face detection features can be turned off at any time.

Video Footage
Your security footage is protected by your password and cannot be accessed without it. Once you have changed the default password of the device, only manufacturer can reset it, after confirmation of purchase and identity.

Audio Data
Audio recording can be turned on and off if the camera is equipped with a microphone. It cannot be accessed without your password.
App Access
One device can link up with a single mobile app account. However, you may share it with another account and cease sharing at any time.