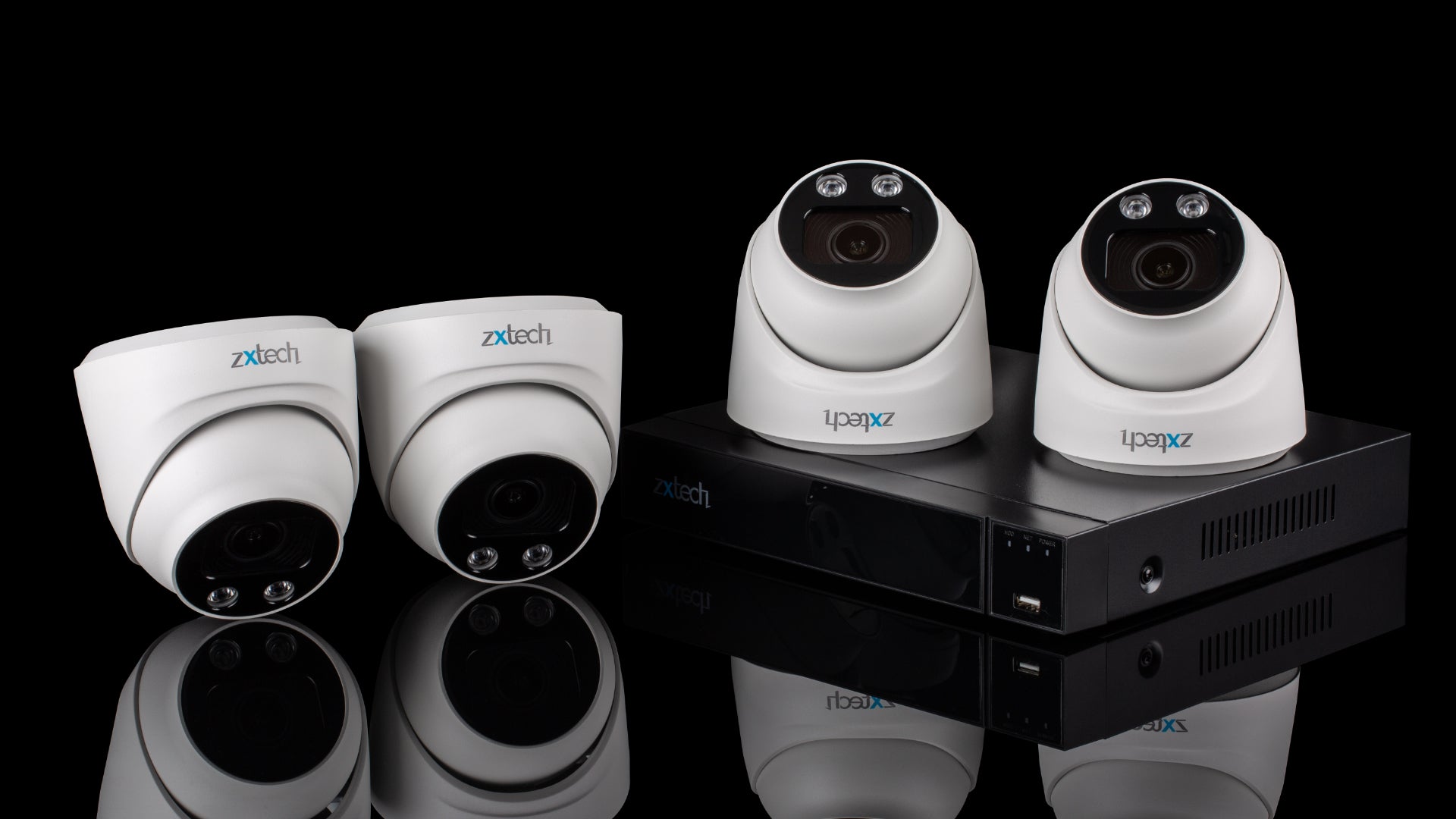 IP CCTV Kits
5/8 Megapixel PoE IP CCTV kits
Our Zxtech 5MP and 4k range PoE systems will give you a high-quality HD IP CCTV and many advantages over traditional CCTV. Explore a wide range of superior image quality cameras, giving you flexibility and peace of mind with IP CCTV Cameras. These reliable wired systems will protect your property with everything you need to do it yourself or have a professional installer. With these Super HD and Ultra HD CCTV kits, you can see clearly in Super Ultra HD every important detail which is essential for evidence.
IP CCTV Kits with Smart Detection
Super Ultra HD IP CCTV kits for great flexibility
This system can be remotely viewed on a smartphone or tablet, having this one as a second system is also a choice. You simply scan the QR code using your phone and add it to FreeIP mobile app. The system can be monitored from a PC or tablet. These systems are coming with built-in PoE NVR and you only need one network cable to connect the cameras to NVR.
Built-in PoE NVR IP CCTV Kits
Our Zxtech Mini Range PoE IP system comprises up to 4 cameras that can be installed indoors or outdoor. You can secure the entrance door to your home, driveway or garden. the cameras included have wide-angle lenses and a PoE connection, one cable is enough to provide power and video. 5/8 Megapixel PoE IP kits are ideal for use in residential property. CCTV system with stunning images that won't let you down. Capture images or videos from vandal-proof external or internal cameras, record real-time via compact Mini CCTV NVR and remote viewing via a smartphone app. A small and sleek design our Zxtech Mini CCTV NVR is designed for any home or office and features a 5/8MP Super HD resolution.
Prevent crime with Super & Ultra HD CCTV
Knowing what is happening at any time with powerful night vision and the ability to mount the cameras inside or outside will give you peace of mind and an expandable Super HD security system to suit homes, stores or offices. A wide range of full security kits come complete in the box. 24/7 recording or motion detection recording your property is protected around the clock. Thanks to the night vision of the camera the NVR will record on a pre-installed hard drive day and night with high-quality footage.
The system supports an easy-to-use mobile app to control your system remotely. Simply connect your recorder to the Internet, download the mobile app and scan the QR code. And it is available for iOS and Android and the interface is user-friendly. Secure any high-risk area with a 1080p PoE system with up to 4 PoE IP CCTV cameras. As an extra protection, you can use the cameras indoors as an additional layer of security.
Next Business Day Delivery
Place orders before 3pm for next business day delivery. Free shipping for all kits.
Customer service
Reach out Mon-Fri, 9am-5pm. Response within 24 working hours.
Refer a friend
Earn rewards when your friends make a purchase.
VAT Invoices
We always include your VAT invoices in your delivery.
Discover everyday privacy protections.
Privacy is Our Priority.
Privacy is a fundamental human right. At Domar CCTV, it is also one of our core values. Your devices are important to your safety. We sell our products to protect your privacy and give you control over your information. It's not always easy, but those are the principles we believe in.

Face Detection Data
Our cameras come with smart face detection features. Face detection data exist only on your device and can be deleted at any time. It does not go anywhere else. Face detection features can be turned off at any time.

Video Footage
Your security footage is protected by your password and cannot be accessed without it. Once you have changed the default password of the device, only manufacturer can reset it, after confirmation of purchase and identity.

Audio Data
Audio recording can be turned on and off if the camera is equipped with a microphone. It cannot be accessed without your password.
App Access
One device can link up with a single mobile app account. However, you may share it with another account and cease sharing at any time.