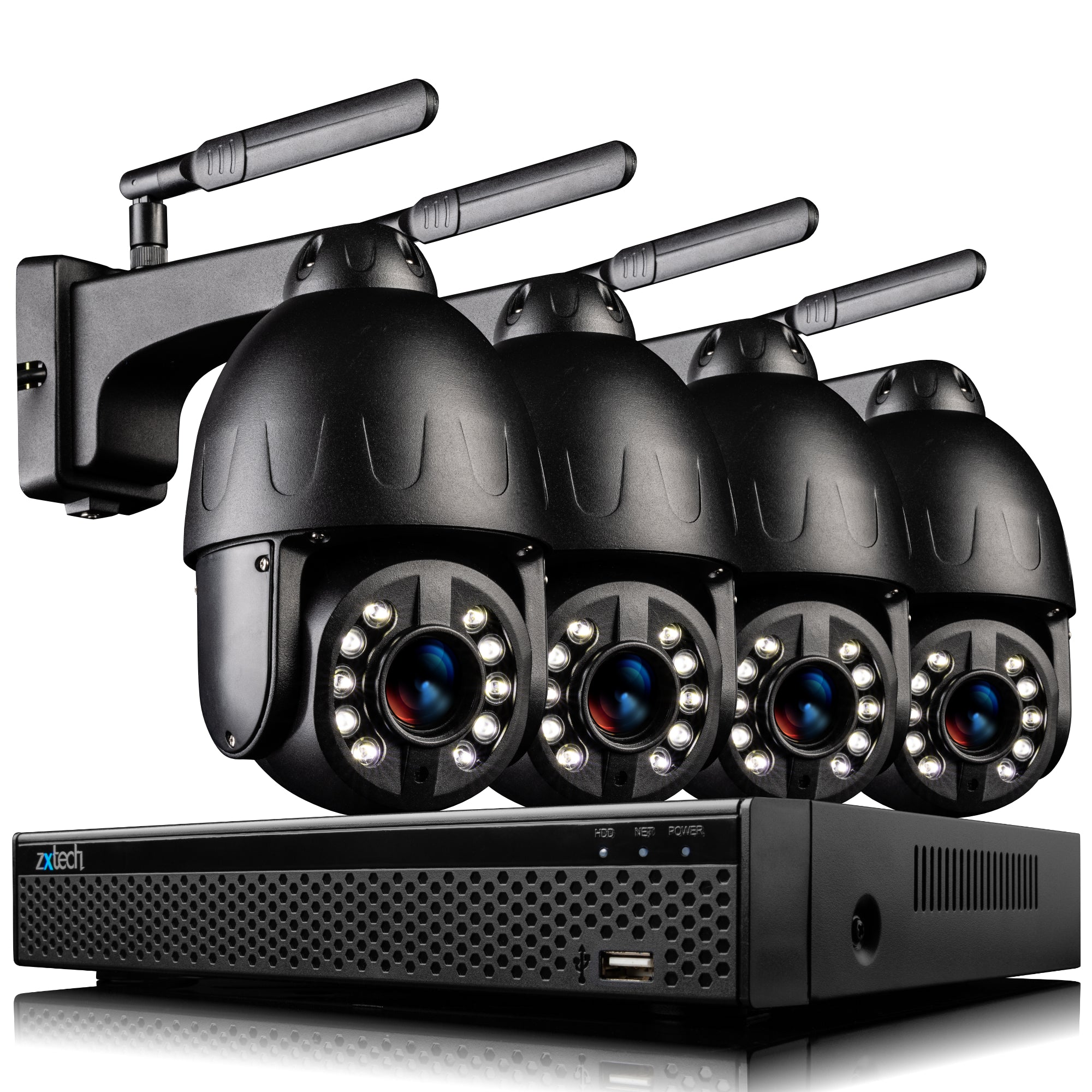 Zxtech 5MP/4K Wireless PTZ CCTV System - 4 x WiFi Security Camera 5X/10X/20X Auto Zoom Colour Night Vision Outdoor 2-Way-Audio 9CH Sony Starvis
SKU: WF4M9Y0
---
UK next business day delivery
UK VAT invoices included
30 days hassle free returns
12 month warranty
In stock, ready to ship
What's in the box
4 x Zxtech Tropox PTZ 5X or 10X Zoom 5MP CCTV Cameras
1 x 9CH 5MP Zxtech Home NVR
4 x Camera Power Adapters with 3 Metres Leads
USB mouse
Optional HDD
System Features
A Complete Wireless PTZ System
Sony Starvis Low Lux Sensor
Wireless 8dB Ultra Focused Connectivity
Intense LED and Infrared Fusion Night Vision
Optional 5X and 10X optical zoom
Colour Footage 24/7 even During the Night
Automatic PTZ with Preset Patrol Option
5 Megapixel Super HD
2-Way Audio with Built-in Mic and Speaker
Smart Face and Humanoid Detection
Smart alert as well as trigger a loud alarm sound
P2P QR Scan Mobile App Connection
Access and control the camera anyway anytime once setup complete
SD Card Slot with up to 128GB
Waterproof IP67
Vandal Proof
Onvif 2.4+
H265+
Optional up to 8TB HDD
Optional 128GB onboard SD storage per camera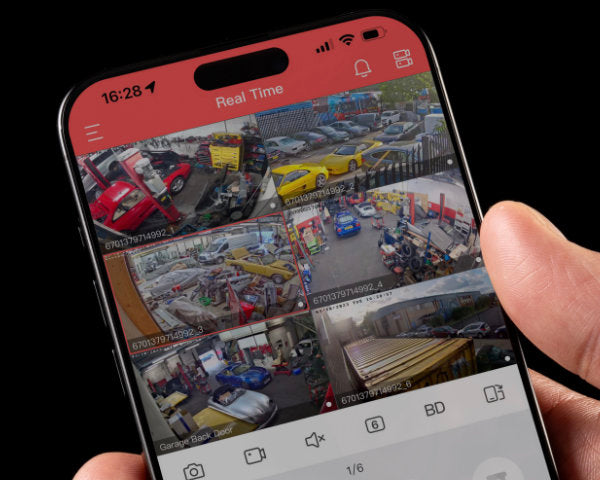 Free App
Stream Live, Receive Real-time Alerts, Snap & Share, Control PTZ, and Playback Anytime, Any Where.
Using the free app, stream live in 4K, receive real-time alerts, snap, share, and playback from anywhere. Select channels and times for instant playback, and view multiple cameras simultaneously. For the best view, simply rotate your phone to widescreen. You can also remotely control pan, tilt and zoom.
World Class Sony Sensor
Wireless PTZ System Vision Features
Experience unparalleled clarity with Zxtech's 5MP Sony Starvis Sensor, renowned for exceptional low-light sensitivity and Super HD quality. A beacon in the world of home and professional security, it promises superior HDR, energy efficiency, and extended longevity. Every Zxtech IP Camera embraces this diamond standard, delivering world-class footage and unmatched night vision. Unlike others, Zxtech transparently and exclusively collaborates with Sony, guaranteeing premium reliability.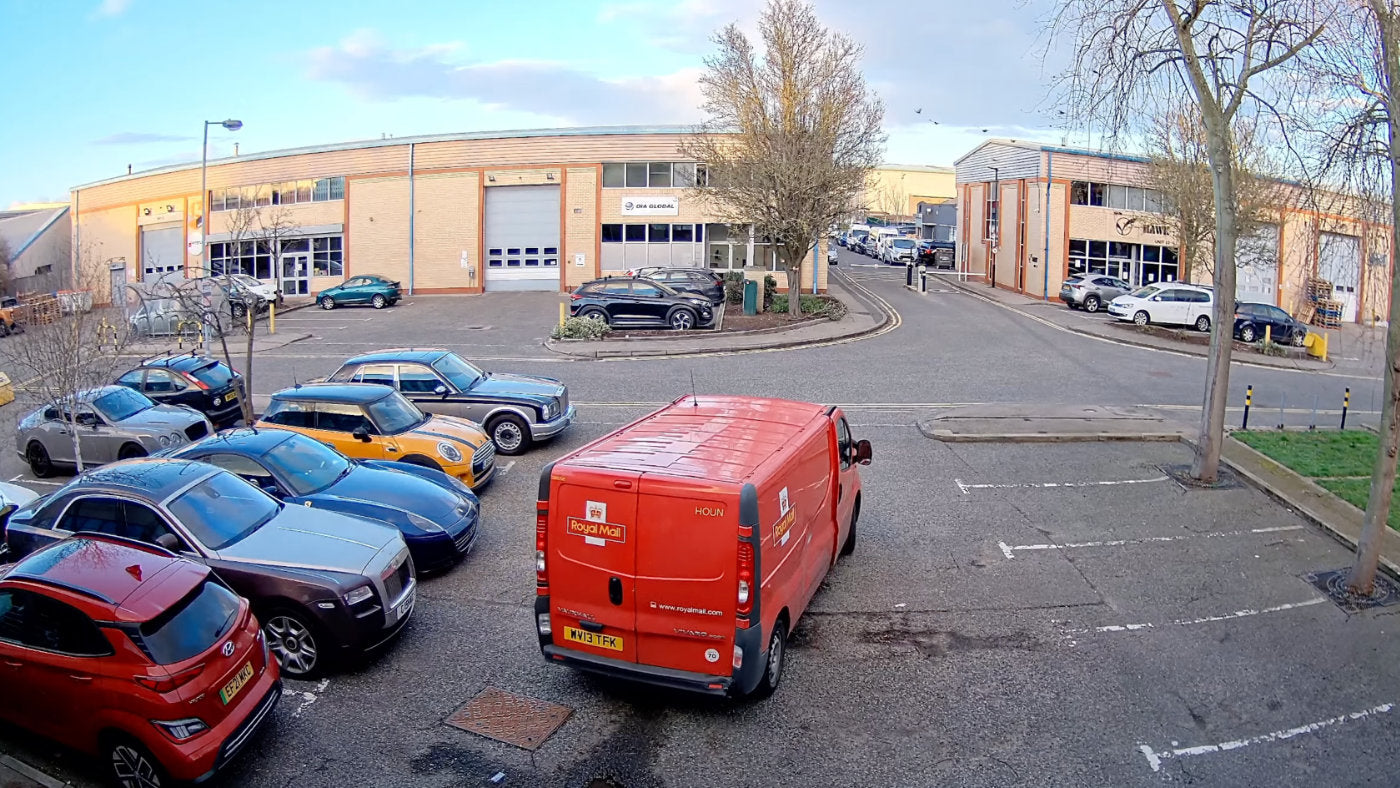 Watch Live Stream
From Zxtech 4K CCTV Camera
Ensure your internet speed is optimal and wait a bit longer for the 4K high-quality stream to fully load on your device. YouTube takes a while to buffer the highest quality image.
2.5X
Shaper than 1080P
5 megapixel
92°
Wide Viewing Angle
5X Option*
2 in 1
Infrared & IntenseLED Colour Night Vision
Discover the next generation of night vision with our Wifi PTZ CCTV kits, featuring integrated fusion infrared-LED technology. While the infrared captures discreet black and white footage, the LED bulbs illuminate to offer vibrant, full-colour night-vision recordings. Customize your viewing preferences via the camera's software. Furthermore, Zxtech's Wireless PTZ camera intelligently switches between these modes: utilizing infrared during quiet hours and activating bright LED upon detecting human movement, ensuring detailed color captures during night events.
Infrared
Be Ready for the Future
2MP vs 5MP
Upgrade to our 5MP Super HD CCTV cameras and experience clarity like never before. Offering 2.5X the sharpness of standard 1080p HD, our 5MP cameras ensure crystal clear footage, making details such as car registration plates easily discernible even from afar. Despite a slight price difference from the traditional 2MP cameras, the enhanced visual quality makes them the top choice for a modern wireless CCTV system. Step into the future of surveillance with superior resolution and precision.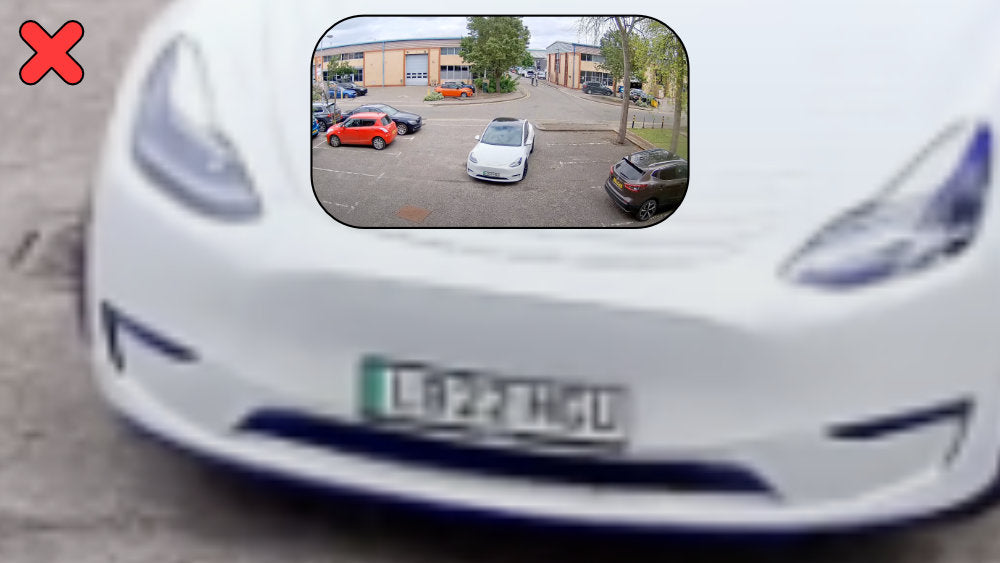 2 Megapixel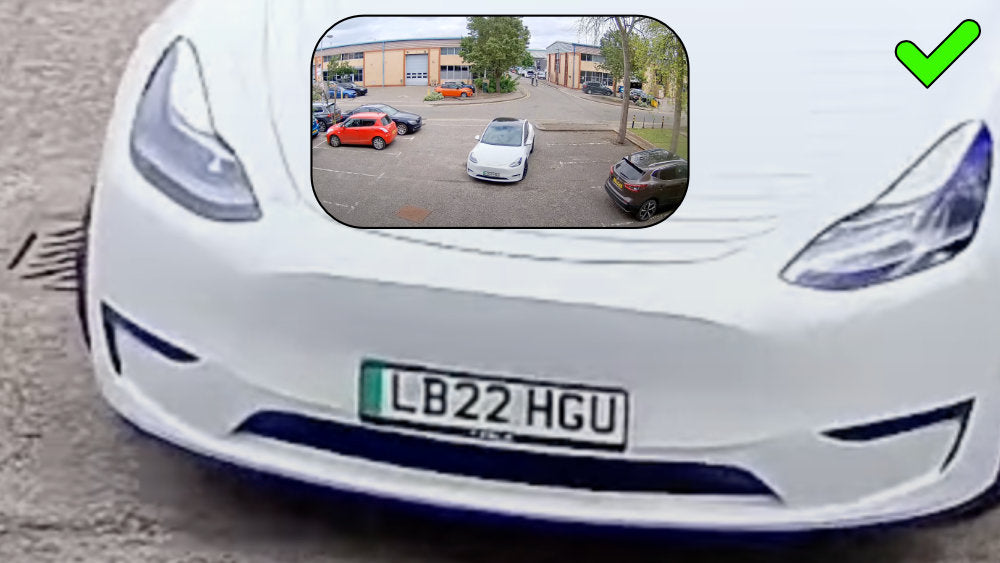 Sorcery of Modern CCTV Technology.
120dB HDR
For the best security footage, it's vital to avoid areas that are overly bright or too dark, as key details can go unnoticed. Zxtech's advanced HDR video processing ensures that images captured at different exposures merge seamlessly, offering consistent contrast and highlighting every essential detail in your footage.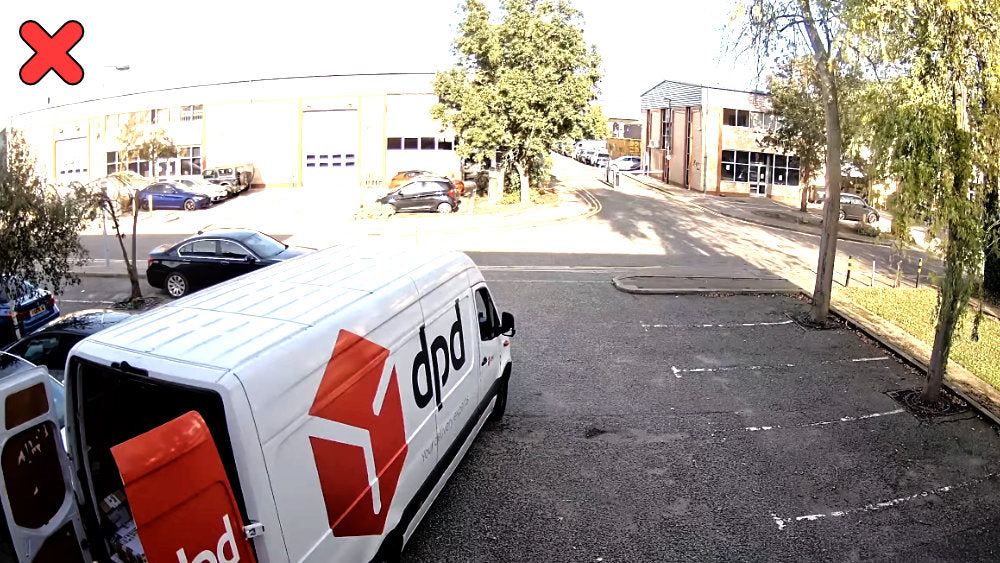 No HDR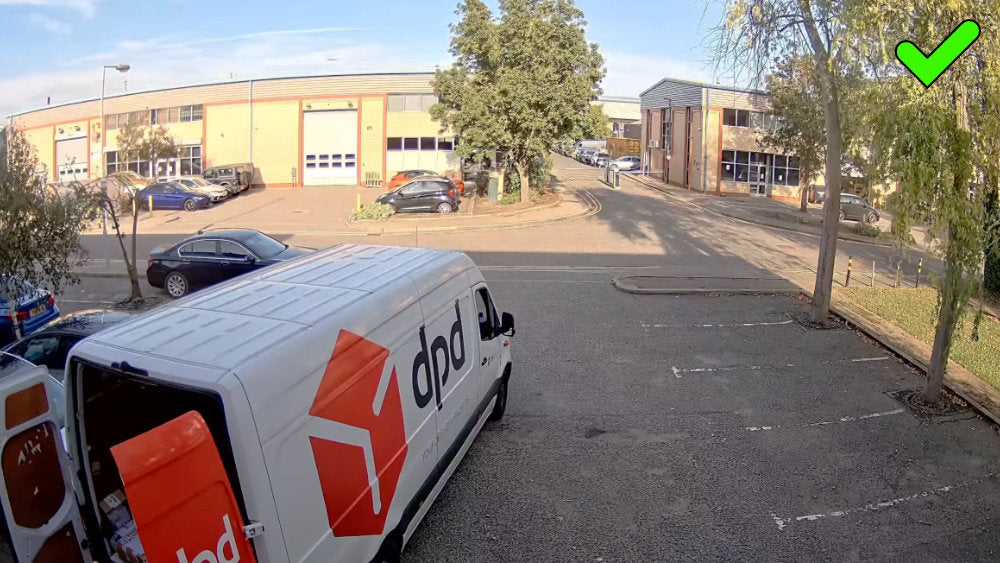 CCTV Kits with the Best Wireless Cameras
Wireless PTZ Camera Features
Tropox Range Explained
Tropox PTZ v.s. Other Tropox Line Up
Choosing the right option is crucial, as each offers its own unique benefits. Review our detailed comparison table to make an informed decision. Avoid the hassle of lengthy exchanges by selecting the right product from the start
Available Option
Tropox PTZ
(Included in This System)
Tropox Pro
(Not included in this system)
Tropox
(Not included in this system)
Lens
2.7-13.5mm Varifocal Lens
5-50mm Varifocal Lens
2.7-13.5mm Varifocal Lens
Zoom
Optical 5X Motorised Zoom
Optical 10X Motorised Zoom
Optical 5X Motorised Zoom
Wireless Strength
8dB Extremely Focused Coverage
5dB Longer & Directional Coverage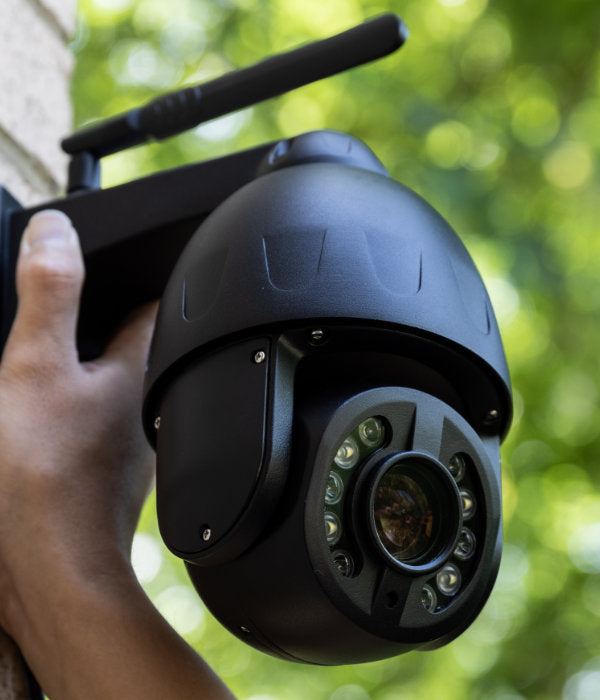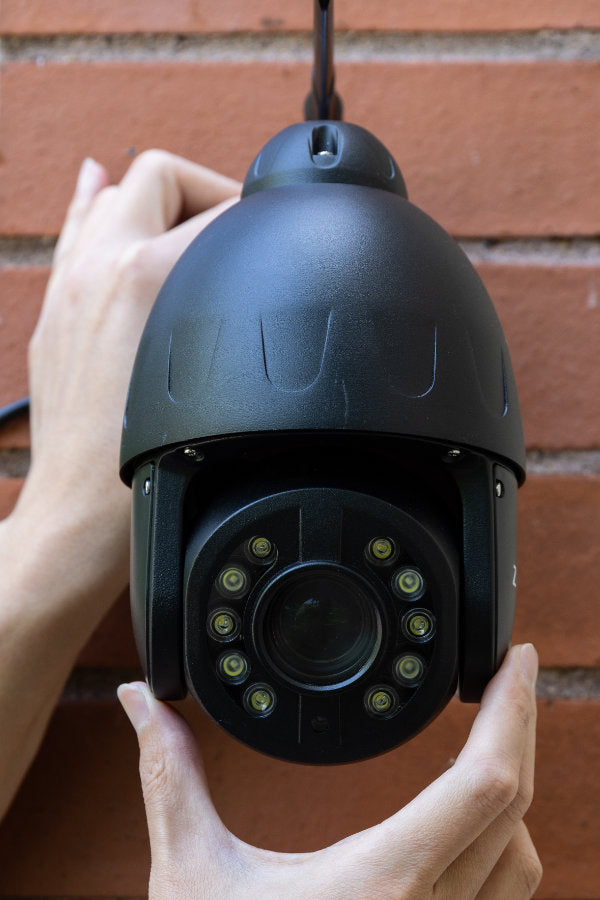 Wireless CCTV for All Situations, All Weather.
Crafted for any situation and all weather, our wireless CCTV cameras are housed in robust metal casings to deter vandalism and ensure longevity. Designed specifically for the unpredictability of British weather, from Inverness to London, these cameras boast an IP67 rating, ensuring resilience against both rain and snow. Whether mounted on a wall or ceiling, indoors or out, Zxtech's compact yet durable design guarantees protection and versatility for any property.
Metal Casing
Anti-Vandal Design
Discover Zxtech's premium range of IP cameras, each encased in solid, vandal-resistant metal. Far superior to common plastic alternatives, our cameras ensure lasting durability and an extended lifespan. Perfectly designed for both indoor and outdoor settings, they stand strong against potential vandalism, safeguarding your security footage reliably.
IP67
Waterproof Design
Experience top-tier security with the Zxtech PTZ Wireless Security Camera, tailor-made for Britain's diverse weather. Boasting an IP67 rating, it stands resilient from Inverness rains to Swansea snowfalls. Ideal for AirBNBs, car parks, or terraced homes, its robust nature ensures longevity, even in exposed locations. For maximum endurance, consider sheltered mounting under areas like porches. Choose Zxtech for reliable, all-weather surveillance.
PTZ
Pan, Tilt and 5X or 10X Auto Zoom, with Extra Digital Zoom
Introducing Zxtech's PTZ CCTV system, offering premium features without the premium price tag. Choose between 5X zoom for clear views up to 35 metres, or 10X zoom to see up to 100 metres in optimal light. Easily control pan, tilt, and zoom functions via our free mobile app from anywhere globally. Set up patrol routines with our step-by-step guide and control your PTZ through the app or our desktop software. Experience world-class surveillance at an affordable cost.
Built-in Mic and Speaker
Discover Zxtech's latest PTZ Wireless Security Camera range, designed for intuitive user experience. These cameras boast integrated microphones and speakers, eliminating the need for complex cabling or external audio devices. With the CamHiPro App, available on both Apple and Google App Stores, engage in real-time two-way communication, be it greeting a visitor or interacting with a pet. Experience enhanced security coupled with seamless audio interactivity.
Note: Avoid Connecting to Mesh
Ultra Strong Wireless Signal
Our latest PTZ camera system delivers unparalleled wireless connectivity up to 300 metres in open spaces, thanks to its powerful 8dB antenna – an alternative to the broad range 3dB antennas. This ensures a more focused and directional signal, ideal for large sites. However, the range can vary with walls or doors. We advise against using mesh routers as they may disrupt continuous footage. Experience fewer dropouts and superior signal strength with our state-of-the-art CCTV system.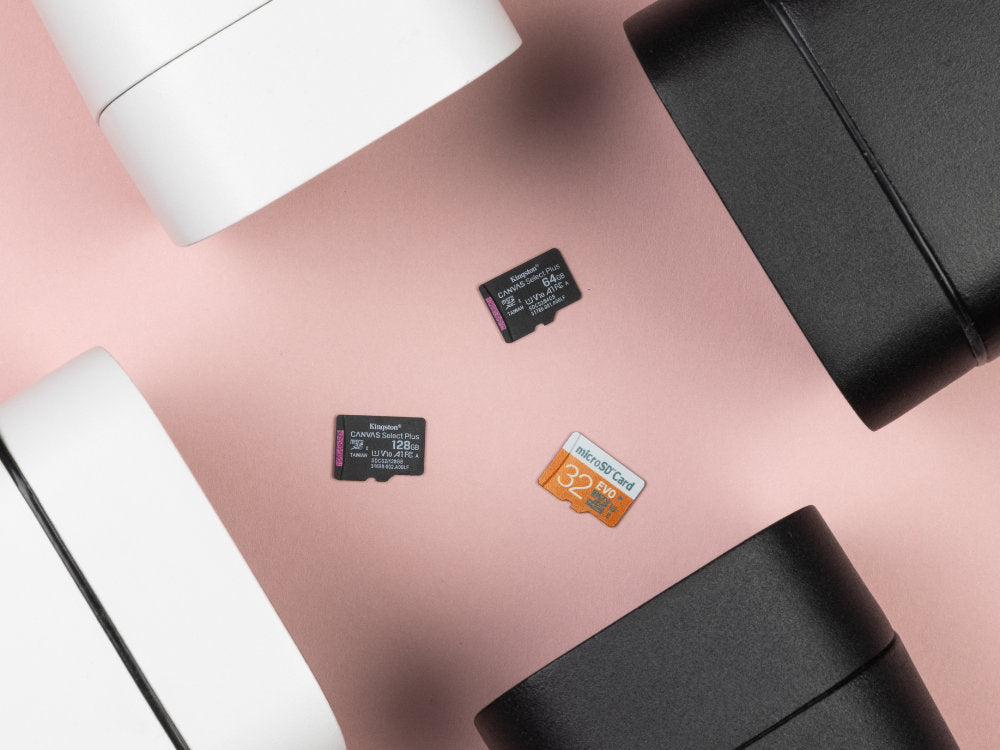 128GB SD Card Slot
Equip your CCTV cameras with built-in SD card slots for added peace of mind. Insert up to 128GB of storage to continuously capture footage. Utilising loop-recording, the system automatically overwrites the oldest recordings when full. While these slots offer emergency backup, an external recorder is recommended as the primary storage solution to ensure uninterrupted surveillance. Ensure safety even when the primary recorder faces issues.
CCTV Kits enhanced by AI Technology
Wireless PTZ System Motion Detection Features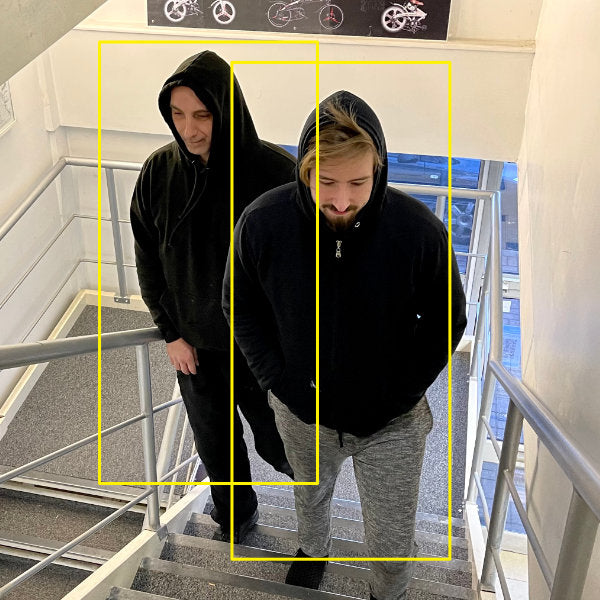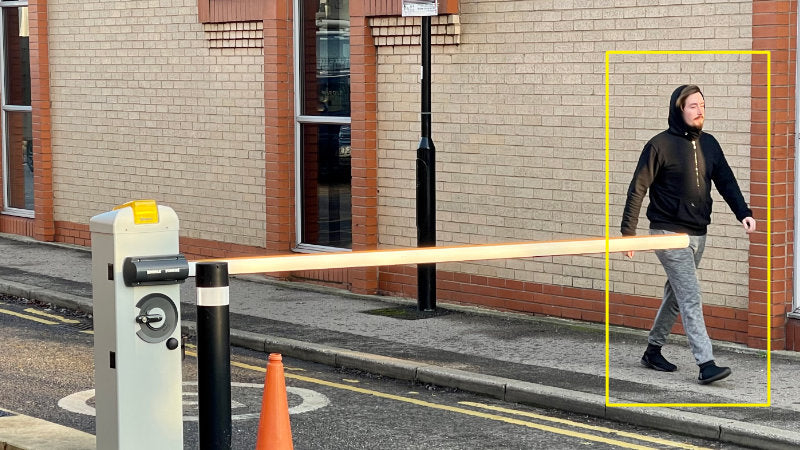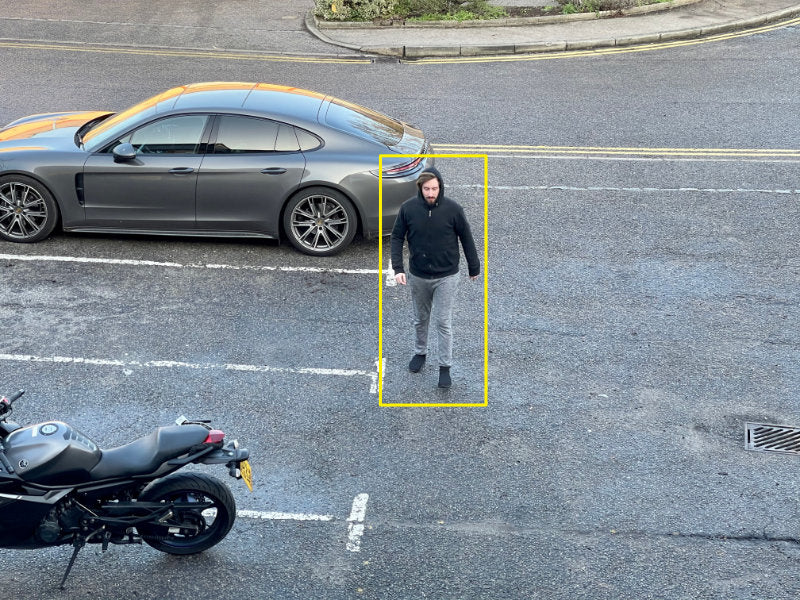 Loaded with AI Features
Smart Humanoid Detection.
Discover the advanced capabilities of Zxtech Tropox's built-in AI software. Featuring precise face and humanoid detection, it promptly highlights intruders with an optional yellow frame. Configure alarms with five distinct alert options directly from the camera and app. Move beyond traditional motion detection and embrace accurate human shape identification. Set up is swift with our free app, ensuring real-time alerts for utmost security.
Wireless CCTV System backed by the Best Zxtech NVR
Wireless PTZ System NVR Features
Experience next-level surveillance with our state-of-the-art NVR unit. This compact and modern recorder supports motion detection alerts and has built-in audio and USB ports. Utilising H.265+ technology, save storage with efficient footage compression, and enjoy the convenience of connecting up to 9 IP cameras, including future 4K expansions. Easily access your cameras on-the-go via mobile. With 5MP video quality, up to 8TB HDD capacity, and continuous loop recording, never miss a moment and always stay in the know. Upgrade your security with our seamless solution.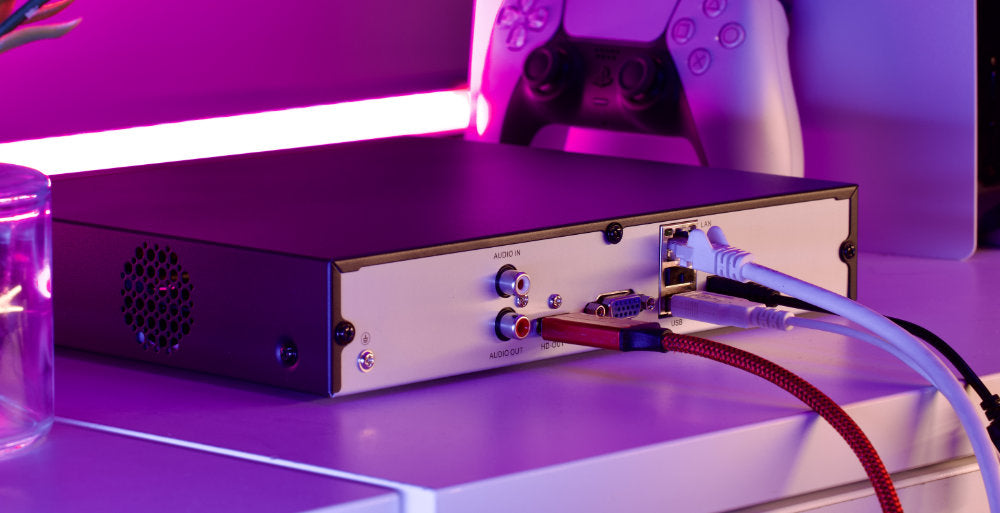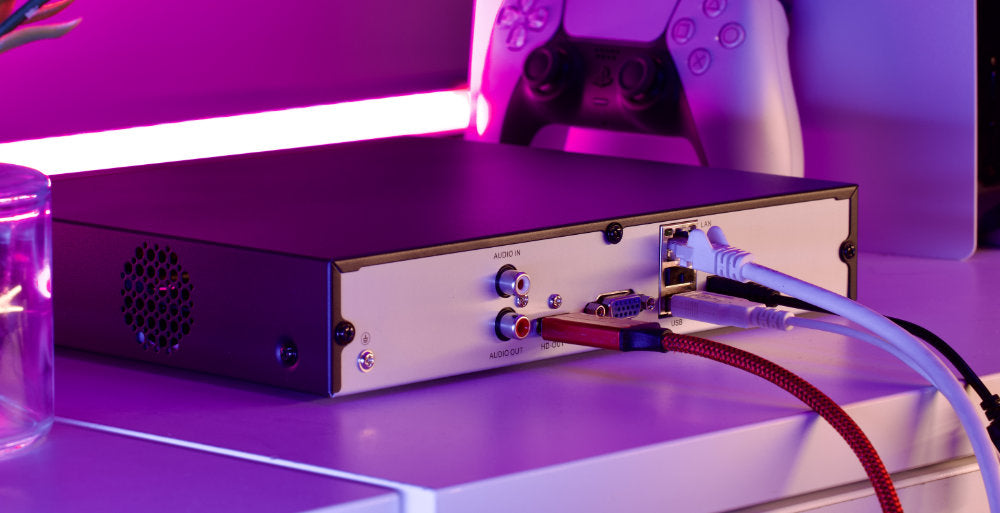 Network Connection
Connect your home router or switch to get online.
HDMI + VGA
You can connect up to 2 displays or monitors at the same time.
2x USB
The NVR has a USB port on the front and another on the back, allowing for easy connection of a mouse or memory stick to seamless extract CCTV footage from the hard drive.
Audio Out & Audio In
Connect external speakers to playback sound if the camera supports audio recording. Also you can connect external microphone to the recorder.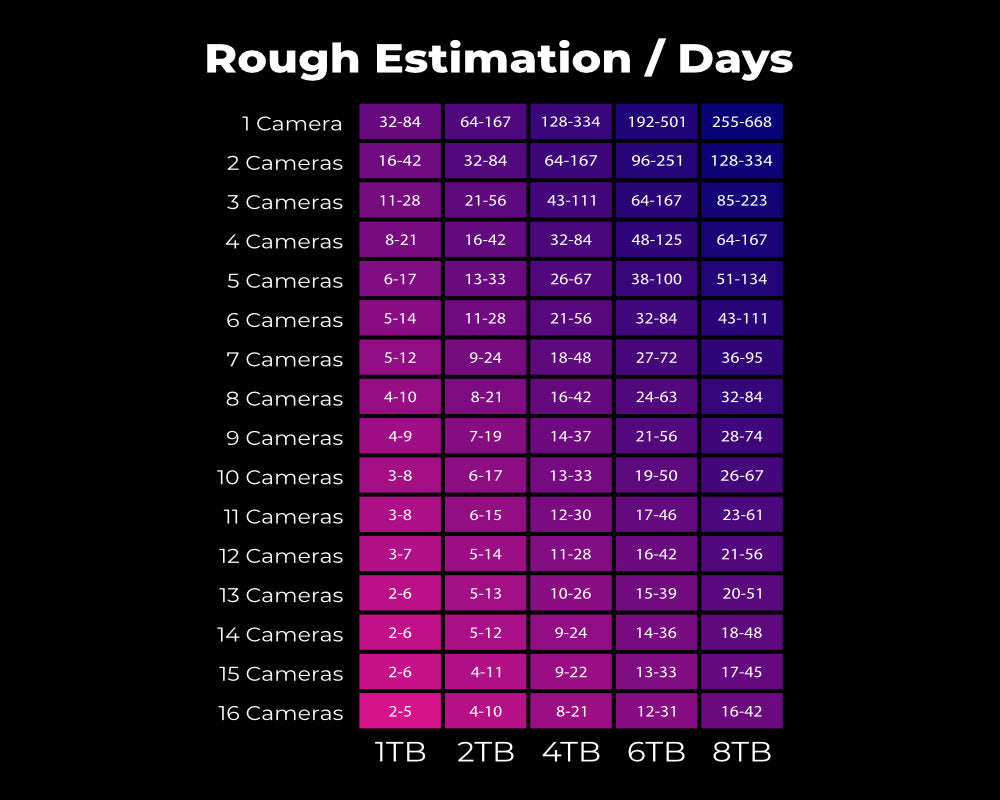 With Loop Recording
Maximized HDD for "Marathon" Recording.
The comprehensive wireless CCTV system offers the option of an impressive 8TB of hard drive storage. Coupled with the H265+ compression technology, your recordings will consume significantly less space. This means your 8TB hard drive can store up to 4 times more footage than the older H264 format. Thanks to the automatic loop recording feature, your footage will automatically roll over, overwriting the oldest clips. You'll never lose any crucial evidence.
Complete Wireless System Enhanced by the Latest Technology
Wireless PTZ System Features
Discover Zxtech's revitalised CCTV NVR System - sleek design meets intuitive UI for an unparalleled user experience. Dive into a fresh live view, playback, and configuration space. Compatible with most ONVIF 2.4+ IP cameras, enjoy Super HD clarity and manage with ease both locally and remotely. Harness the power of motion detection, save space, and stay informed with real-time mobile alerts via the free Bitvision app. Storage options extend up to a whopping 8TB. Elevate your surveillance game.
Mac, PC, Smart Phone, TV
Access on Any Device, Any Time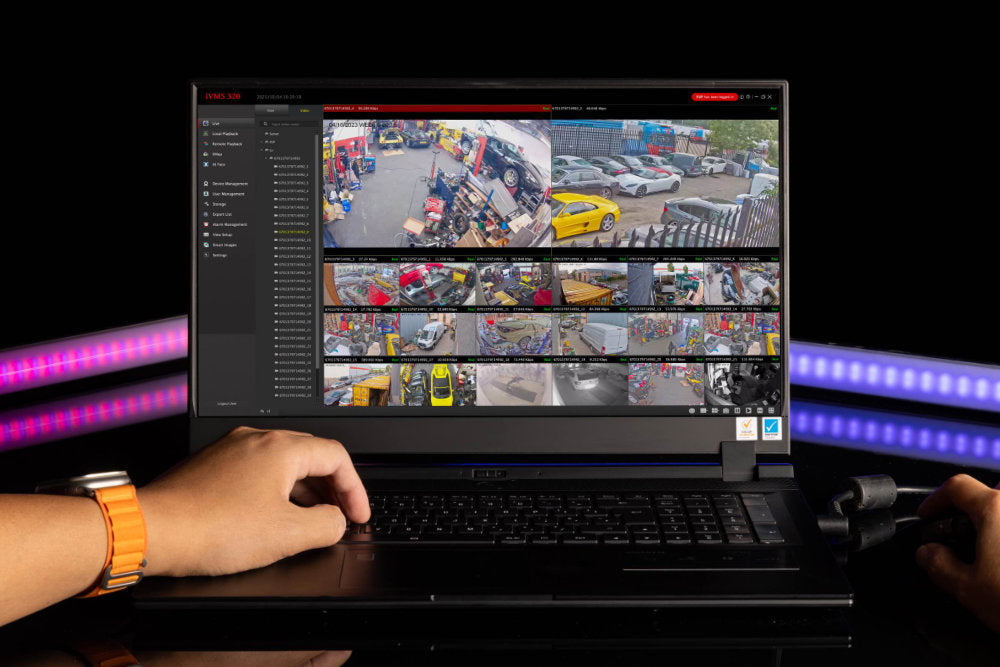 PC, Mac
Download the latest version of the iVMS software for your PC or Mac. This allows you to remotely monitor and review footage from your CCTV system, ensuring you stay connected wherever you are, anytime you need.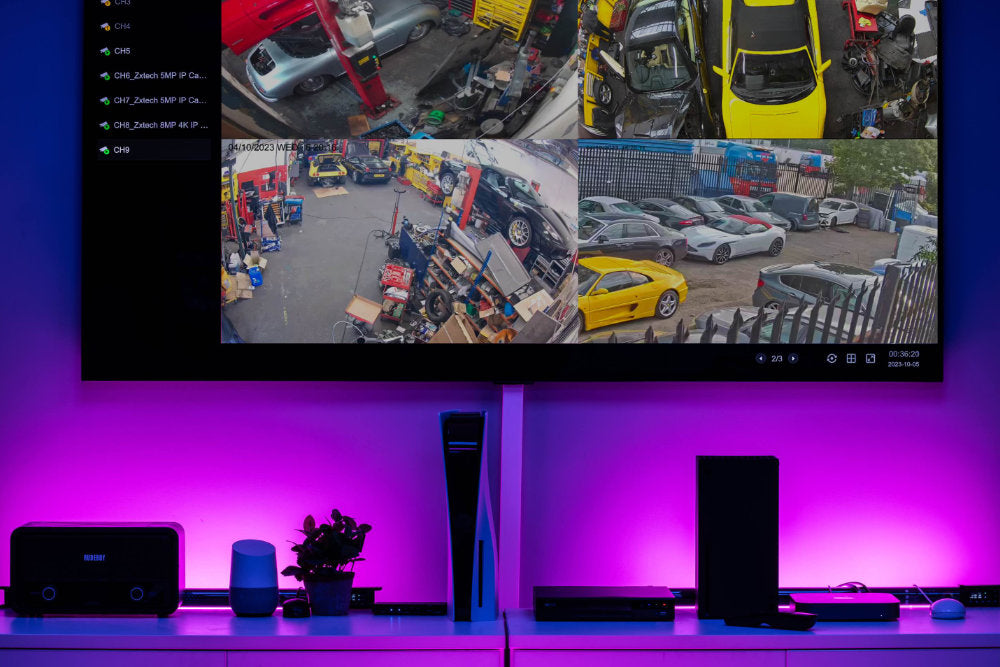 2 Screen TV Setup
Experience seamless surveillance with our 5MP CCTV NVR, featuring inbuilt HDMI and VGA ports. Connect and view on two monitors simultaneously, perfect for multi-room monitoring. Whether in your living room or home office, achieve easy and hassle-free dual-screen surveillance. Simply use VGA for one and HDMI for the other, and you're set.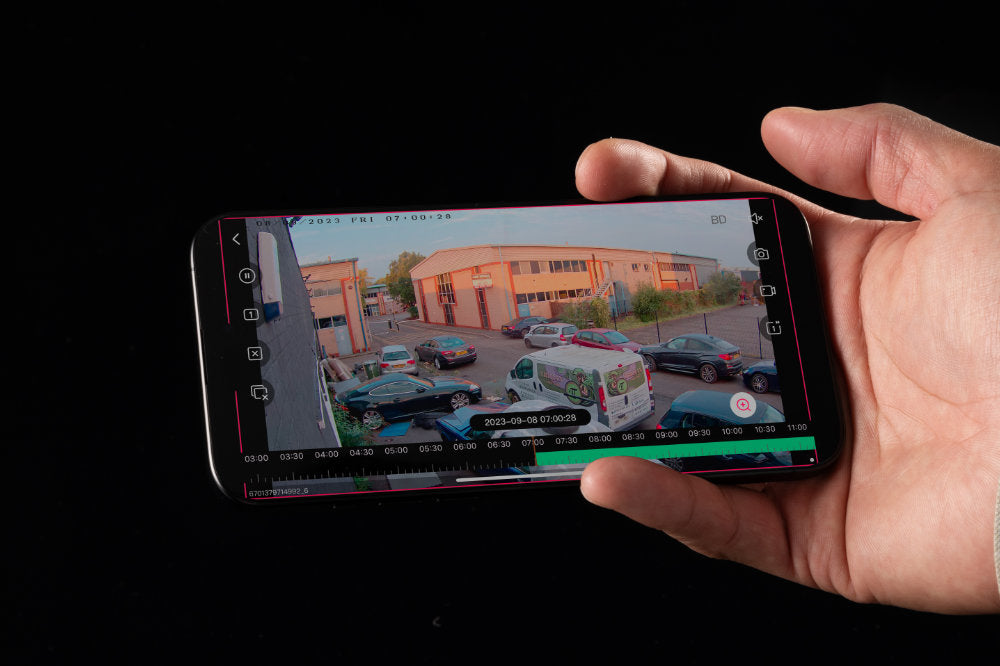 Smart Phone
In today's world, smartphones are indispensable, and so should your CCTV system be. Download the latest BitVision app to monitor, view, playback, and share your CCTV footage anytime, anywhere.
Sensor
5 Megapixel 1/2.8" SONY335 STARVISlow lux CMOS
Video Resolutoin
Main stream: 2560 x 1920 pixel @ 15fps, 2560 x 1440 pixel @ 15fps
Sub stream: 800 x 600 / 800 x 448 @25fps, 640 x 480 / 640 x 352 @ 25fps
Video compression
H.264 / H.265
Lens
5x Zoom Option: 2.7 - 13.5mm 5x optical zoom autofocus lens
10x Zoom Option: 5 - 50mm 10x optical zoom auto focus lens
View angle
5x Zoom Option: 108.1° - 30.3°
10x Zoom Option: 61.5° - 7°
Night vision
10 units of Smart Dual Light Source LED (IR & Warm White), night vision distance up to 60m
Audio
Audio compression
G.726 / G.711
Audio code rate
8Kbps, 16bit
Audio input/output
Built-in mic and speakers; support two-way audio
Alarm
Motion detecting alarm
Can set 4 independent detection regions (1-100 sensitivity can be set)
Alarm linkage
Set alarm to send a captured picture to your email
Set alarm to upload pictures and videos to the FTP server
Set alarm to record pictures and videos to Micro SD card
Set alarm to push notification through our free app
Set alarm to trigger loud sound alarm through a build-in speaker such as a siren or dog bark
Network
Wifi Antenna
Enhanced 8dB
Wireless
IEEE 802.11 b/g/n
Ethernet
RJ45 Ethernet
Onvif protocol
Support ONVIF 2.4 (backwards compatible)
Storage
Micro SD card
Support up to 128G micro SD card
Recording mode
Alarm triggered recording and scheduled recording
Video playback
Playback available on our free App, IE browser and remote client; Playback the downloadable footage with various types of media players
PTZ
Rotation angle
Horizon: 350°, Vertical: 90°
Horizontal speed
6°-20°/S
Vertical speed
8°-25°/S
Preset
Set up to 8 preset points and supports cruise functions
General specification
Power
DC12V 2A
Operating environment
Environment -20°C ~ +60°C (-4°F ~ +140°F)
Humidity 10% ~ 90%, non-condensing
Material
Full metal body
Waterproof level
IP66
Reset button
Built-in
| | |
| --- | --- |
| Main Processor | ARM Cortex A7 Processor |
| Operating System | Embedded Linux |
| Video Input | 9CH (2592*1944, 2048*1536, 1920*1080, 1280*960, 1280*720, etc.) |
| Video Output | 1 VGA, 1 HD |
| Audio Input | / |
| Audio Output | 1 Port RCA (Linear, 1 k) |
| Audio Bit Rate | 64 Kbps |
| Audio Compression Standard | G711u, G711a, G726 |
| Alarm Input | No |
| Alarm Output | No |
| Motion Detection | 9 Channel, MD Zones: 396 (22x18) |
| Trigger Events | Recording, Email, FTP, Snapshot, Buzzer and Screen Tips |
| HD Output1 | 1920*1080/60Hz, 1280*1024/60Hz, 1280*720/60Hz, 1024*768/60Hz |
| HD Output2 | / |
| VGA | 1920*1080/60Hz, 1280*1024/60Hz, 1280*720/60Hz, 1024*768/60Hz |
| Display Split | 9CHxD1/ 8CHxD1/ 4CHxD1/ 1CHx1080P/ 1CHx3MP/ 1CHx4MP/ 1CHx5MP |
| Digital Zoom | Yes |
| OSD | Camera Title, Time, Recording, Motion Detection |
| Video Compression | H265/H264/H265+/H264+ |
| Resolution | 5MP (2592*1944), 4MP (2688*1520/2560*1440), 3MP (2048*1536), 1080p (1920*1080), 960p (1280*960), 720p (1280*720), D1 (720*576/720*480) |
| Record Rate | PAL: 5MP@9*25fps, 4MP@9x25fps, 3MP@9x25fps, 1080p@9x25fps, 960p@9*25fps, 720@9x25fps, D1@9x25fps NTSC: 5MP@9*30fps, 4MP@9x30fps, 3MP@9x30fps, 1080p@9x30fps, 960p@9*30fps, 720@9x30fps, D1@9x30fps |
| Record Mode | Manual/ Timer/ Motion Detection/ Smart Alarm |
| Local Sync Playback | 1CH 5MP@30fps, 1CH 4MP@ 30fps, 2CH 3MP@30fps, 4CH 1080P@30fps, 4CH 960P@30fps, 4CH 720P@30fps |
| Decode Capability | 4CH 1080p@30fps |
| Remote Sync Playback | Yes |
| Search Mode | All, Channel, Manual, Time, Date, Motion Detection |
| Playback Functions | Play, Pause, Stop, Rewind, Fast Play, Slow Play, Full Screen, Frame Play, Frame Rewind, Digital Zoom |
| Backup Mode | USB Device/Network |
| Interface | 1 RJ45 10M/100/1000M Adaptive Ethernet Interface |
| Incoming Bandwidth | 60MB |
| Network Functions | TCP/IP, HTTP, UPnP, DNS, NTP, SMTP, PPPoE, DHCP, FTP, DDNS, RTP, RTSP, RTCP, p2p |
| Onvif Version | Support Onvif 2.4 |
| Web Browser | IE8-11, Google Chrome (lower than Ver44), Firefox (lower than Ver53) |
| CMS Software | Support Windows 7/Windows 8/ Windows 10/MAC OS |
| Cloud Support (P2P) | Yes |
| Smart Phone | iPhone, iPad, Android, Android Pad |
| Interface Type | 1 SATA Interface |
| Capacity | Up to 8TB Capacity |
| Language | Chinese, English, Polish, Czech, Russian, Thai, Hebrew, Arabic, Bulgarian, Farisa, German, French, Portuguese, Turkish, Spanish, Italian, Hungarian, Romanian, Korean, Dutch, Greek |
| USB Interface | 2 USB 2.0 Interfaces |
| Power Supply | DC12V/2A |
| Dimension (WxDxH) | 219x217x40 (mm) |
| Weight | 2.0 kg (without HDD) |
Sensor
5 Megapixel 1/2.8" SONY335 STARVISlow lux CMOS
Video Resolutoin
Main stream: 2560 x 1920 pixel @ 15fps, 2560 x 1440 pixel @ 15fps
Sub stream: 800 x 600 / 800 x 448 @25fps, 640 x 480 / 640 x 352 @ 25fps
Video compression
H.264 / H.265
Lens
5x Zoom Option: 2.7 - 13.5mm 5x optical zoom autofocus lens
10x Zoom Option: 5 - 50mm 10x optical zoom auto focus lens
View angle
5x Zoom Option: 108.1° - 30.3°
10x Zoom Option: 61.5° - 7°
Night vision
10 units of Smart Dual Light Source LED (IR & Warm White), night vision distance up to 60m
Audio
Audio compression
G.726 / G.711
Audio code rate
8Kbps, 16bit
Audio input/output
Built-in mic and speakers; support two-way audio
Alarm
Motion detecting alarm
Can set 4 independent detection regions (1-100 sensitivity can be set)
Alarm linkage
Set alarm to send a captured picture to your email
Set alarm to upload pictures and videos to the FTP server
Set alarm to record pictures and videos to Micro SD card
Set alarm to push notification through our free app
Set alarm to trigger loud sound alarm through a build-in speaker such as a siren or dog bark
Network
Wifi Antenna
Enhanced 8dB
Wireless
IEEE 802.11 b/g/n
Ethernet
RJ45 Ethernet
Onvif protocol
Support ONVIF 2.4 (backwards compatible)
Storage
Micro SD card
Support up to 128G micro SD card
Recording mode
Alarm triggered recording and scheduled recording
Video playback
Playback available on our free App, IE browser and remote client; Playback the downloadable footage with various types of media players
PTZ
Rotation angle
Horizon: 350°, Vertical: 90°
Horizontal speed
6°-20°/S
Vertical speed
8°-25°/S
Preset
Set up to 8 preset points and supports cruise functions
General specification
Power
DC12V 2A
Operating environment
Environment -20°C ~ +60°C (-4°F ~ +140°F)
Humidity 10% ~ 90%, non-condensing
Material
Full metal body
Waterproof level
IP66
Reset button
Built-in
| | |
| --- | --- |
| Main Processor | ARM Cortex A7 Processor |
| Operating System | Embedded Linux |
| Video Input | 9CH (2592*1944, 2048*1536, 1920*1080, 1280*960, 1280*720, etc.) |
| Video Output | 1 VGA, 1 HD |
| Audio Input | / |
| Audio Output | 1 Port RCA (Linear, 1 k) |
| Audio Bit Rate | 64 Kbps |
| Audio Compression Standard | G711u, G711a, G726 |
| Alarm Input | No |
| Alarm Output | No |
| Motion Detection | 9 Channel, MD Zones: 396 (22x18) |
| Trigger Events | Recording, Email, FTP, Snapshot, Buzzer and Screen Tips |
| HD Output1 | 1920*1080/60Hz, 1280*1024/60Hz, 1280*720/60Hz, 1024*768/60Hz |
| HD Output2 | / |
| VGA | 1920*1080/60Hz, 1280*1024/60Hz, 1280*720/60Hz, 1024*768/60Hz |
| Display Split | 9CHxD1/ 8CHxD1/ 4CHxD1/ 1CHx1080P/ 1CHx3MP/ 1CHx4MP/ 1CHx5MP |
| Digital Zoom | Yes |
| OSD | Camera Title, Time, Recording, Motion Detection |
| Video Compression | H265/H264/H265+/H264+ |
| Resolution | 5MP (2592*1944), 4MP (2688*1520/2560*1440), 3MP (2048*1536), 1080p (1920*1080), 960p (1280*960), 720p (1280*720), D1 (720*576/720*480) |
| Record Rate | PAL: 5MP@9*25fps, 4MP@9x25fps, 3MP@9x25fps, 1080p@9x25fps, 960p@9*25fps, 720@9x25fps, D1@9x25fps NTSC: 5MP@9*30fps, 4MP@9x30fps, 3MP@9x30fps, 1080p@9x30fps, 960p@9*30fps, 720@9x30fps, D1@9x30fps |
| Record Mode | Manual/ Timer/ Motion Detection/ Smart Alarm |
| Local Sync Playback | 1CH 5MP@30fps, 1CH 4MP@ 30fps, 2CH 3MP@30fps, 4CH 1080P@30fps, 4CH 960P@30fps, 4CH 720P@30fps |
| Decode Capability | 4CH 1080p@30fps |
| Remote Sync Playback | Yes |
| Search Mode | All, Channel, Manual, Time, Date, Motion Detection |
| Playback Functions | Play, Pause, Stop, Rewind, Fast Play, Slow Play, Full Screen, Frame Play, Frame Rewind, Digital Zoom |
| Backup Mode | USB Device/Network |
| Interface | 1 RJ45 10M/100/1000M Adaptive Ethernet Interface |
| Incoming Bandwidth | 60MB |
| Network Functions | TCP/IP, HTTP, UPnP, DNS, NTP, SMTP, PPPoE, DHCP, FTP, DDNS, RTP, RTSP, RTCP, p2p |
| Onvif Version | Support Onvif 2.4 |
| Web Browser | IE8-11, Google Chrome (lower than Ver44), Firefox (lower than Ver53) |
| CMS Software | Support Windows 7/Windows 8/ Windows 10/MAC OS |
| Cloud Support (P2P) | Yes |
| Smart Phone | iPhone, iPad, Android, Android Pad |
| Interface Type | 1 SATA Interface |
| Capacity | Up to 8TB Capacity |
| Language | Chinese, English, Polish, Czech, Russian, Thai, Hebrew, Arabic, Bulgarian, Farisa, German, French, Portuguese, Turkish, Spanish, Italian, Hungarian, Romanian, Korean, Dutch, Greek |
| USB Interface | 2 USB 2.0 Interfaces |
| Power Supply | DC12V/2A |
| Dimension (WxDxH) | 219x217x40 (mm) |
| Weight | 2.0 kg (without HDD) |