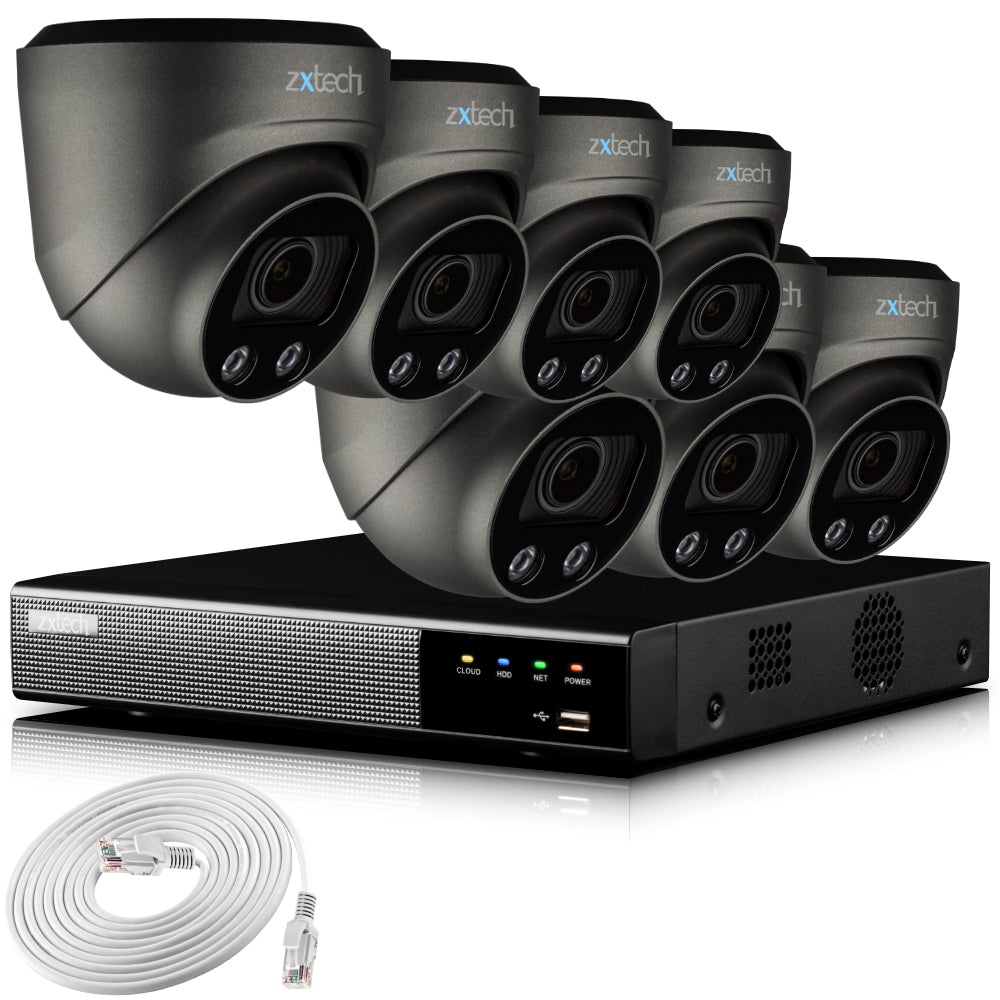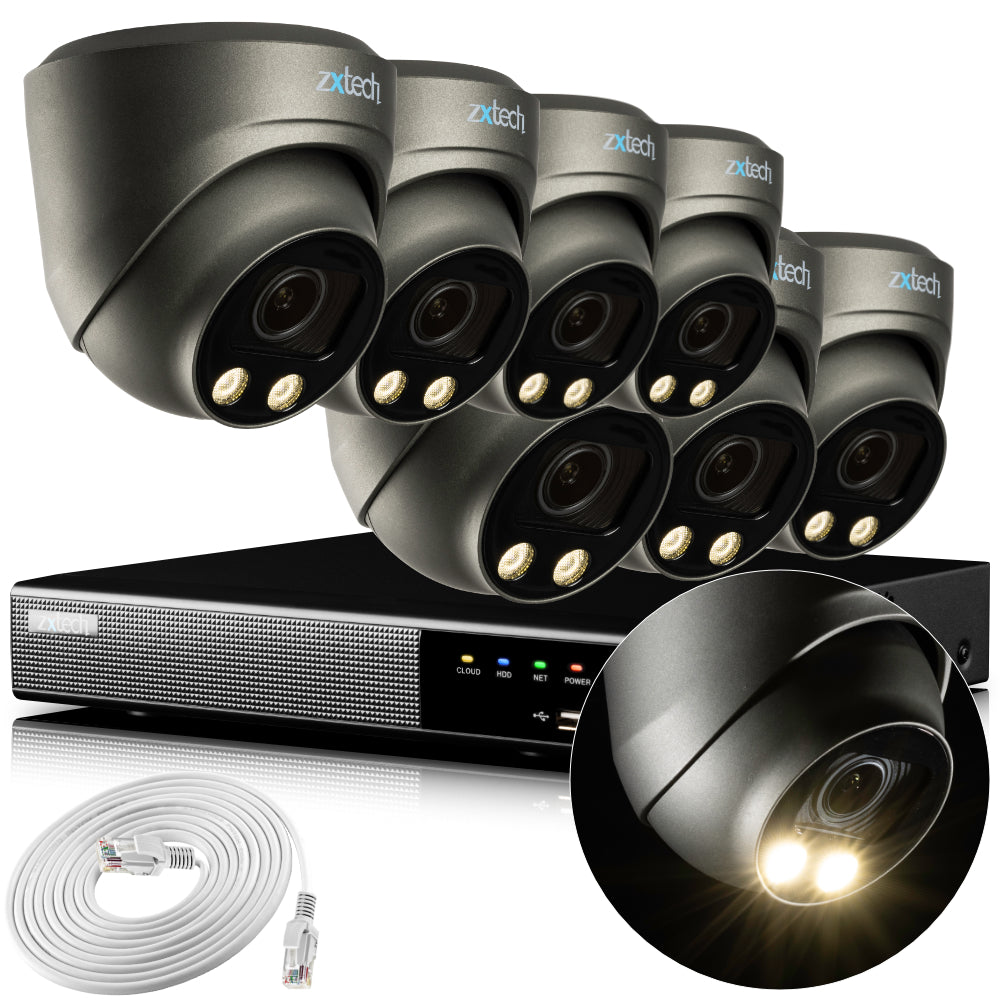 Zxtech 4K CCTV System - 7 x IP PoE Cameras Motorised Lens Face Detection Outdoor Sony Starvis | RX7G9Y
SKU: RX7G9Y50
---
UK next business day delivery
UK VAT invoices included
30 days hassle free returns
12 month warranty
In stock, ready to ship
System Features
Complete 7 camera kit with Ultra HD 4K & Incredible colour night vision option, Remotely control 5x motorised zoom reaching 30M for clear reg plate, Smart human detection, Industrial leading Sony Starvis chip, Integrated 8-Port PoE NVR, Massive 8TB storage option for long lasting recording, Ultra wide 124° angle, Easy & free smartphone access, Metallic & outdoor weatherproof, and many more cutting edge features...
What's in the Box
7x Grey 4K AI PoE Dome Varifocal Cameras*
Alternative option including affordable 5MP, and intense LED colour night vision features compared below.
1x 8-Port PoE 4K 16CH NVR Recorder
4x 10M, 3x 20M, 1x 2M Network Cat5e Cable
Up to 8TB Surveillance Grade Hard Drive
Optional Extension Bracket
4K/UHD/8MP/5MP/4MP
The system comes with amazing 8 Megapixel (3840*2160) (optional 5 Megapixel) resolution for crisp and clear images
30M Night Vision
Another level of visualisation with superb night vision up to 30M. If you have some extra lighting, you will be able to achieve colour night vision. Alternatively, buy the "Intense LED" option for the built-in 2 x ultra large and ultra bright light supplements for full colour CCTV footage 24/7.
Face and Body Detection
Ultra Smart AI Face Detection enables Intrusion, Line Crossing, Loiter and People Gather Detection
Sony Chip
Embedded Industry Leading Sony Starvis Low Light CMOS sensor is the major factor for ultra clear and sharp video
Built-in PoE Switch
CCTV NVR with built-in PoE network switch eliminates the need for a separate network device for less cabling and cost efficiency
Built-in Memory and Extendable Audio
These dome cameras have built-in 4GB Storage with 512GB Extendable SD Card Slot providing the opportunity to back up your data in case you lose the footage saved on the HDD, the camera has an external Audio cable providing you with an opportunity to attach an external microphone and record sound
2.7-13.5 mm Auto Zoom & Focus
2.7-13.5 mm motorised zoom lens, customers can control zoom remotely from the app or PC, the camera will refocus automatically without need climbing up a ladder
H265+
H265+ video compression is a cost-efficient saving up to 75% storage space
Smart Phone Remote Access
Featuring remote access with a free mobile app to watch your premises at all time
Waterproof & Vandal Proof
Cameras are waterproof for outdoor and indoor purpose coming along with strong metallic case
HDR & Image Enhancement
IR Cut, WDR, BLC, ROI, Defog cameras will detect and create an image as would be seen with human eyes, unlike your eyes camera sensor can detect light outside the range of the human eye. HDR Sensor Enables Dynamic Range over Mind-blowing 120 dB
Smart Motion Alert
Motion detection and mobile notification alert, this kit will detect any activity and never leaves you in the dark
Quick Mobile Setup
P2P QR Scan for anyway, anytime Remote CCTV Access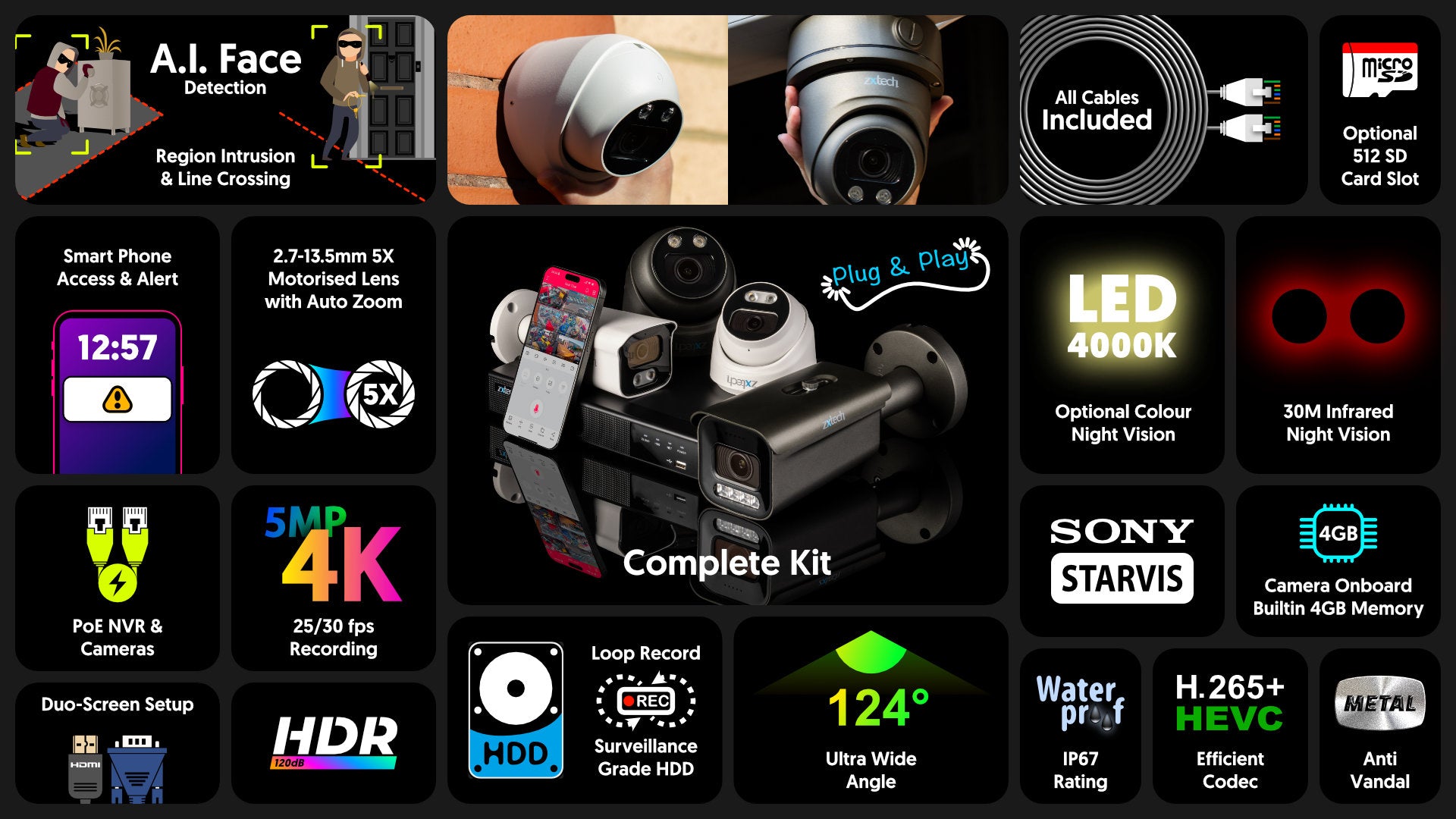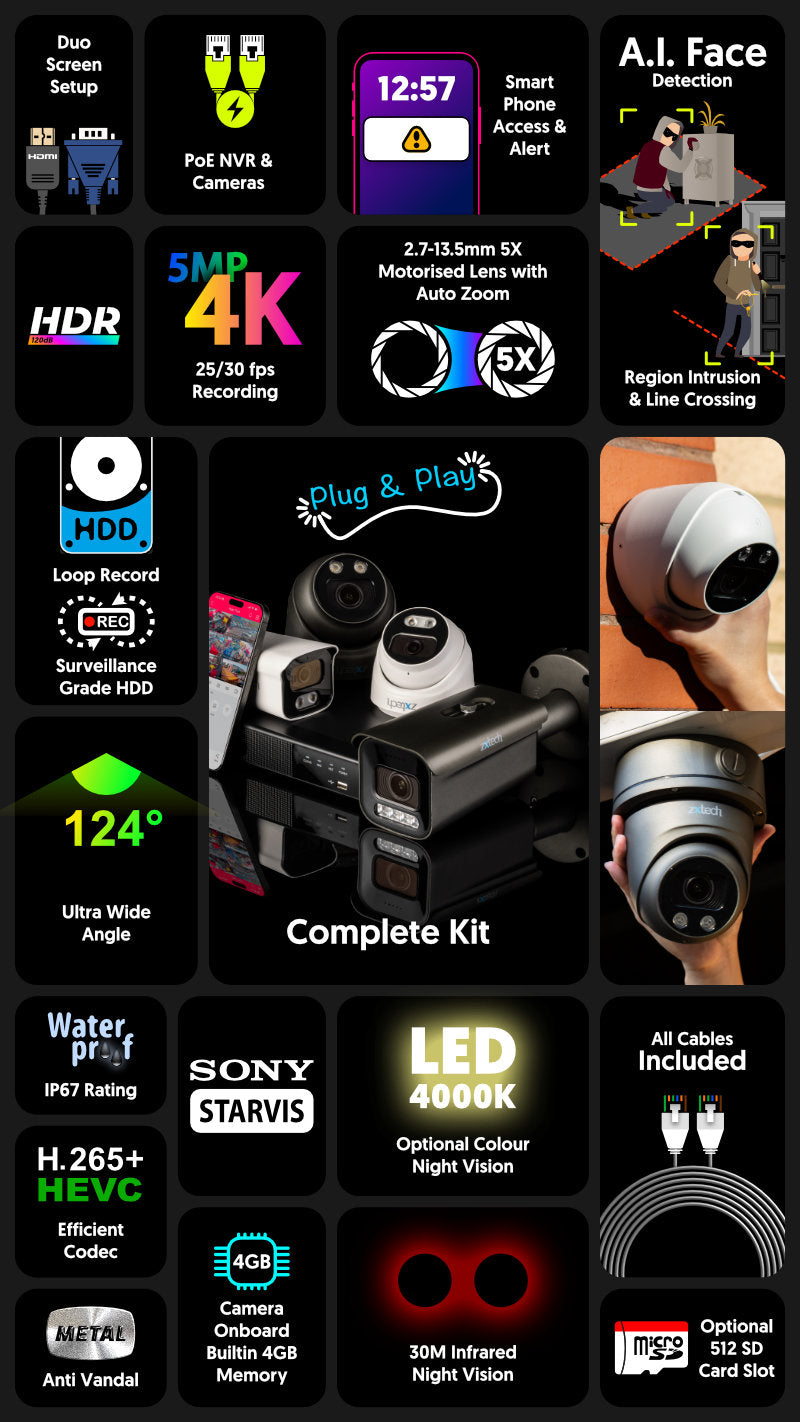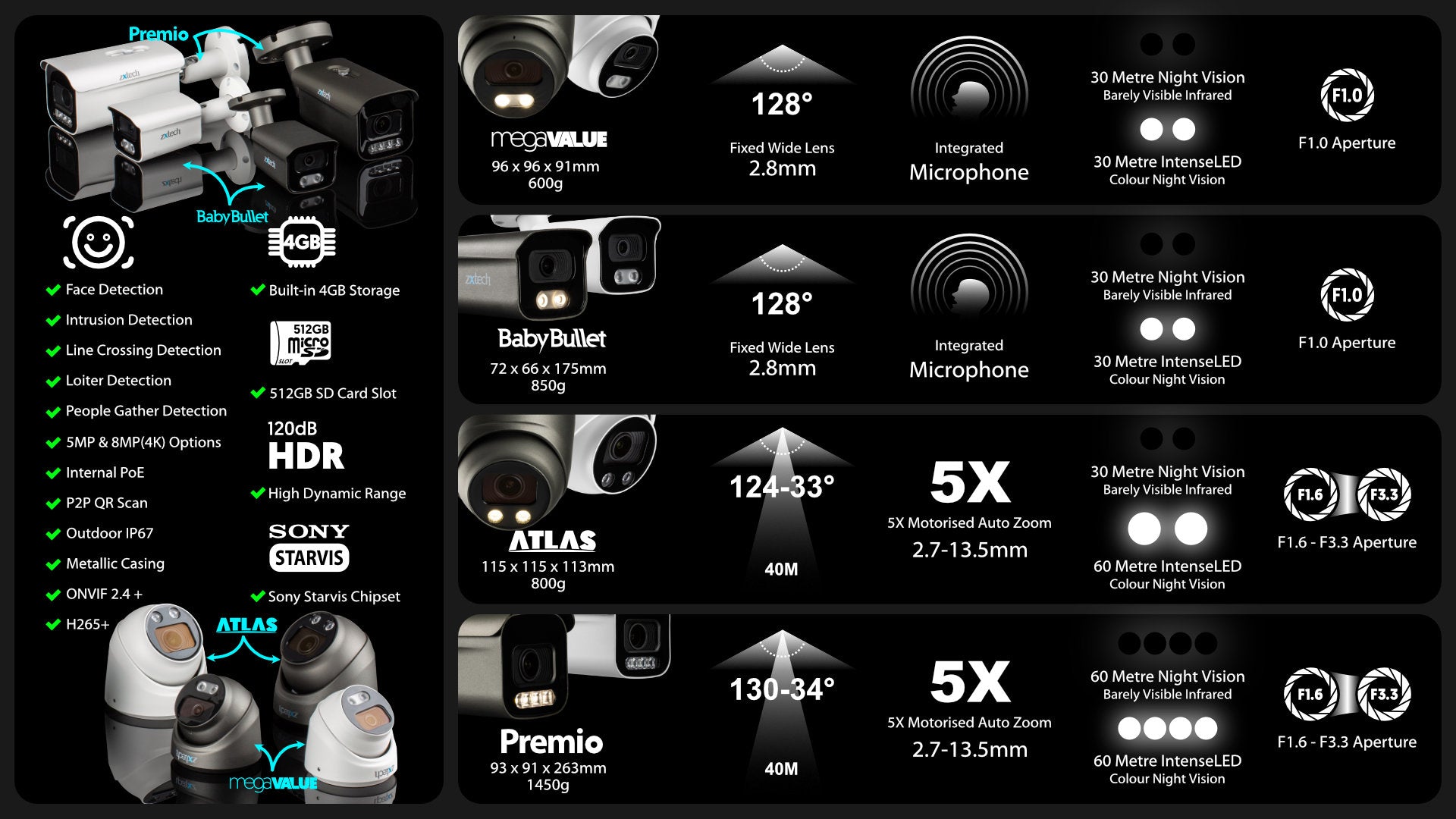 Available Option
Atlas 5MP
Atlas 4K
Atlas 4K IntenseLED
Resolution
5 Megapixel (2592 x 1944)
8 Megapixel (3840 x 2160)
8 Megapixel (3840 x 2160)
Viewing Angle
Ultra Wide 124°-33° 5X Auto Zoom
Ultra Wide 124°-33° 5X Auto Zoom
Ultra Wide 124°-33° 5X Auto Zoom
Suitability
Preferably Outdoor Due to It's Eye Blinding LED Light
4X
Shaper than 1080p
4K 8 Megapixel Option*
124°
Ultra Wide View
124°-33° 5X Auto Zoom
30M
Night Vision Range
Infrared or IntenseLED
4GB
Onboard Memory
Buit-in Per Camera
512GB
SD Card Slot
Safety Net Per Camera
8TB
Hard Drive Option
1x HDD Bay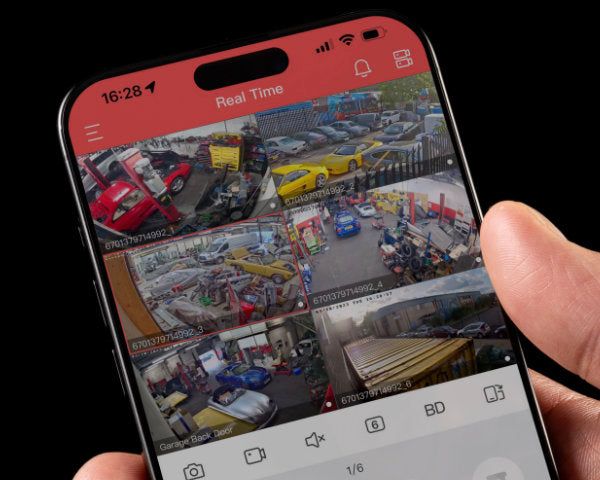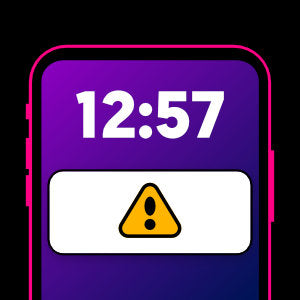 Free App
Stream Live, Receive Real-time Alerts, Snap & Share, and Playback Anytime, Any Where, and Control Zoom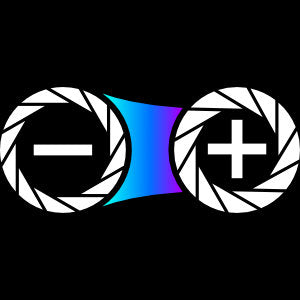 5X Optical Auto Zoom, with Extra Digital Zoom
The CCTV system is equipped with 5X auto zoom camera with a varifocal lens from 2.7mm to 13.5mm. The 5X optical zoom and extra digital zoom allows you to clearly see license plates up to 30 meters away.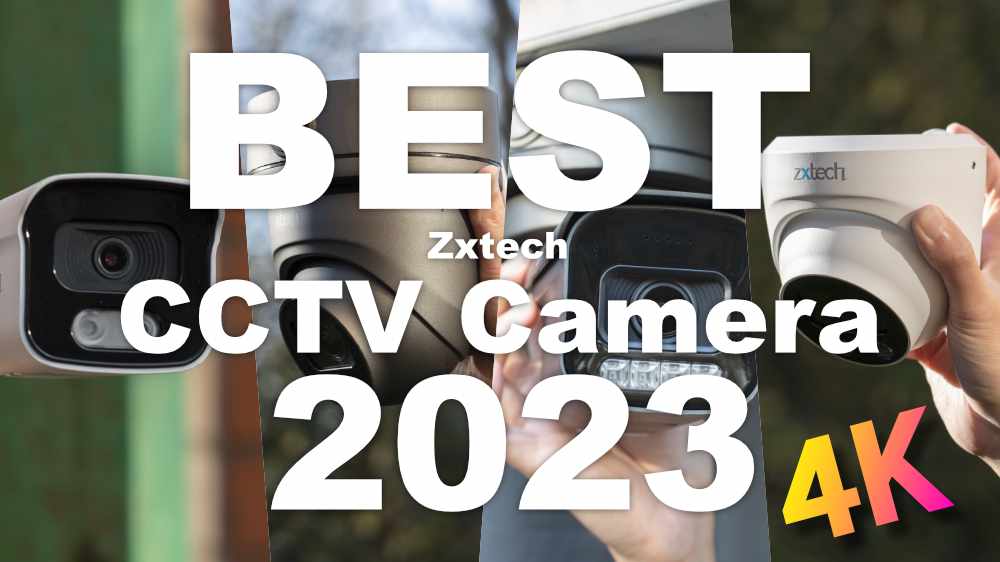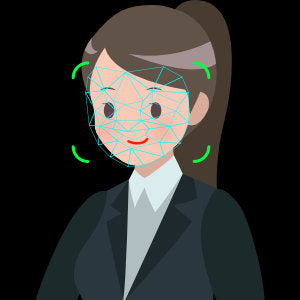 Learn About the Whole Range
Watch the Intro Video
This video quickly goes through the entire range, introducing you to all the cameras and features included in the system.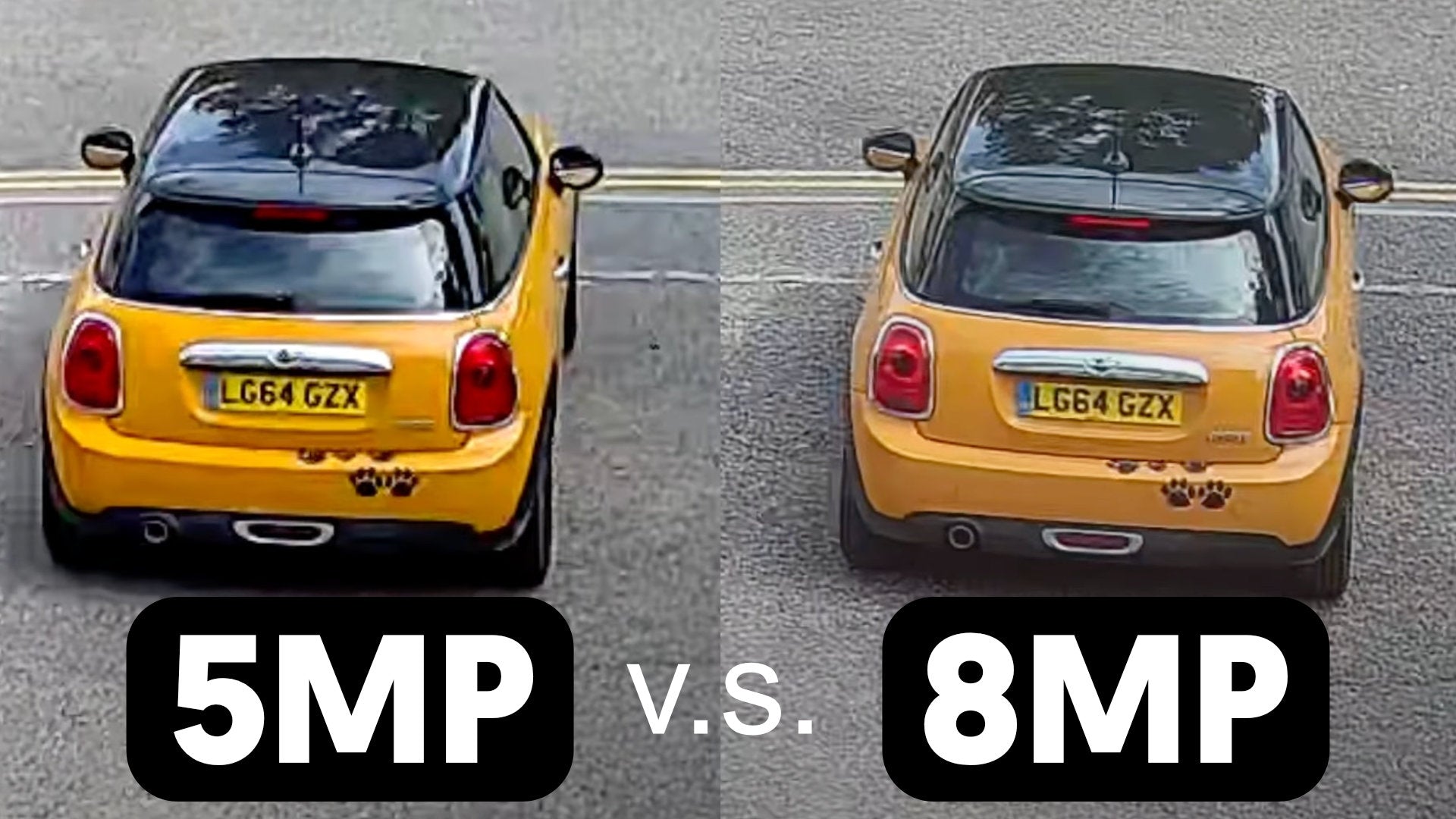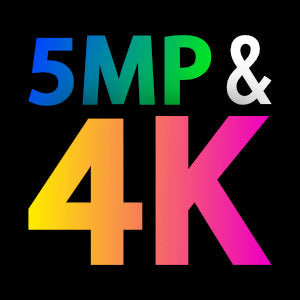 Impressive 5MP & Unparalleled 8MP(4K)
4K delivers 4X the resolution of 1080p, whereas 5MP provides 2.5X the resolution of 1080p. Both represent significant advancements over traditional high definition.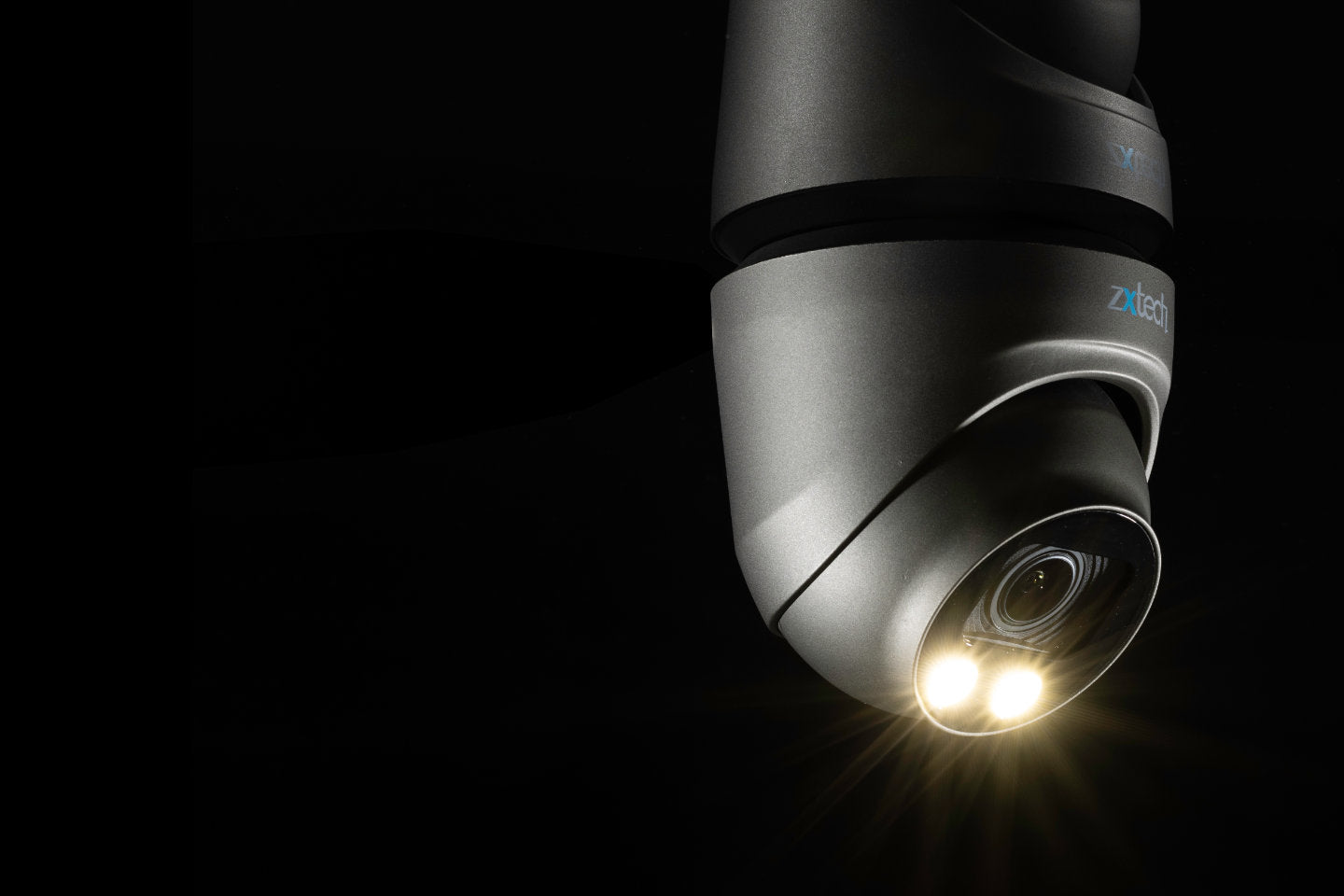 Camera that captures the finest details.
4K CCTV Camera with Sony Starvis Chip, 120dB HDR and Colour Night Vision Option
Sony Starvis 8MP Sensor, renowned for its exceptional low-light sensitivity and performance. ensures crisp 8MP/4K (optionally 5MP) imagery, offering superior HDR capabilities all while maintaining energy efficiency. Ideal for both home and professional security needs.
Optional Intense LED Colour Night Vision Technology
Sharp Infrared, Colourful IntenseLED
Zxtech's new IntenseLED technology delivers 24/7 full-colour CCTV footage in 4K Ultra HD, powered by a larger aperture, intense LED lighting, and the premium Sony Starvis Sensor. As an alternative to the already reliable infrared night vision. Both can enhance police investigations and court evidence. While the bright built-in LEDs act as a deterrent, they might be too intense for quiet residential areas. As the name suggests, IntenseLED option may not suitable for indoor use due to its intensity.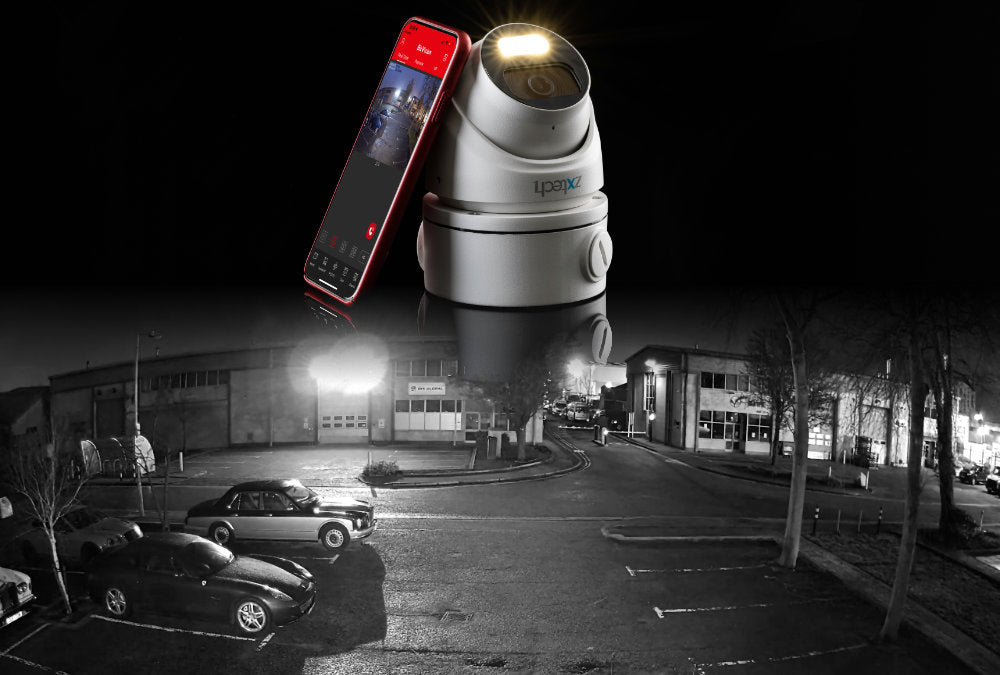 Infrared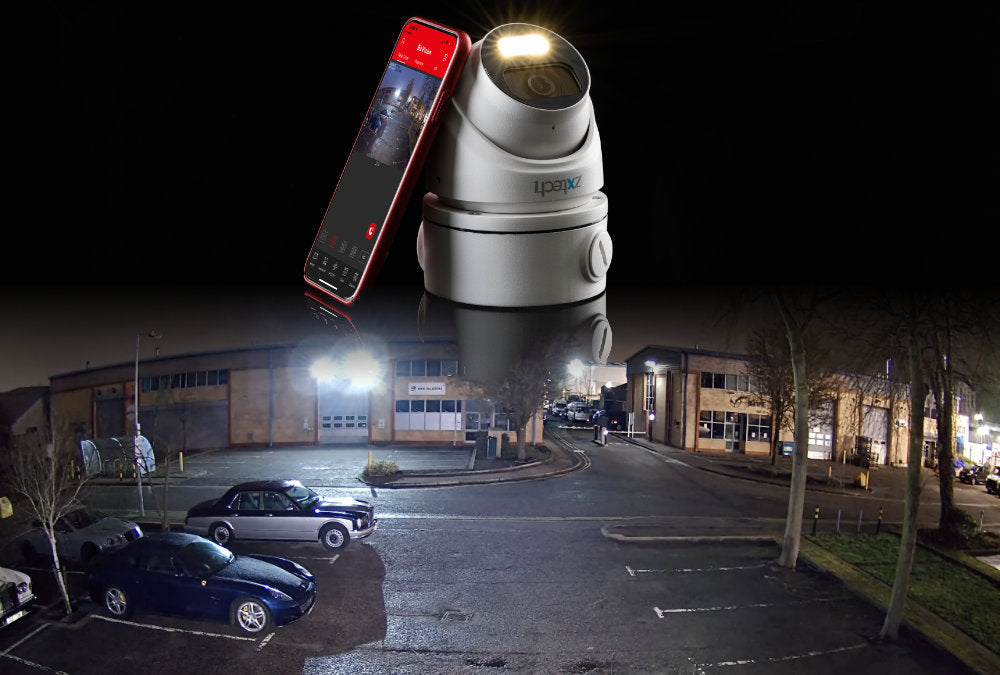 Be Ready for the Future
4K: A Quantum Leap from 1080p
Elevate your CCTV quality beyond the standard 2MP aka 1080p or HD. Our 5MP Super HD offers 2.5X clearer visuals, optimising car plate recognition. Yet, the true game-changer is upgrading to 4K resolution. Experience ultra-crisp, sharp images, powered by the Sony Starvis 8MP Sensor, boasting over 8 million pixels. Enhanced by a 4000K White LED, this 4K CCTV delivers unparalleled low-light performance at an efficient power consumption. Choose 4K for the pinnacle of home security visuals.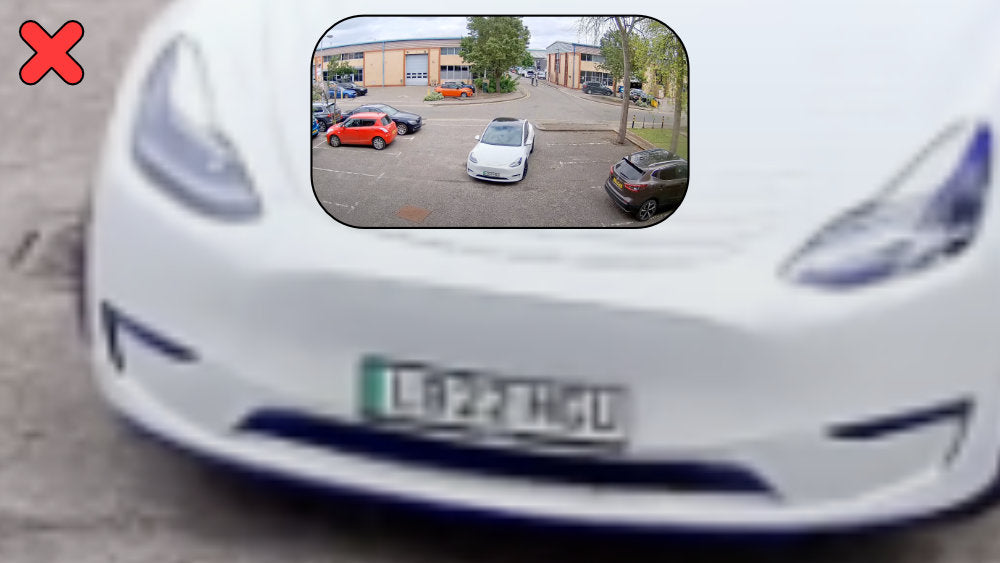 2 Megapixel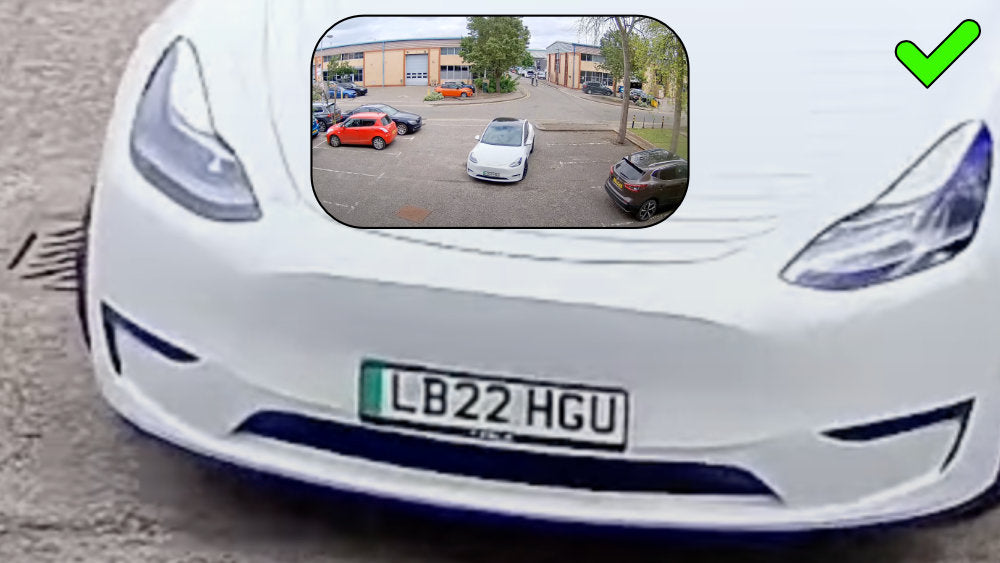 Sorcery of Modern CCTV Technology
120dB HDR: Ultimate Contrast
For the best security footage, it's vital to avoid areas that are overly bright or too dark, as key details can go unnoticed. Zxtech's advanced HDR video processing ensures that images captured at different exposures merge seamlessly, offering consistent contrast and highlighting every essential detail in your footage.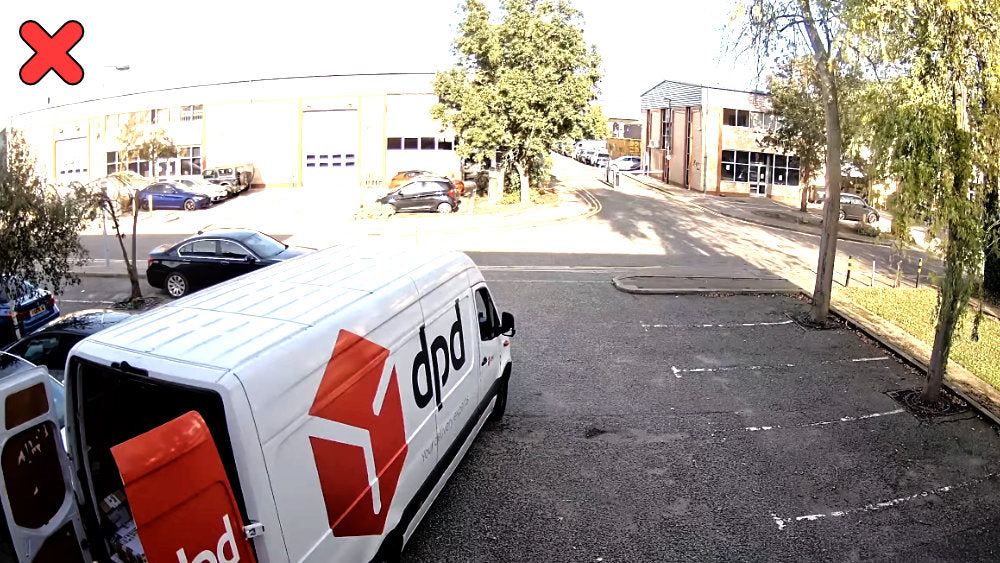 No HDR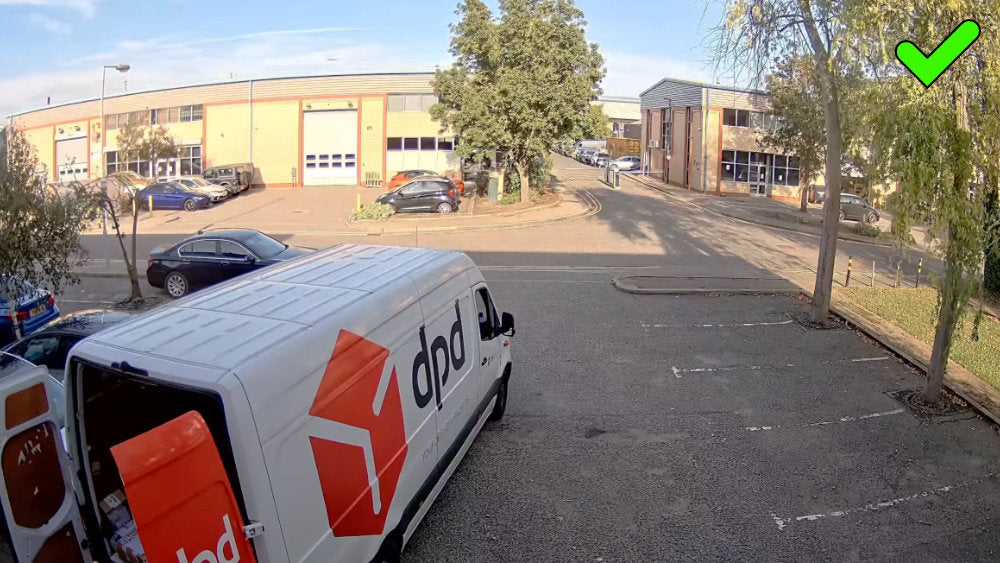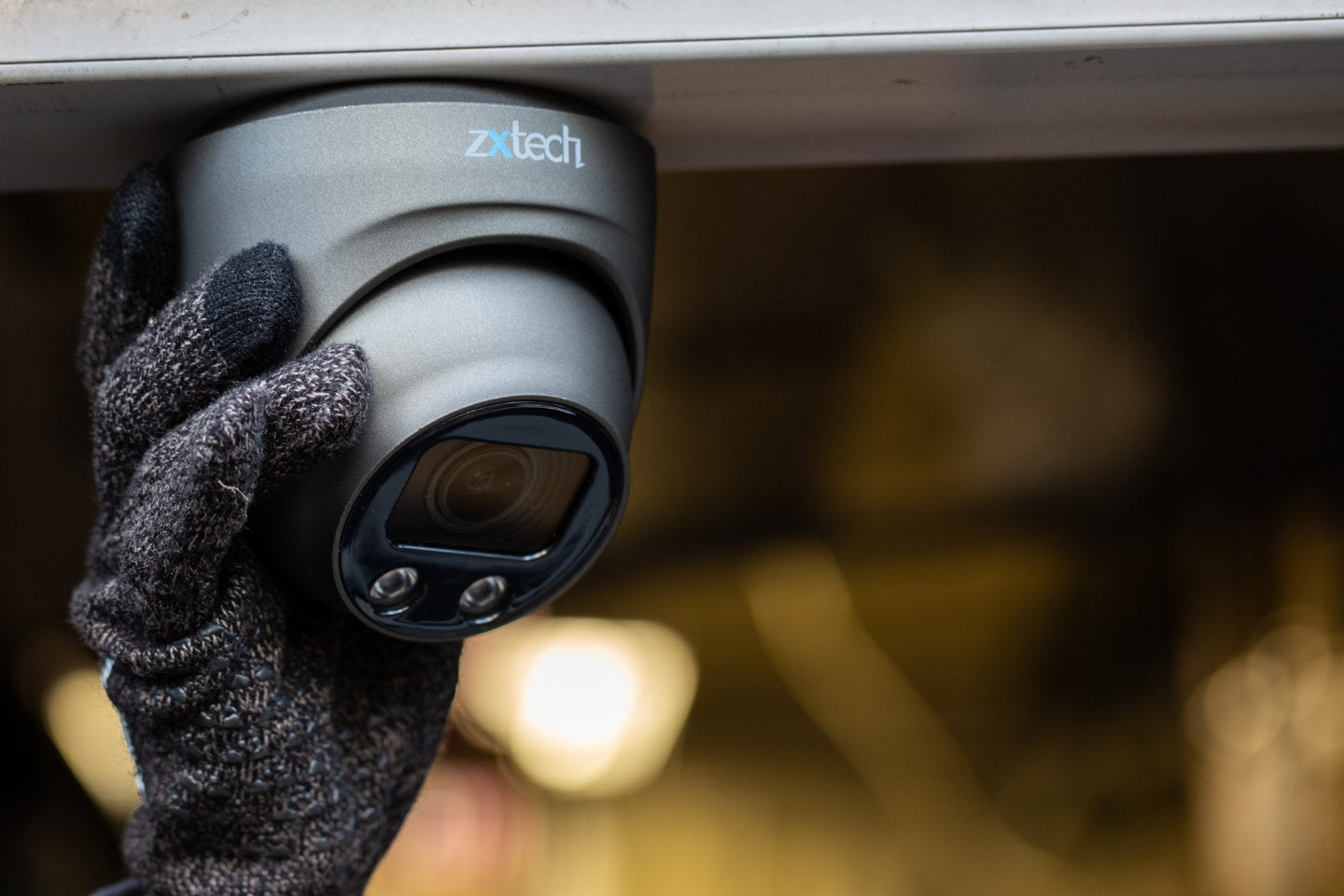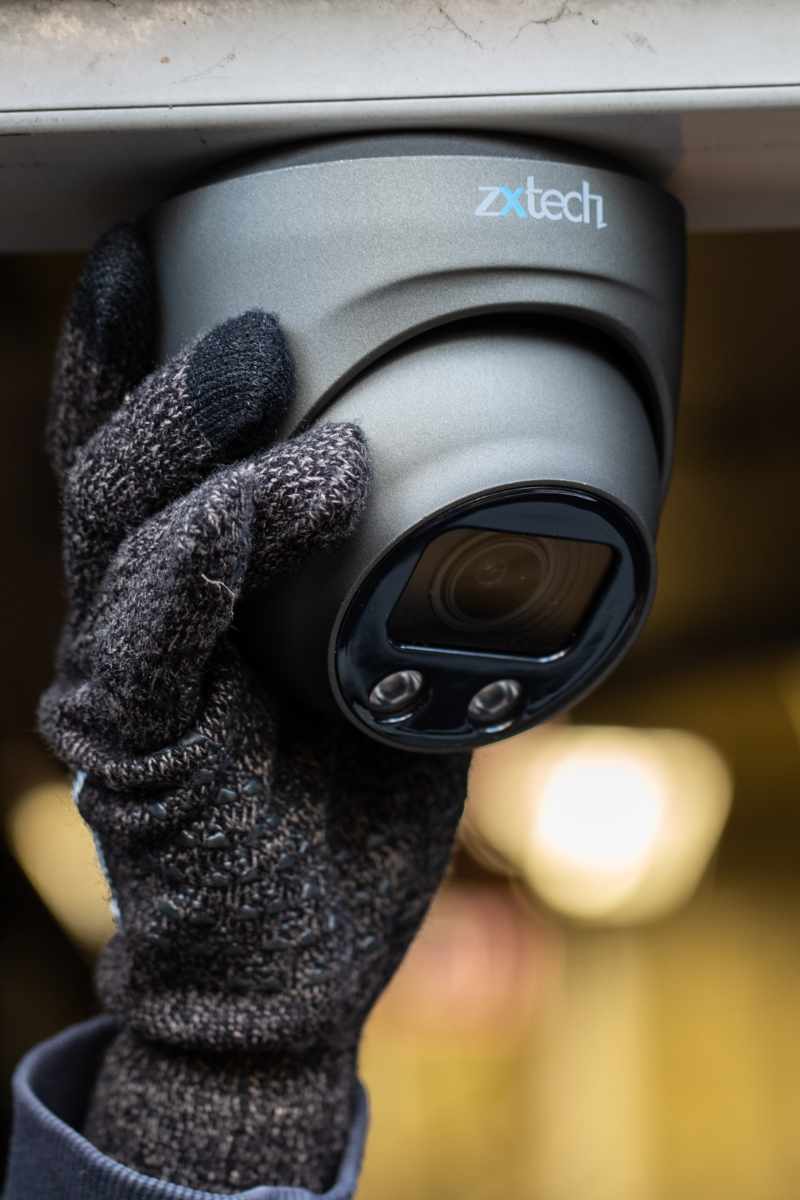 CCTV Kits with the Best PoE Cameras - Atlas Range
4K CCTV Camera System with 5x Auto Zoom, Ultra Wide Angle, 4GB Onboard Memory, 512GB SD Card Slot, Waterproof, Anti-Vandal, Full Metal, F1.0 Large Aperture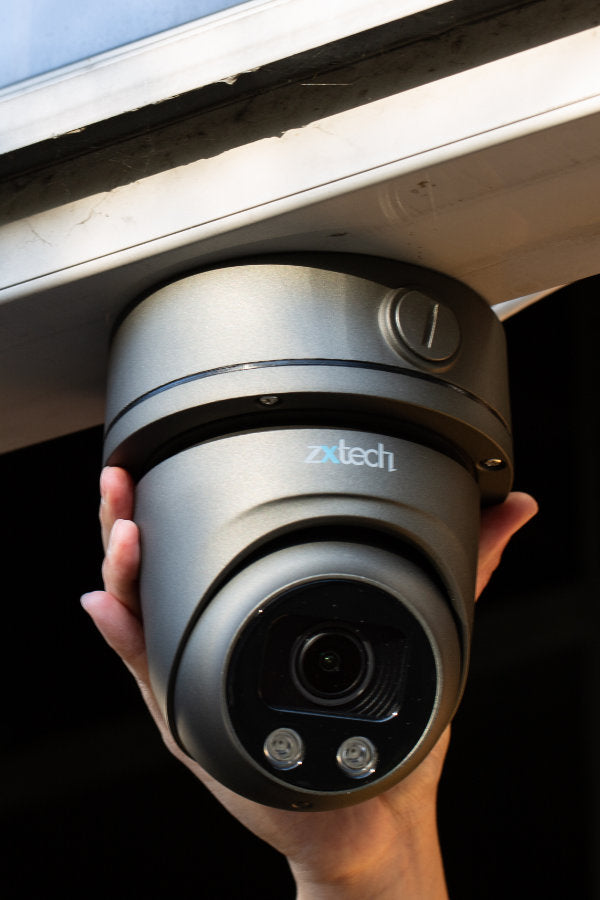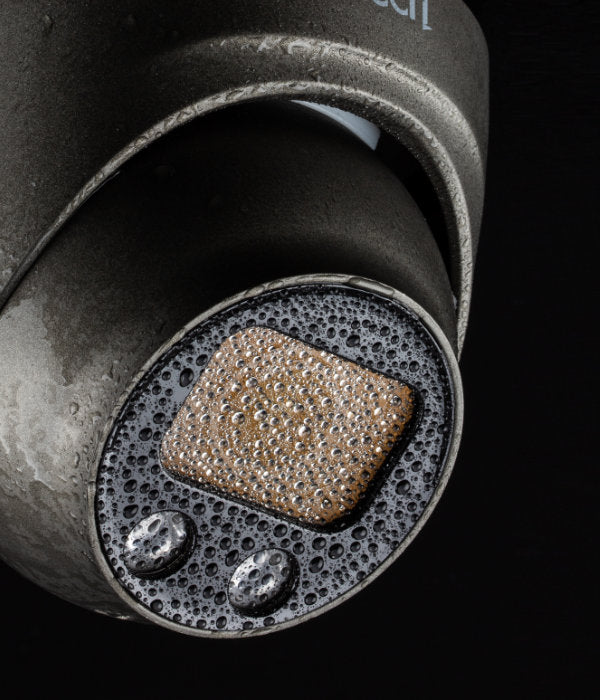 IP67
Waterproof, Suitable for Outdoor
The Atlas Dome-shaped camera, unlike traditional Dome cameras that are typically designed for indoor use only, is now fully equipped for outdoor installation. It comes with a water-sealed metal casing to protect your house under any weather condition.
All Around Metal
Anti-Vandal Design.
Every PoE camera in the system features a robust metal casing designed to enhance durability against vandalism. The metal body also boosts weather resistance and extends the lifespan of the cameras. The metal casing of each PoE camera in the system is specifically designed to provide exceptional durability against vandalism. This robust construction ensures that the cameras can withstand even the most determined attempts at tampering or damage.
Home, Office, Shop or Car Park
PoE CCTV for All Situations, All Weather.
The PoE cameras are designed with British weather in mind. Whether you operate an AirBNB in Inverness, Scotland, manage a car park in Swansea, Wales, or live in a terraced house in London, this complete system can withstand all types of rainy and snowy conditions with its IP67 rating.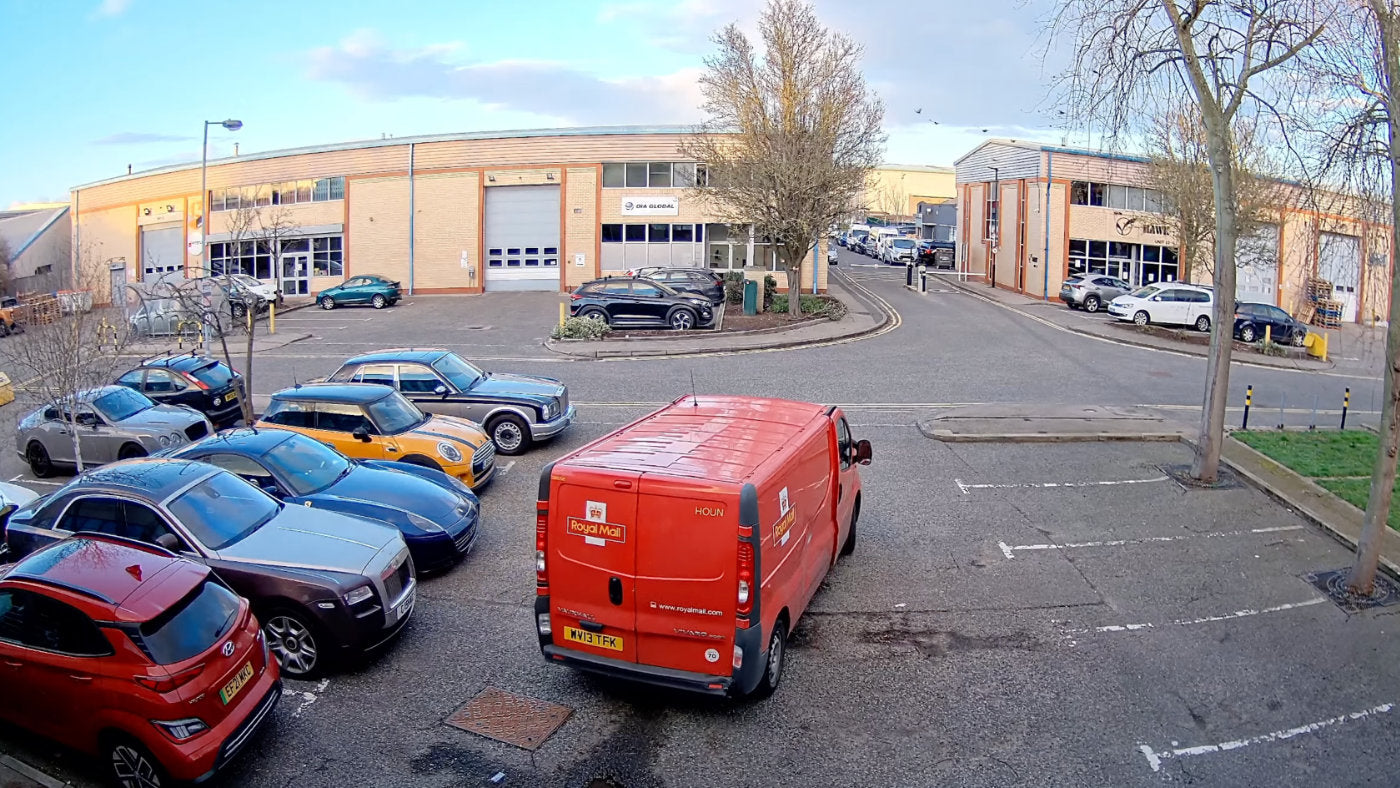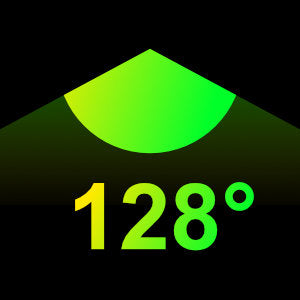 Watch Live Stream Now
Ultra Wide Angle
The 2.7-13.5mm lens, combined with the 1/2.8" industry-leading Sony Starvis sensor, captures an ultra-wide 128° angle. With the 4K lens, both detail and coverage are exceptional.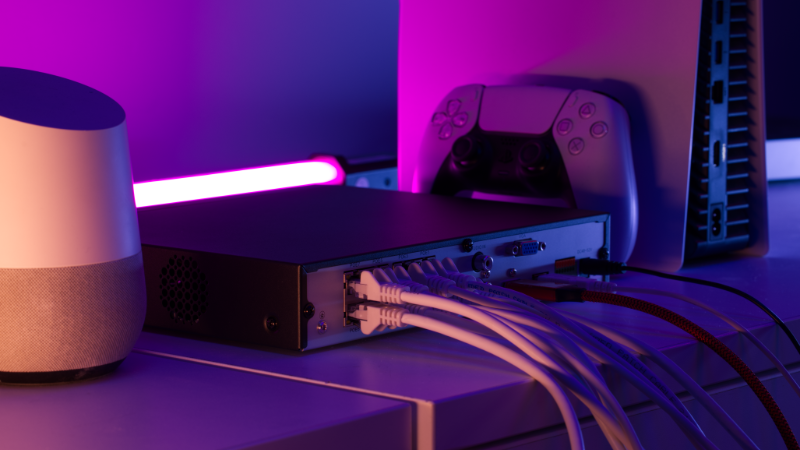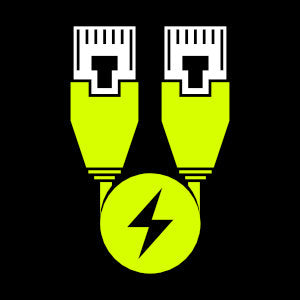 8 Channel PoE NVR: Install Your Camera with Just One Cable
Say goodbye to messy cables and complicated installations. Our Power over Ethernet system allows you to transmit both video and power through a single network cable. By eliminating the need for separate power adaptors and splitters, you can enjoy a hassle-free installation process that is both time-saving and cost-effective.
See All PoE Cameras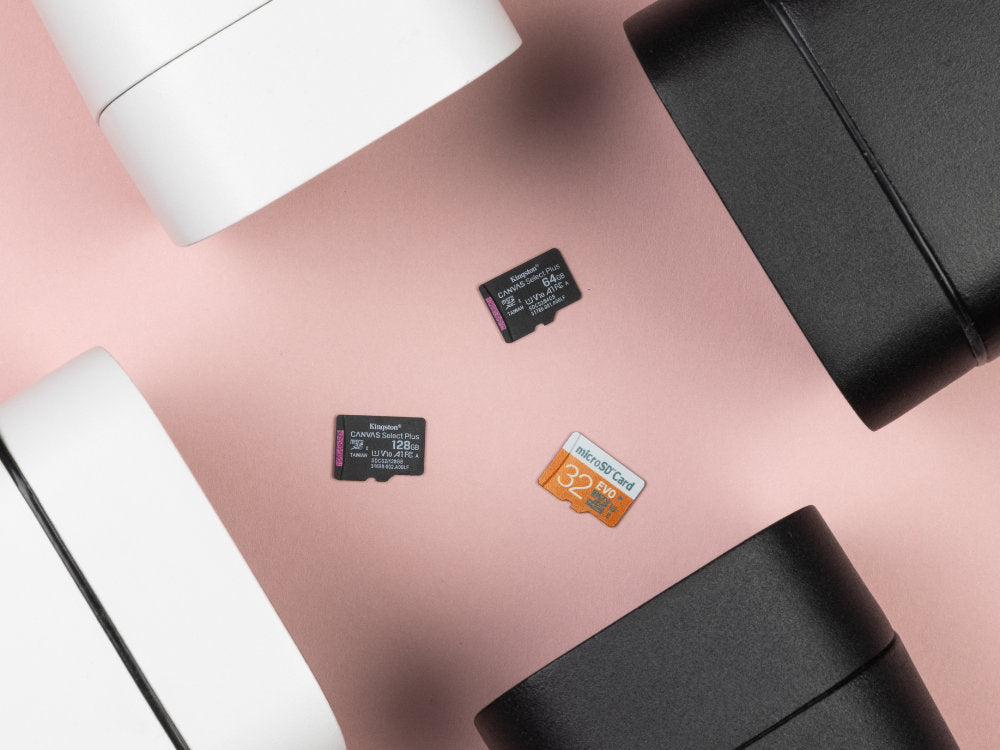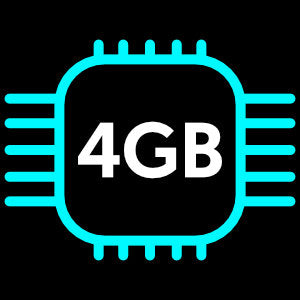 Camera Onboard Memory
4GB Built-in & 512GB Optional SD Card
Every PoE camera boasts a 4GB built-in memory and an SD Card slot supporting up to 512GB. This provides reliable backup storage for snapshots and ensures uninterrupted security. Activate in-camera recording to securely back up your footage offline using an SD card.
See All SD Card Cameras
Size Matters
Prepare for installation by planning ahead. Use the given dimensions and specs to determine the right site. A thorough prep ensures a flawless fit and peak performance. Remember: measure twice, install once.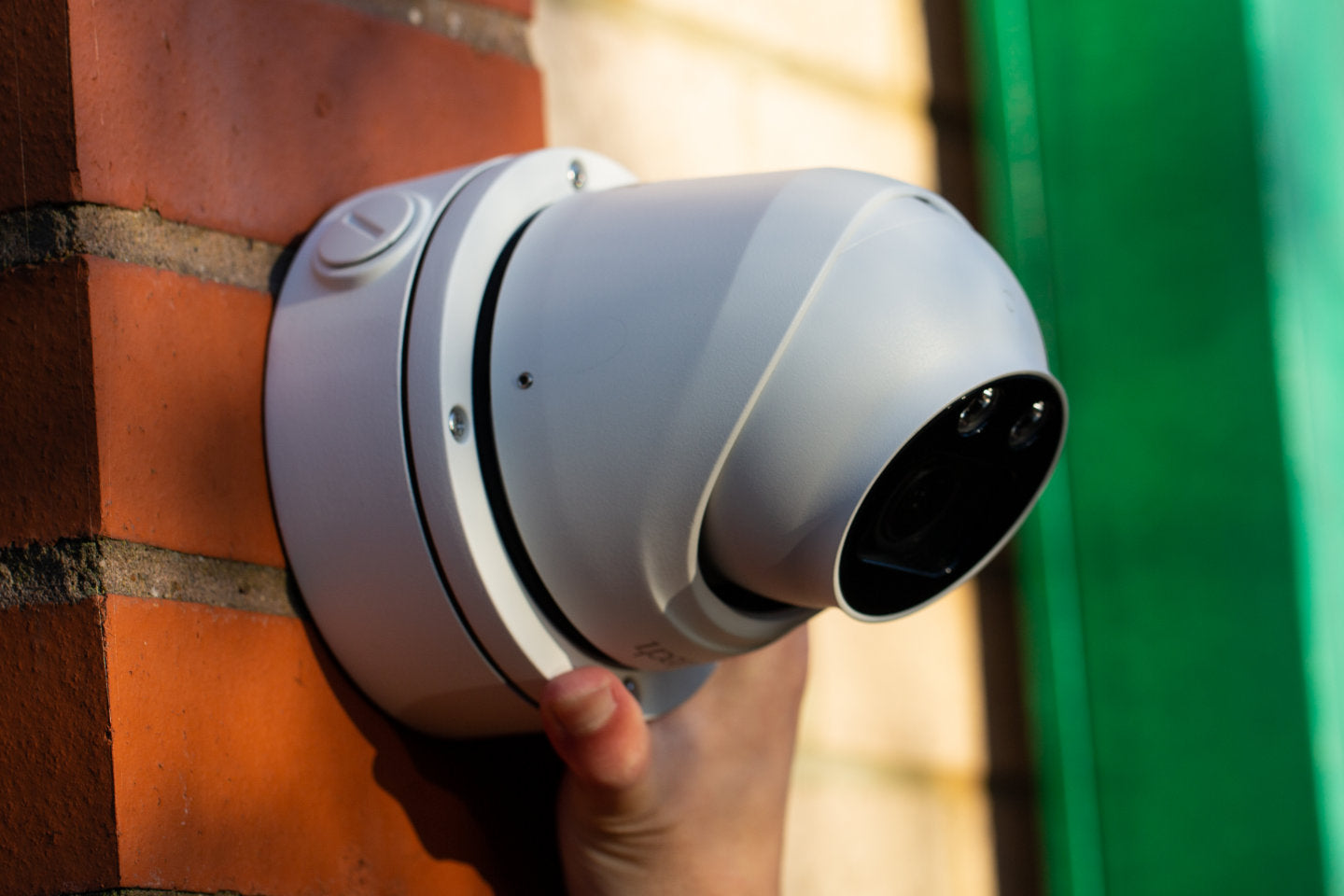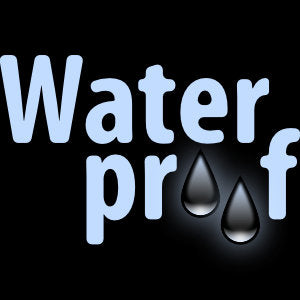 Less Drilling, Max Protection
Optional Bracket for Neat Installation
This system offers the option to add an extra bracket, eliminating the need to drill large holes through the wall to hide cables. The weatherproof bracket or spacer ensures protection for your connections, enhancing the longevity of the system.
CCTV Kits enhanced by AI Technology
4K CCTV System with Ultra Smart Motion Detection and Notification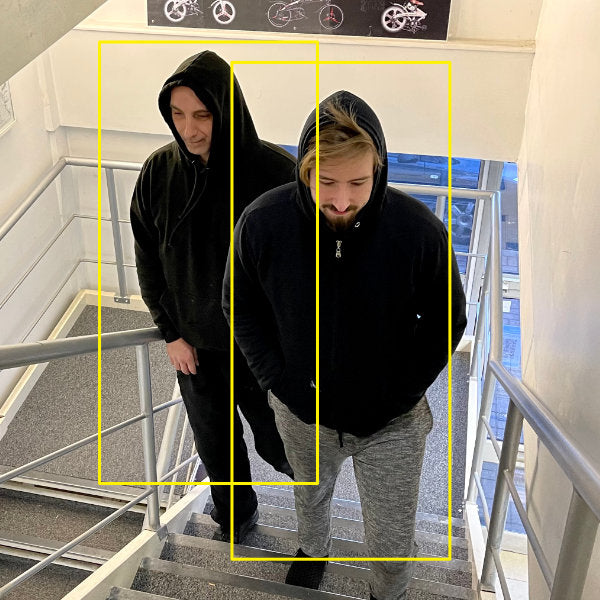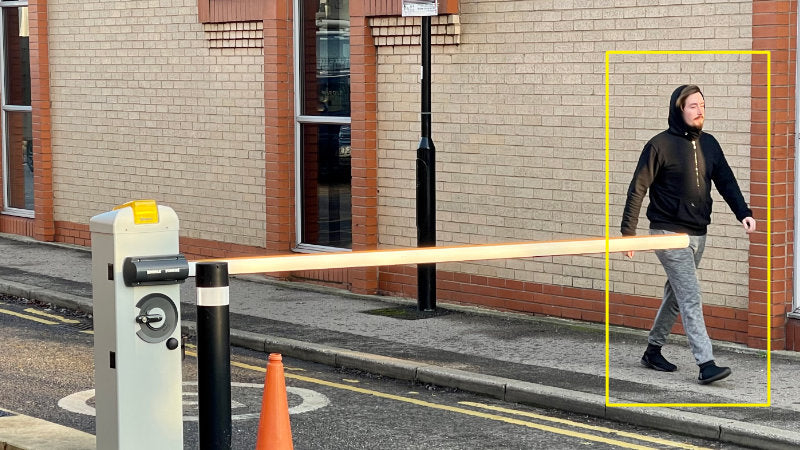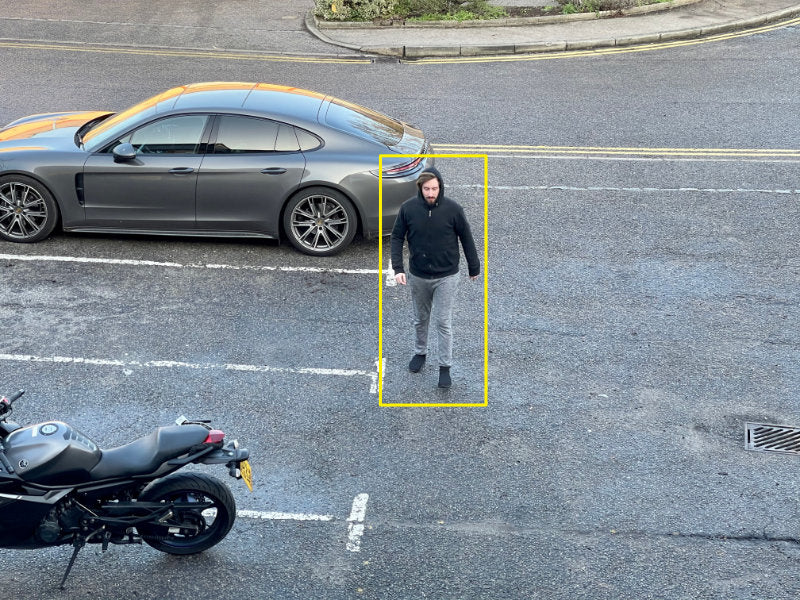 Alert with Regional Intrusion and Line Crossing.
4K CCTV System with Smart Humanoid Detection
Introducing Zxtech's advanced CCTV kits, equipped with cutting-edge AI face detection capabilities. Beyond the standard features like Motion Detection, Mobile Alerts, Masking, and Scheduling, our cameras redefine security with their power AI functions. Ensure unparalleled safety by receiving alerts or activating recordings when someone enters or crosses a predefined zone. With Zxtech, experience next-generation CCTV that proactively aids in crime prevention. Elevate your security with the future of surveillance technology.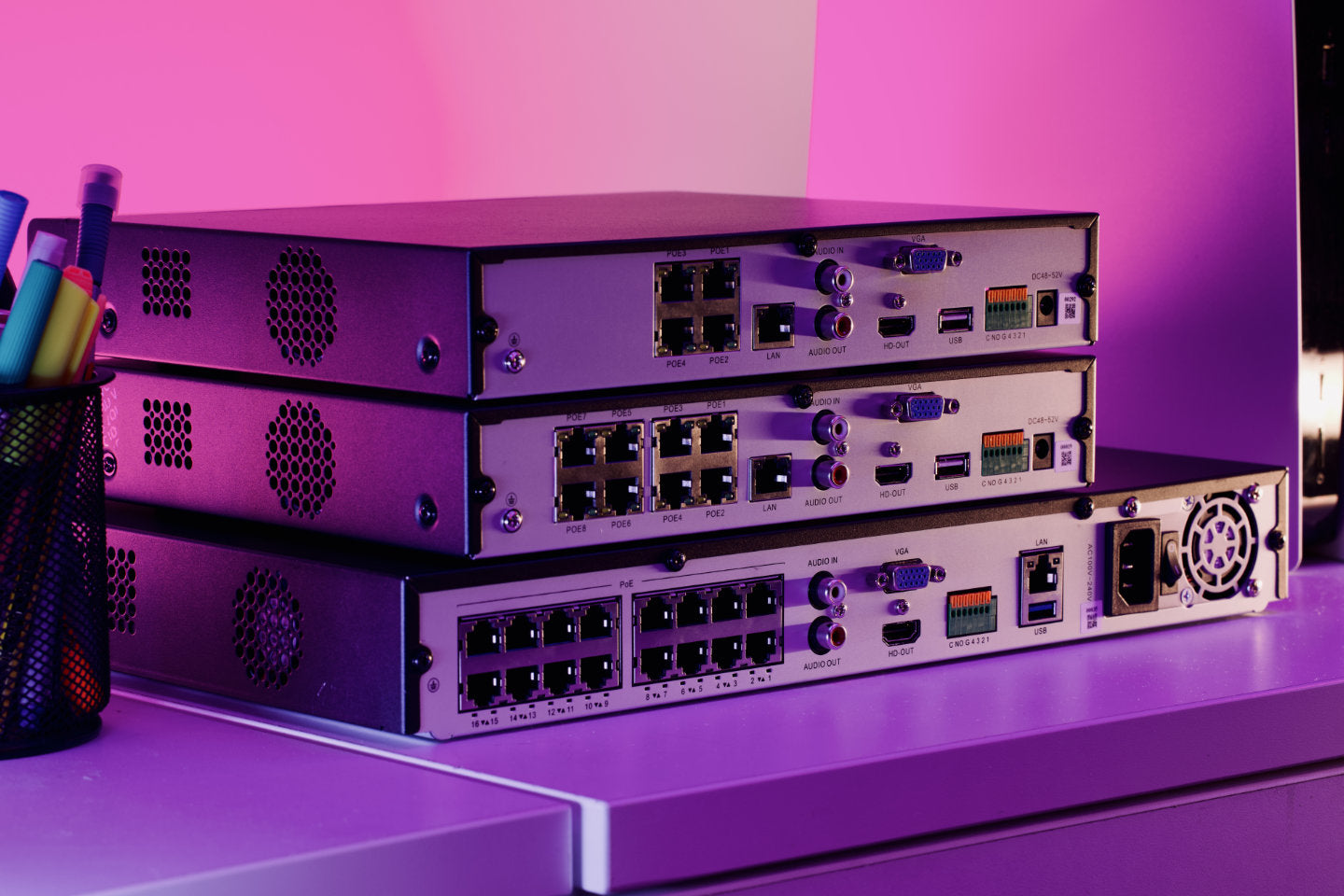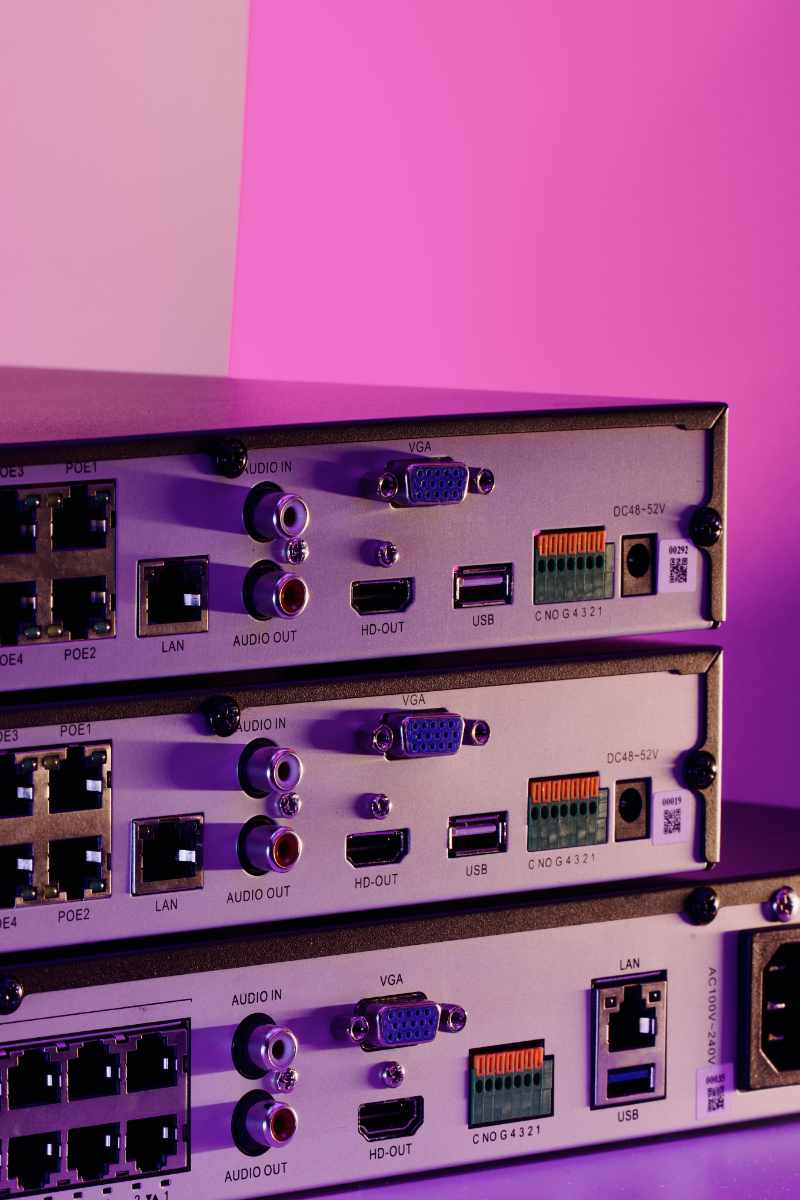 The Best System Comes with The Best 4K CCTV Recorder
Built-in 8 Port PoE recorder,HDMI & VGA, Loop recording, Expand up to 16x IP Cameras. Supports max 16x 5MP cameras or 10x 4K/8MP Cameras. Up to 8TB HDD, Audio in & out, Alarm ports, 2x USB ports.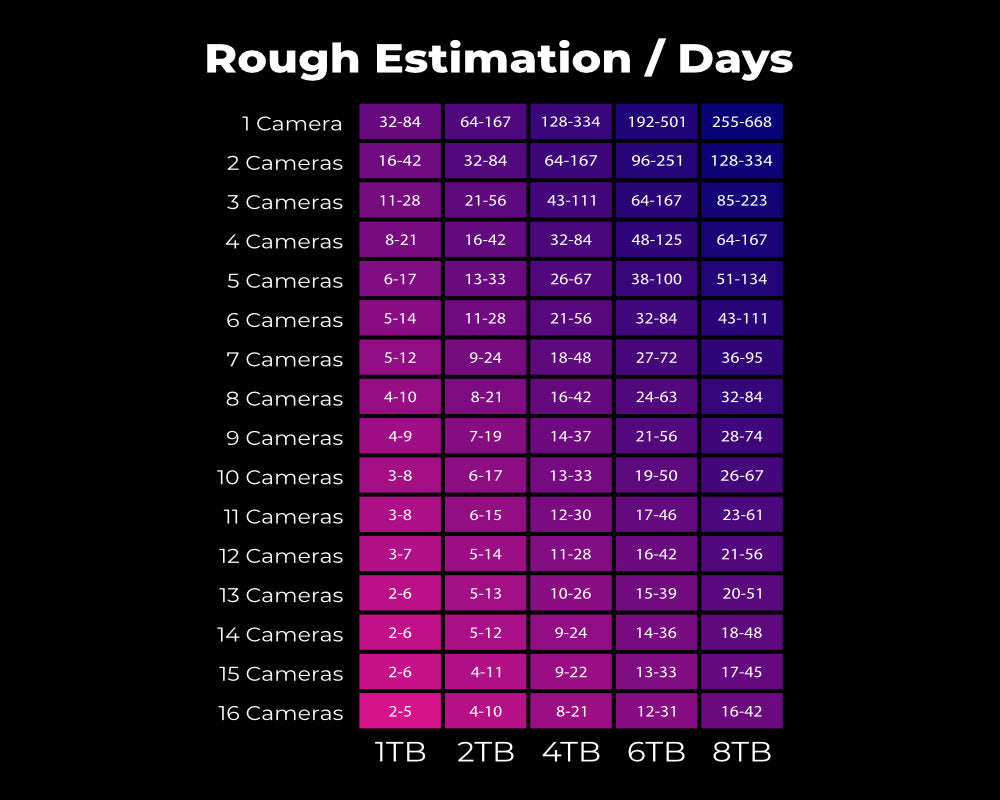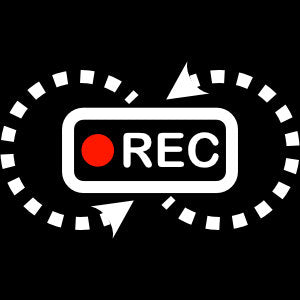 With Loop Recording
8TB Storage Option for "Marathon" Recording
The advanced PoE CCTV system provides an impressive storage capacity which comes with 1x HDD bay with total storage 8TB. Combined with H265+ compression technology, your recordings will use far less storage space, allowing the hard drive to accommodate up to 4 times more footage compared to the older H264 format. Additionally, the automatic loop recording ensures the oldest clips are overwritten, so you always retain the most critical evidence.
Explore HDD
Maximize Performance, Minimize Bandwidth
H.265+: Revolution in Video Coding
Welcome to the era of H.265+ High-Efficiency Video Coding. Experience a significant reduction in hard drive storage and transmission costs. With this groundbreaking system, video storage space is slashed by 40 to 50%, presenting undeniable cost savings for both homeowners and businesses. With H.265+, your recording duration expands to up to 4 times longer than h.264 on an identical hard drive. Elevate your efficiency without compromising quality.
Complete PoE System Enhanced by the Latest Technology
H265+, Free App, Scan and Ready, No Monthly Fee
Zxtech introduces its state-of-the-art firmware for 4K NVR CCTV systems. Boasting a user-friendly interface enriched with advanced features like Face Recognition, Intrusion Detection, and more, this next-gen firmware ensures a superior user experience. With its smart AI system and real-time HDD monitoring, it guarantees both safety and reliability. Dive into a seamless experience with Zxtech's latest 4K NVR software recorders.
Mac, PC, Smart Phone, TV
Access on Any Device, Any Time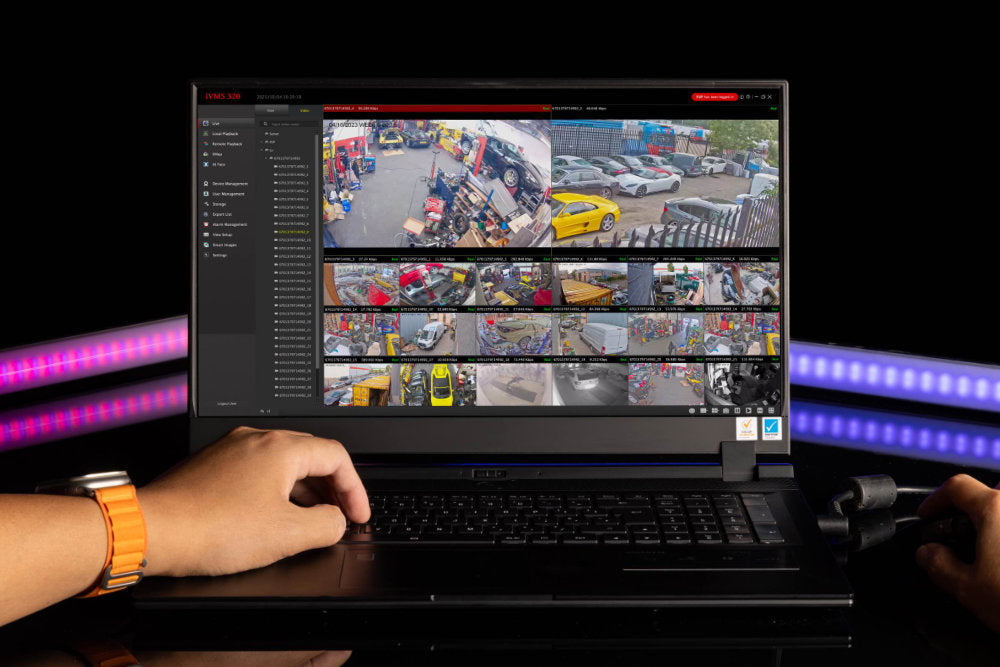 PC, Mac
Download the latest version of the iVMS software for your PC or Mac. This allows you to remotely monitor and review footage from your CCTV system, ensuring you stay connected wherever you are, anytime you need.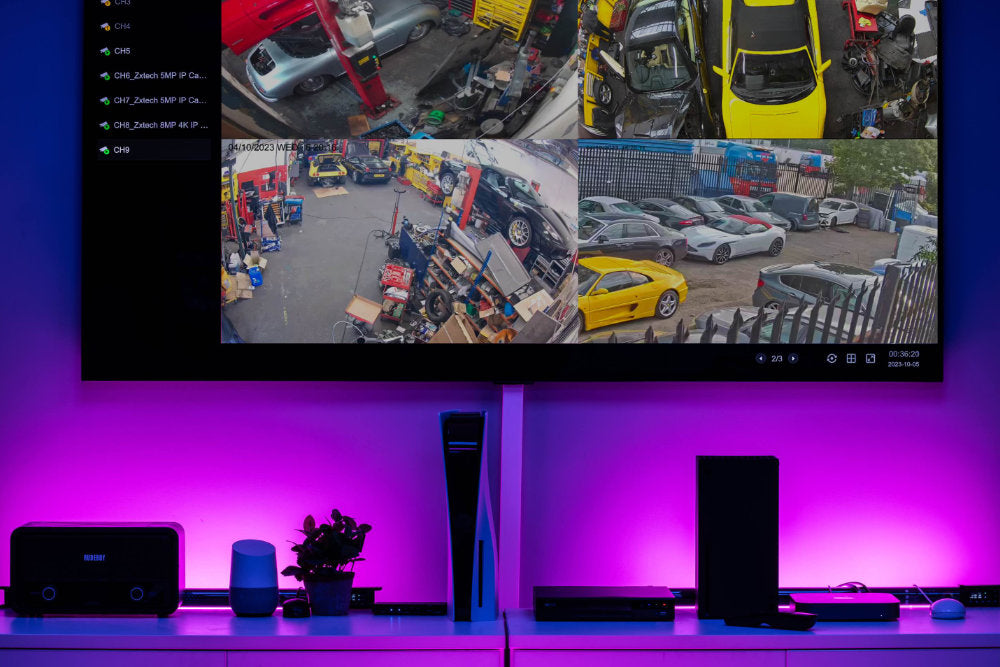 2 Screen TV Setup
The NVR included with the system boasts both HDMI and VGA ports on the back, enabling simultaneous connection to two external monitors or TVs. For instance, with a sufficiently long cable, you can have one display in the kitchen and another in the living room.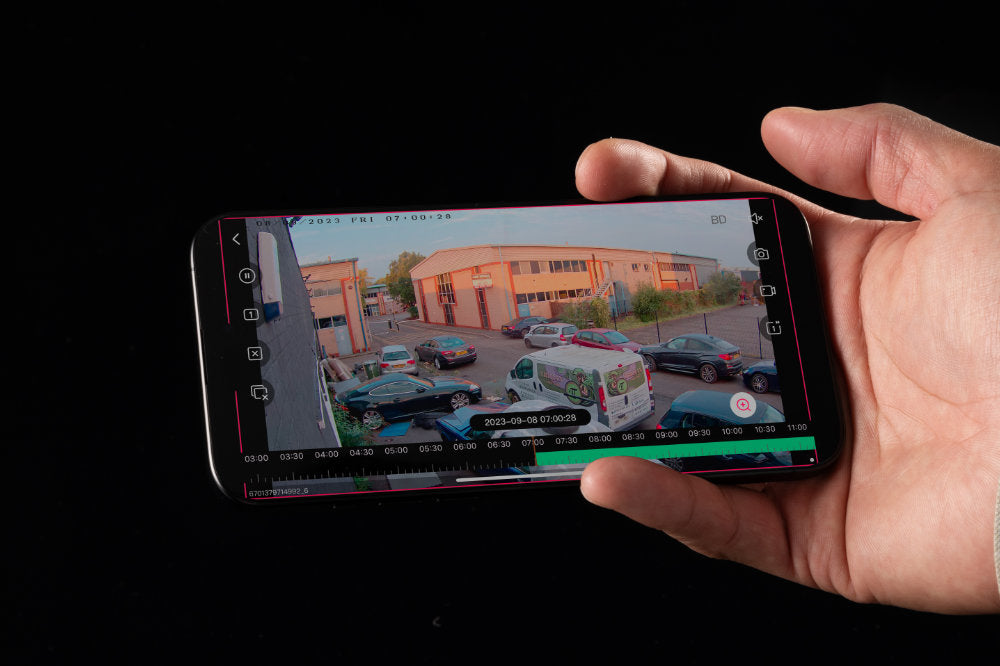 Smart Phone
In today's world, smartphones are indispensable, and so should your CCTV system be. Download the latest BitVision app to monitor, view, playback, and share your CCTV footage anytime, anywhere.
Image Sensor
1/2.8"" SONY Starvis Back-illuminated CMOS sensor
Resolution
5MP (optional 8MP)
Effective Pixels
2616 (H) x 1964 (V) (optional 3864(H)*2192(V))
Compression
H.264/H.264+/H.265/H.265+/JPEG/AVI /MJPEG
Electronic Shutter Time
Auto: PAL 1/25-1/10000Sec; NTSC 1/25-1/10000Sec
Minimun Illumination
0.01Lux
S/N Ratio
≥52dB
Scanning System
Progressive
Video Output
Network
Reset Button
Support
Focus Length
2.7-13.5mm
Focus Control
Auto
Lens Type
Auto
Pixels
8MP (optional 5MP)
Infrared LED
42µ x 2PCS
Intense LED option
4545U × 2 Warm light LED up to 60M
Infrared Distance
30M
IR Status
Auto Control
IR Power On
Auto Control
Ethernet
RJ-45 (10/100Base-T)
Protocol
TCP/IP,ICMP,HTTP,HTTPS,FTP,DHCP,DNS,DDNS,RTP,RTSP,RTCP,NTP,SMTP
ONVIF
Support ONVIF 2.4(Profile S/T)
P2P
YES, Support QR Code
PoE
Internal, Support IEEE 802.3af
Video Delay
0.3S (Within the Lan)
Main Stream 1
2592*1944@30fp (optional 2048*1536@30fps)
Intelligent Analysis
Intrusion Detetion, Line Cross Detetion, Loiter Detetion, People Gather Detecion
Recognition
Face Detection and Recognition
Number of faces per frame: 32
Capture rate: >99.5%
Repeat capture rate: <15%
False capture rate: <0.5%
Number of supported faces: 30,000
Minimum detection of face pixels: 25*25
Maximum detection of face pixels: 300*300
Day/Night
Color/ B&W (Select Intense LED for 24/7 Colour)
Image Config
Saturation/Brightness/Contrast /Sharpness, Mirror, 3D NR , White Balance,
FLK(Flicker Control), Video Tampering
Defog Mode, ROI, BLC
Support
WDR
HDR:120dB
Motion Detection
Support
Privacy Masking
3 Rectangular Zone
Audio
Support
Alarm
1 Channel Input/Output
SD Card Slot
External, Support Max 512GB,With 4G Storage
Audio
Extendable Audio Input/Output
Housing
IP67
Dimension
115 x 113(H) mm
Model
MN403PN
System
 
Main Processor 
ARM Cortex A7 Processor
Operating System
Embedded LINUX
Video
 
Input
9CH(3840*2160,2592x1944, 2048x1536, 1920×1080, 1280×960, 1280×720, etc)
Output  
1 VGA, 1 HD
Audio
 
Input
1 Port RCA, support 9CH IPC audio input
Output
1 Port RCA(Linear, 1kΩ), HD output
Audio Bit Rate
64kbps
Audio Compression standard
G711u, G711a, ADPCM_DVI4 
Intercom
support (two-way)
Alarm
 
Sensor Input 
4CH
Output  
1CH
Motion Detection  
9 Channel, MD Zones: 396 (22 × 18)
Trigger Events 
Recording, Email, FTP, Snapshot, Buzzer and Screen Tips, alarm output
Display
 
HD Output1
4K(3840*2160)/2K(2560*1440)/1920*1080/1280*1024/1280*720/1024*768
HD Output2
N/A
VGA     
Resolution:1920 × 1080/60Hz, 1280 × 1024/60Hz, 1280 × 720/60Hz, 1024 × 768/60Hz
Display Split 
9CH/8CH/6CH/4CH/1CH
Digital Zoom  
YES
OSD
Camera Title, Time, Recording, Motion Detection, Event Alarm
Recording
 
Video Compression  
H265/H264/H265+/H264+
Resolution  
4k(3840×2160),5MP(2592×1944),4MP(2688×1520/2560×1440),3MP(2048×1536),1080P(1920×1080),960P(1280x960),720P(1280×720),D1 (720×576/720×480)
Record Rate  
PAL :4K@8CHx25fps,5MP@9CH×25fp,4MP@9CHx25fp,3MP@9CH×25fp,1080P@9CH×25fp, 960P@9CH×25fp,720P@9CH×25fp, D1@9CH×25fp
 NTSC: 4K@8CHx30fps,5MP@9CH×30fp,4MP@9CH×30fp,3MP@9CH×30fp,1080P@9CH×30fp, 960P@9CH×30fp, 720P@9CH×30fp, D1@9CH×30fp
Record Mode 
Manual\Timer\Motion Detection\ Alarm\Smart Event
Playback & Backup
 
Local Sync Playback 
1CH 4K@30fps, 1CH 5MP@30fps,2CH 4MP@30fps, 2CH 3M@30fps, 4CH 1080P@30fps,6CH 960P@30fps, 8CH 720P@30fps,9CH D1@30fps
Decode Capability 
4CH 1080P(1920x1080)@30fps
Remote Sync Playback 
YES
Search Mode 
ALL, Timing Video, Motion Detection, Alarm,Tag  search,Smart Event,Pictrue,Log
Playback Functions
Play, pause, fast forward, rewind, previous frame, next frame, electronic zoom, clip, audio
Backup Mode
USB Device/Network
Network
 
Interface 
1xRJ45 10M/100MAdaptive Ethernet Interface
Incoming Bandwidth 
80Mbps
Outgoing Bandwidth
80Mbps
Network Functions  
IPv6/TCP/IP, HTTP,HTTPS, UPnP, DNS, NTP, SMTP, DHCP, FTP, DDNS, RTSP, RTCP, p2p,PPPOE
Onvif 
Profile S, Profile G, Profile T
Web Browser
Edge,IE8-11, Google Chrome , Firefox ,Safari
CMS Software
Support  Windows 7/ Windows 8/Windows 10/Windows 11/MAC OS
Cloud Support
Yes
Smart Phone
iPhone, iPad, Android, Android Pad
POE  
4 x Independent 100Mbps POE Network Interfaces(Output power AF mode 15W per port), 45/78 line order, Total Power Output≤ 50W,  Support Plug and Play, Support network cable extended mode Max. 200M
WIFI  
N/A
Storage
 
Interface Type  
1 SATA Hard Disk Interface (3.5" SATA)
Capacity 
Up to 8TB capacity
eSATA
N/A
General
 
Language  UI
Simplified Chinese, Traditional Chinese,English,  Russian,
Deutsch, French, Portuguese,  Spanish, Italian,  Korean,   Janpanese,Ukrainian, Polski,Dutch, Greek, Czech, Arabic
USB Interface 
2 USB 2.0 Interfaces
RS485 
N/A
Power consumption
DC48V∕1360mA  ≤10W (Without Hard Disk and POE)
Working Environment
-10℃~50℃, 10%~90%(humidity)
Dimension(W×D×H)
 260*230*43(mm) 
Weight
2kg(without HDD)
Model
MN903PN 
System
 
Main Processor 
ARM Cortex A7 Processor
Operating System
Embedded LINUX
Video
 
Input
16CH(3840

×

 2160, 2592

×

 1944, 2048

×

 1536, 1920 × 1080, 1280

× 

960, 1280 × 720, etc)
Output  
1 VGA, 1 HD
Audio
 
Input
1 Port RCA, support 16CH IPC audio input
Output
1 Port RCA (Linear, 1kΩ), HD output
Audio Bit Rate
64kbps
Audio Compression standard
G711u, G711a, ADPCM_DVI4 
Intercom
support (two-way)
Alarm
 
Sensor Input 
4CH
Output  
1CH
Motion Detection  
16Channel, MD Zones: 396 (22 × 18)
Trigger Events 
Recording, Email, FTP, Snapshot, Buzzer and Screen Tips, alarm output
Display
 
HD Output1
4K(3840

× 

2160), 2K(2560

× 

1440), 1920

× 

1080, 1280

× 

1024, 1280

× 

720, 1024

× 

768
HD Output2
N/A
VGA     
Resolution:1920 × 1080/60Hz, 1280 × 1024/60Hz, 1280 × 720/60Hz, 1024 × 768/60Hz
Display Split 
16CH, 13CH, 10CH, 9CH, 8CH, 6CH, 4CH, 1CH
Digital Zoom  
YES
OSD
Camera Title, Time, Recording, Motion Detection, Event Alarm
Recording
 
Video Compression  
H265/H264/H265+/H264+
Resolution  
4K(3840

× 

2160), 5MP(2592

× 

1944), 4MP(2688

× 

1520 / 2560

× 

1440),3MP(2048

× 

1536),1080P(1920

× 

1080),960P(1280

× 

960),720P(1280

× 

720), D1 (720

× 

576/720

× 

480)
Record Rate  
PAL: 4K@10CH

× 

25fps,5MP@16CH

× 

25fp, 4MP@16CH

× 

25fp, 3MP@16CH

× 

25fp, 1080P@16CH

× 

25fp, 960P@16CH

× 

25fp, 720P@16CH

× 

25fp, D1@16CH

× 

25fp
NTSC: 4K@10CH

× 

30fps, 5MP@16CH

× 

30fp, 4MP@16CH

× 

30fp,3MP@16CH

× 

30fp, 1080P@16CH

× 

30fp, 960P@16CH

× 

30fp, 720P@16CH

× 

30fp,  D1@16CH

× 

30fp
Record Mode 
Manual, Timer, Motion Detection,  Alarm, Smart Event
Playback & Backup
 
Local Sync Playback 
1CH 4K@30fps, 1CH 5MP@30fps, 2CH 4MP@30fps, 2CH 3M@30fps, 4CH 1080P@30fps, 4CH 960P@30fps, 4CH 720P@30fps,16CH D1@30fps
Decode Capability 
4CH 1080P(1920

× 

1080)@30fps
Remote Sync Playback 
YES
Search Mode 
ALL, Timing Video, Motion Detection, Alarm,Tag search, Smart Event, Pictrue, Log
Playback Functions
Play, pause, fast forward, rewind, previous frame, next frame, electronic zoom, clip, audio
Backup Mode
USB Device, Network
Network
 
Interface 
1xRJ45 10M/100/1000M Adaptive Ethernet Interface
Incoming Bandwidth 
120Mbps
Outgoing Bandwidth
120Mbps
Network Functions  
IPv6,TCP/IP, HTTP,HTTPS, UPnP, DNS, NTP, SMTP, DHCP, FTP, DDNS, RTSP, RTCP, P2P, PPPOE
Onvif 
Profile S, Profile G, Profile T
Web Browser
Edge,IE8-11, Google Chrome, Firefox, Safari
CMS Software
Support  Windows 7, Windows 8, Windows 10, Windows 11, MAC OS
Cloud Support
Yes
Smart Phone
iPhone, iPad, Android, Android Pad
POE  
8 x Independent 100Mbps POE Network Interfaces(Output power AF mode 15W per port), 45/78 line order, Total Power Output≤ 96W,  Support Plug and Play, Support network cable extended mode Max. 200M
WIFI  
N/A
Storage
 
Interface Type  
1 SATA Hard Disk Interface (3.5" SATA)
Capacity 
Up to 8TB capacity
eSATA
N/A
General
 
Language  UI
Simplified Chinese, Traditional Chinese,English,  Russian,
Deutsch, French, Portuguese, Spanish, Italian, Korean, Japanese, Ukrainian, Polski, Dutch, Greek, Czech, Arabic
USB Interface 
2 USB 2.0 Interfaces
RS485 
N/A
Power consumption
DC48V∕2500mA ≤ 10W(Without Hard Disk and POE)
Working Environment
-10℃~50℃, 10%~90%(humidity)
Dimension(W×D×H)
 260

× 

230

× 

43(mm) 
Weight
2kg(without HDD)
Model
MN6P3C2H
System
 
Main Processor 
Quad Cortex A53
Operating System
Embedded LINUX
Video
 
Input

32CH(4000*3000, 3840*2160, 2592x1944, 2048x1536, 1920×1080, 1280×960, 1280×720, etc)

Output  
1*HD,1*VGA
Audio
 
Input
1 Port RCA, support 32CH IPC audio input
Output
1 Port RCA(Linear, 1kΩ), HD output
Audio Bit Rate
64kbps
Audio Compression standard
G711U, G711A, AAC
Intercom
support (two-way)
Alarm
 
Sensor Input 
4CH
Output  
1CH
Motion Detection  
32Channel, MD Zones: 396 (22 × 18)
Trigger Events 
Recording, Email, FTP, Snapshot, Buzzer and Screen Tips, alarm output
Display
 
HD Output1
4K(3840*2160), 2K(2560*1440), 1920*1080, 1280*1024, 1280*720, 1024*768
HD Output2
N/A
VGA     
Resolution:1920 × 1080/60Hz, 1280 × 1024/60Hz, 1280 × 720/60Hz, 1024 × 768/60Hz
Display Split 
36CH, 25CH, 17CH, 16CH, 13CH, 10CH, 9CH ,8CH, 6CH, 4CH, 1CH
Digital Zoom  
YES
OSD
Camera Title, Time, Recording, Motion Detection, Event Alarm
Recording
 
Video Compression  
H265/H264/H265+/H264+
Resolution  
12MP(4000*3000), 8MP(3840×2160), 5MP(2592×1944), 4MP(2688×1520/2560×1440), 3MP(2048×1536), 1080P(1920×1080), 960P(1280x960), 720P(1280×720), D1 (720×576/720×480)
Record Rate  
PAL: 12MP@32CHx25fps, 8MP@32CHx25fps, 5MP@32CH×25fp, 4MP@32CHx25fp, 3MP@32CH×25fp,1080P@32CH×25fp, 960P@32CH×25fp, 720P@32CH×25fp, D1@32CH×25fp
NTSC: 12MP@32CHx30fps, 8MP@32CHx30fps, 5MP@32×30fp, 4MP@32CH×30fp, 3MP@32CH×30fp, 1080P@32CH×30fp, 960P@32CH×30fp,  720P@32CH×30fp, D1@32CH×30fp
Record Mode 
Manual, Timer, Motion Detection, Alarm, Smart Event
Playback & Backup
 
Local Sync Playback 
3CH 12MP@30fps, 4CH 8MP@30fps, 6CH 5MP@30fps, 8CH 4MP@30fps, 16CH 1080P@30fps, 16CH 960P@30fps, 16CH 720P@30fps, 16CH D1@30fps
Decode Capability 
 1080P(1920x1080)@480fps
Remote Sync Playback 
YES
Search Mode 
ALL, Timing Video, Motion Detection, Alarm, Tag search, Smart Event, Pictrue, Log
Playback Functions
Play, pause, fast forward, rewind, previous frame, next frame, electronic zoom, clip, audio
Backup Mode
USB Device/Network
Network
 
Interface 
1xRJ45 10M/100/1000M Adaptive Ethernet Interface
Incoming Bandwidth 
320Mbps
Outgoing Bandwidth
256Mbps
Network Functions  
IPv6, TCP/IP, HTTP, HTTPS, UPnP, DNS, NTP, SMTP, DHCP, FTP, DDNS, RTSP, RTCP, p2p, PPPOE
Onvif 
Profile S, Profile G, Profile T
Web Browser
Edge, IE8-11, Google Chrome, Firefox, Safari
CMS Software
Support  Windows 7, Windows 8, Windows 10, Windows 11, MAC OS
Cloud Support
Yes
Smart Phone
iPhone, iPad, Android, Android Pad
POE  
16 x Independent 100Mbps POE Network Interfaces (Output power AF mode 15W per port), 45/78 line order, Total Power Output≤ 200W, Support Plug and Play, Support network cable extended mode Max. 200M
WIFI  
N/A
Storage
 
Interface Type  
2 SATA Hard Disk Interface (3.5" SATA)
Capacity 
Up to 10 TB capacity for each HDD
eSATA
N/A
General
 
Language  UI
Simplified Chinese, Traditional Chinese,English, Russian,
Deutsch, French, Portuguese, Spanish, Italian, Korean, Janpanese, Ukrainian, Polski, Dutch, Greek, Czech, Arabic
USB Interface 

Front panel: 1 × USB 2.0; Rear panel: 1 × USB 3.0

RS485 
N/A
Power consumption
100-240VAC, 50/60Hz ≤15W (Without Hard Disk and POE)
Working Environment
-10℃~50℃, 10%~90% (humidity)
Dimension(W×D×H)
380 x 316 x 51mm
Weight
3.48≤ kg (without HDD)
Image Sensor
1/2.8"" SONY Starvis Back-illuminated CMOS sensor
Resolution
5MP (optional 8MP)
Effective Pixels
2616 (H) x 1964 (V) (optional 3864(H)*2192(V))
Compression
H.264/H.264+/H.265/H.265+/JPEG/AVI /MJPEG
Electronic Shutter Time
Auto: PAL 1/25-1/10000Sec; NTSC 1/25-1/10000Sec
Minimun Illumination
0.01Lux
S/N Ratio
≥52dB
Scanning System
Progressive
Video Output
Network
Reset Button
Support
Focus Length
2.7-13.5mm
Focus Control
Auto
Lens Type
Auto
Pixels
8MP (optional 5MP)
Infrared LED
42µ x 2PCS
Intense LED option
4545U × 2 Warm light LED up to 60M
Infrared Distance
30M
IR Status
Auto Control
IR Power On
Auto Control
Ethernet
RJ-45 (10/100Base-T)
Protocol
TCP/IP,ICMP,HTTP,HTTPS,FTP,DHCP,DNS,DDNS,RTP,RTSP,RTCP,NTP,SMTP
ONVIF
Support ONVIF 2.4(Profile S/T)
P2P
YES, Support QR Code
PoE
Internal, Support IEEE 802.3af
Video Delay
0.3S (Within the Lan)
Main Stream 1
2592*1944@30fp (optional 2048*1536@30fps)
Intelligent Analysis
Intrusion Detetion, Line Cross Detetion, Loiter Detetion, People Gather Detecion
Recognition
Face Detection and Recognition
Number of faces per frame: 32
Capture rate: >99.5%
Repeat capture rate: <15%
False capture rate: <0.5%
Number of supported faces: 30,000
Minimum detection of face pixels: 25*25
Maximum detection of face pixels: 300*300
Day/Night
Color/ B&W (Select Intense LED for 24/7 Colour)
Image Config
Saturation/Brightness/Contrast /Sharpness, Mirror, 3D NR , White Balance,
FLK(Flicker Control), Video Tampering
Defog Mode, ROI, BLC
Support
WDR
HDR:120dB
Motion Detection
Support
Privacy Masking
3 Rectangular Zone
Audio
Support
Alarm
1 Channel Input/Output
SD Card Slot
External, Support Max 512GB,With 4G Storage
Audio
Extendable Audio Input/Output
Housing
IP67
Dimension
115 x 113(H) mm
Model
MN403PN
System
 
Main Processor 
ARM Cortex A7 Processor
Operating System
Embedded LINUX
Video
 
Input
9CH(3840*2160,2592x1944, 2048x1536, 1920×1080, 1280×960, 1280×720, etc)
Output  
1 VGA, 1 HD
Audio
 
Input
1 Port RCA, support 9CH IPC audio input
Output
1 Port RCA(Linear, 1kΩ), HD output
Audio Bit Rate
64kbps
Audio Compression standard
G711u, G711a, ADPCM_DVI4 
Intercom
support (two-way)
Alarm
 
Sensor Input 
4CH
Output  
1CH
Motion Detection  
9 Channel, MD Zones: 396 (22 × 18)
Trigger Events 
Recording, Email, FTP, Snapshot, Buzzer and Screen Tips, alarm output
Display
 
HD Output1
4K(3840*2160)/2K(2560*1440)/1920*1080/1280*1024/1280*720/1024*768
HD Output2
N/A
VGA     
Resolution:1920 × 1080/60Hz, 1280 × 1024/60Hz, 1280 × 720/60Hz, 1024 × 768/60Hz
Display Split 
9CH/8CH/6CH/4CH/1CH
Digital Zoom  
YES
OSD
Camera Title, Time, Recording, Motion Detection, Event Alarm
Recording
 
Video Compression  
H265/H264/H265+/H264+
Resolution  
4k(3840×2160),5MP(2592×1944),4MP(2688×1520/2560×1440),3MP(2048×1536),1080P(1920×1080),960P(1280x960),720P(1280×720),D1 (720×576/720×480)
Record Rate  
PAL :4K@8CHx25fps,5MP@9CH×25fp,4MP@9CHx25fp,3MP@9CH×25fp,1080P@9CH×25fp, 960P@9CH×25fp,720P@9CH×25fp, D1@9CH×25fp
 NTSC: 4K@8CHx30fps,5MP@9CH×30fp,4MP@9CH×30fp,3MP@9CH×30fp,1080P@9CH×30fp, 960P@9CH×30fp, 720P@9CH×30fp, D1@9CH×30fp
Record Mode 
Manual\Timer\Motion Detection\ Alarm\Smart Event
Playback & Backup
 
Local Sync Playback 
1CH 4K@30fps, 1CH 5MP@30fps,2CH 4MP@30fps, 2CH 3M@30fps, 4CH 1080P@30fps,6CH 960P@30fps, 8CH 720P@30fps,9CH D1@30fps
Decode Capability 
4CH 1080P(1920x1080)@30fps
Remote Sync Playback 
YES
Search Mode 
ALL, Timing Video, Motion Detection, Alarm,Tag  search,Smart Event,Pictrue,Log
Playback Functions
Play, pause, fast forward, rewind, previous frame, next frame, electronic zoom, clip, audio
Backup Mode
USB Device/Network
Network
 
Interface 
1xRJ45 10M/100MAdaptive Ethernet Interface
Incoming Bandwidth 
80Mbps
Outgoing Bandwidth
80Mbps
Network Functions  
IPv6/TCP/IP, HTTP,HTTPS, UPnP, DNS, NTP, SMTP, DHCP, FTP, DDNS, RTSP, RTCP, p2p,PPPOE
Onvif 
Profile S, Profile G, Profile T
Web Browser
Edge,IE8-11, Google Chrome , Firefox ,Safari
CMS Software
Support  Windows 7/ Windows 8/Windows 10/Windows 11/MAC OS
Cloud Support
Yes
Smart Phone
iPhone, iPad, Android, Android Pad
POE  
4 x Independent 100Mbps POE Network Interfaces(Output power AF mode 15W per port), 45/78 line order, Total Power Output≤ 50W,  Support Plug and Play, Support network cable extended mode Max. 200M
WIFI  
N/A
Storage
 
Interface Type  
1 SATA Hard Disk Interface (3.5" SATA)
Capacity 
Up to 8TB capacity
eSATA
N/A
General
 
Language  UI
Simplified Chinese, Traditional Chinese,English,  Russian,
Deutsch, French, Portuguese,  Spanish, Italian,  Korean,   Janpanese,Ukrainian, Polski,Dutch, Greek, Czech, Arabic
USB Interface 
2 USB 2.0 Interfaces
RS485 
N/A
Power consumption
DC48V∕1360mA  ≤10W (Without Hard Disk and POE)
Working Environment
-10℃~50℃, 10%~90%(humidity)
Dimension(W×D×H)
 260*230*43(mm) 
Weight
2kg(without HDD)
Model
MN903PN 
System
 
Main Processor 
ARM Cortex A7 Processor
Operating System
Embedded LINUX
Video
 
Input
16CH(3840

×

 2160, 2592

×

 1944, 2048

×

 1536, 1920 × 1080, 1280

× 

960, 1280 × 720, etc)
Output  
1 VGA, 1 HD
Audio
 
Input
1 Port RCA, support 16CH IPC audio input
Output
1 Port RCA (Linear, 1kΩ), HD output
Audio Bit Rate
64kbps
Audio Compression standard
G711u, G711a, ADPCM_DVI4 
Intercom
support (two-way)
Alarm
 
Sensor Input 
4CH
Output  
1CH
Motion Detection  
16Channel, MD Zones: 396 (22 × 18)
Trigger Events 
Recording, Email, FTP, Snapshot, Buzzer and Screen Tips, alarm output
Display
 
HD Output1
4K(3840

× 

2160), 2K(2560

× 

1440), 1920

× 

1080, 1280

× 

1024, 1280

× 

720, 1024

× 

768
HD Output2
N/A
VGA     
Resolution:1920 × 1080/60Hz, 1280 × 1024/60Hz, 1280 × 720/60Hz, 1024 × 768/60Hz
Display Split 
16CH, 13CH, 10CH, 9CH, 8CH, 6CH, 4CH, 1CH
Digital Zoom  
YES
OSD
Camera Title, Time, Recording, Motion Detection, Event Alarm
Recording
 
Video Compression  
H265/H264/H265+/H264+
Resolution  
4K(3840

× 

2160), 5MP(2592

× 

1944), 4MP(2688

× 

1520 / 2560

× 

1440),3MP(2048

× 

1536),1080P(1920

× 

1080),960P(1280

× 

960),720P(1280

× 

720), D1 (720

× 

576/720

× 

480)
Record Rate  
PAL: 4K@10CH

× 

25fps,5MP@16CH

× 

25fp, 4MP@16CH

× 

25fp, 3MP@16CH

× 

25fp, 1080P@16CH

× 

25fp, 960P@16CH

× 

25fp, 720P@16CH

× 

25fp, D1@16CH

× 

25fp
NTSC: 4K@10CH

× 

30fps, 5MP@16CH

× 

30fp, 4MP@16CH

× 

30fp,3MP@16CH

× 

30fp, 1080P@16CH

× 

30fp, 960P@16CH

× 

30fp, 720P@16CH

× 

30fp,  D1@16CH

× 

30fp
Record Mode 
Manual, Timer, Motion Detection,  Alarm, Smart Event
Playback & Backup
 
Local Sync Playback 
1CH 4K@30fps, 1CH 5MP@30fps, 2CH 4MP@30fps, 2CH 3M@30fps, 4CH 1080P@30fps, 4CH 960P@30fps, 4CH 720P@30fps,16CH D1@30fps
Decode Capability 
4CH 1080P(1920

× 

1080)@30fps
Remote Sync Playback 
YES
Search Mode 
ALL, Timing Video, Motion Detection, Alarm,Tag search, Smart Event, Pictrue, Log
Playback Functions
Play, pause, fast forward, rewind, previous frame, next frame, electronic zoom, clip, audio
Backup Mode
USB Device, Network
Network
 
Interface 
1xRJ45 10M/100/1000M Adaptive Ethernet Interface
Incoming Bandwidth 
120Mbps
Outgoing Bandwidth
120Mbps
Network Functions  
IPv6,TCP/IP, HTTP,HTTPS, UPnP, DNS, NTP, SMTP, DHCP, FTP, DDNS, RTSP, RTCP, P2P, PPPOE
Onvif 
Profile S, Profile G, Profile T
Web Browser
Edge,IE8-11, Google Chrome, Firefox, Safari
CMS Software
Support  Windows 7, Windows 8, Windows 10, Windows 11, MAC OS
Cloud Support
Yes
Smart Phone
iPhone, iPad, Android, Android Pad
POE  
8 x Independent 100Mbps POE Network Interfaces(Output power AF mode 15W per port), 45/78 line order, Total Power Output≤ 96W,  Support Plug and Play, Support network cable extended mode Max. 200M
WIFI  
N/A
Storage
 
Interface Type  
1 SATA Hard Disk Interface (3.5" SATA)
Capacity 
Up to 8TB capacity
eSATA
N/A
General
 
Language  UI
Simplified Chinese, Traditional Chinese,English,  Russian,
Deutsch, French, Portuguese, Spanish, Italian, Korean, Japanese, Ukrainian, Polski, Dutch, Greek, Czech, Arabic
USB Interface 
2 USB 2.0 Interfaces
RS485 
N/A
Power consumption
DC48V∕2500mA ≤ 10W(Without Hard Disk and POE)
Working Environment
-10℃~50℃, 10%~90%(humidity)
Dimension(W×D×H)
 260

× 

230

× 

43(mm) 
Weight
2kg(without HDD)
Model
MN6P3C2H
System
 
Main Processor 
Quad Cortex A53
Operating System
Embedded LINUX
Video
 
Input

32CH(4000*3000, 3840*2160, 2592x1944, 2048x1536, 1920×1080, 1280×960, 1280×720, etc)

Output  
1*HD,1*VGA
Audio
 
Input
1 Port RCA, support 32CH IPC audio input
Output
1 Port RCA(Linear, 1kΩ), HD output
Audio Bit Rate
64kbps
Audio Compression standard
G711U, G711A, AAC
Intercom
support (two-way)
Alarm
 
Sensor Input 
4CH
Output  
1CH
Motion Detection  
32Channel, MD Zones: 396 (22 × 18)
Trigger Events 
Recording, Email, FTP, Snapshot, Buzzer and Screen Tips, alarm output
Display
 
HD Output1
4K(3840*2160), 2K(2560*1440), 1920*1080, 1280*1024, 1280*720, 1024*768
HD Output2
N/A
VGA     
Resolution:1920 × 1080/60Hz, 1280 × 1024/60Hz, 1280 × 720/60Hz, 1024 × 768/60Hz
Display Split 
36CH, 25CH, 17CH, 16CH, 13CH, 10CH, 9CH ,8CH, 6CH, 4CH, 1CH
Digital Zoom  
YES
OSD
Camera Title, Time, Recording, Motion Detection, Event Alarm
Recording
 
Video Compression  
H265/H264/H265+/H264+
Resolution  
12MP(4000*3000), 8MP(3840×2160), 5MP(2592×1944), 4MP(2688×1520/2560×1440), 3MP(2048×1536), 1080P(1920×1080), 960P(1280x960), 720P(1280×720), D1 (720×576/720×480)
Record Rate  
PAL: 12MP@32CHx25fps, 8MP@32CHx25fps, 5MP@32CH×25fp, 4MP@32CHx25fp, 3MP@32CH×25fp,1080P@32CH×25fp, 960P@32CH×25fp, 720P@32CH×25fp, D1@32CH×25fp
NTSC: 12MP@32CHx30fps, 8MP@32CHx30fps, 5MP@32×30fp, 4MP@32CH×30fp, 3MP@32CH×30fp, 1080P@32CH×30fp, 960P@32CH×30fp,  720P@32CH×30fp, D1@32CH×30fp
Record Mode 
Manual, Timer, Motion Detection, Alarm, Smart Event
Playback & Backup
 
Local Sync Playback 
3CH 12MP@30fps, 4CH 8MP@30fps, 6CH 5MP@30fps, 8CH 4MP@30fps, 16CH 1080P@30fps, 16CH 960P@30fps, 16CH 720P@30fps, 16CH D1@30fps
Decode Capability 
 1080P(1920x1080)@480fps
Remote Sync Playback 
YES
Search Mode 
ALL, Timing Video, Motion Detection, Alarm, Tag search, Smart Event, Pictrue, Log
Playback Functions
Play, pause, fast forward, rewind, previous frame, next frame, electronic zoom, clip, audio
Backup Mode
USB Device/Network
Network
 
Interface 
1xRJ45 10M/100/1000M Adaptive Ethernet Interface
Incoming Bandwidth 
320Mbps
Outgoing Bandwidth
256Mbps
Network Functions  
IPv6, TCP/IP, HTTP, HTTPS, UPnP, DNS, NTP, SMTP, DHCP, FTP, DDNS, RTSP, RTCP, p2p, PPPOE
Onvif 
Profile S, Profile G, Profile T
Web Browser
Edge, IE8-11, Google Chrome, Firefox, Safari
CMS Software
Support  Windows 7, Windows 8, Windows 10, Windows 11, MAC OS
Cloud Support
Yes
Smart Phone
iPhone, iPad, Android, Android Pad
POE  
16 x Independent 100Mbps POE Network Interfaces (Output power AF mode 15W per port), 45/78 line order, Total Power Output≤ 200W, Support Plug and Play, Support network cable extended mode Max. 200M
WIFI  
N/A
Storage
 
Interface Type  
2 SATA Hard Disk Interface (3.5" SATA)
Capacity 
Up to 10 TB capacity for each HDD
eSATA
N/A
General
 
Language  UI
Simplified Chinese, Traditional Chinese,English, Russian,
Deutsch, French, Portuguese, Spanish, Italian, Korean, Janpanese, Ukrainian, Polski, Dutch, Greek, Czech, Arabic
USB Interface 

Front panel: 1 × USB 2.0; Rear panel: 1 × USB 3.0

RS485 
N/A
Power consumption
100-240VAC, 50/60Hz ≤15W (Without Hard Disk and POE)
Working Environment
-10℃~50℃, 10%~90% (humidity)
Dimension(W×D×H)
380 x 316 x 51mm
Weight
3.48≤ kg (without HDD)