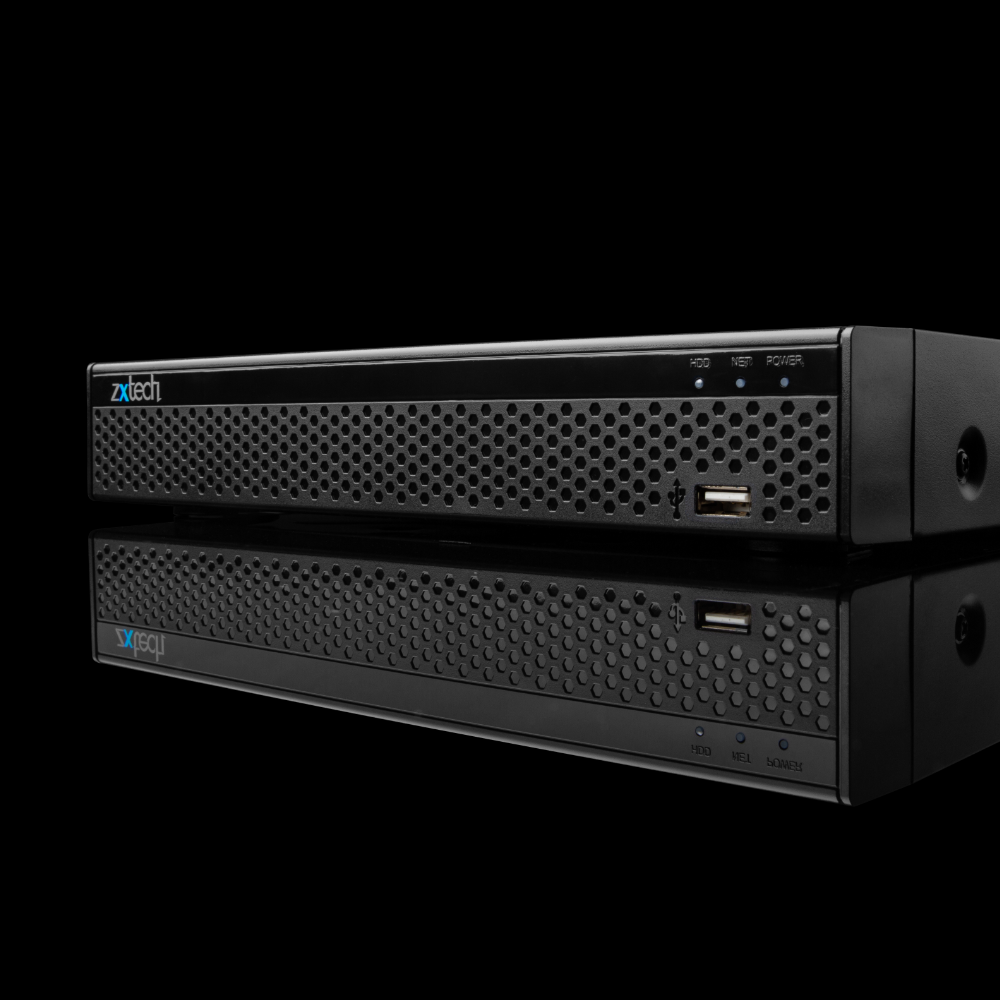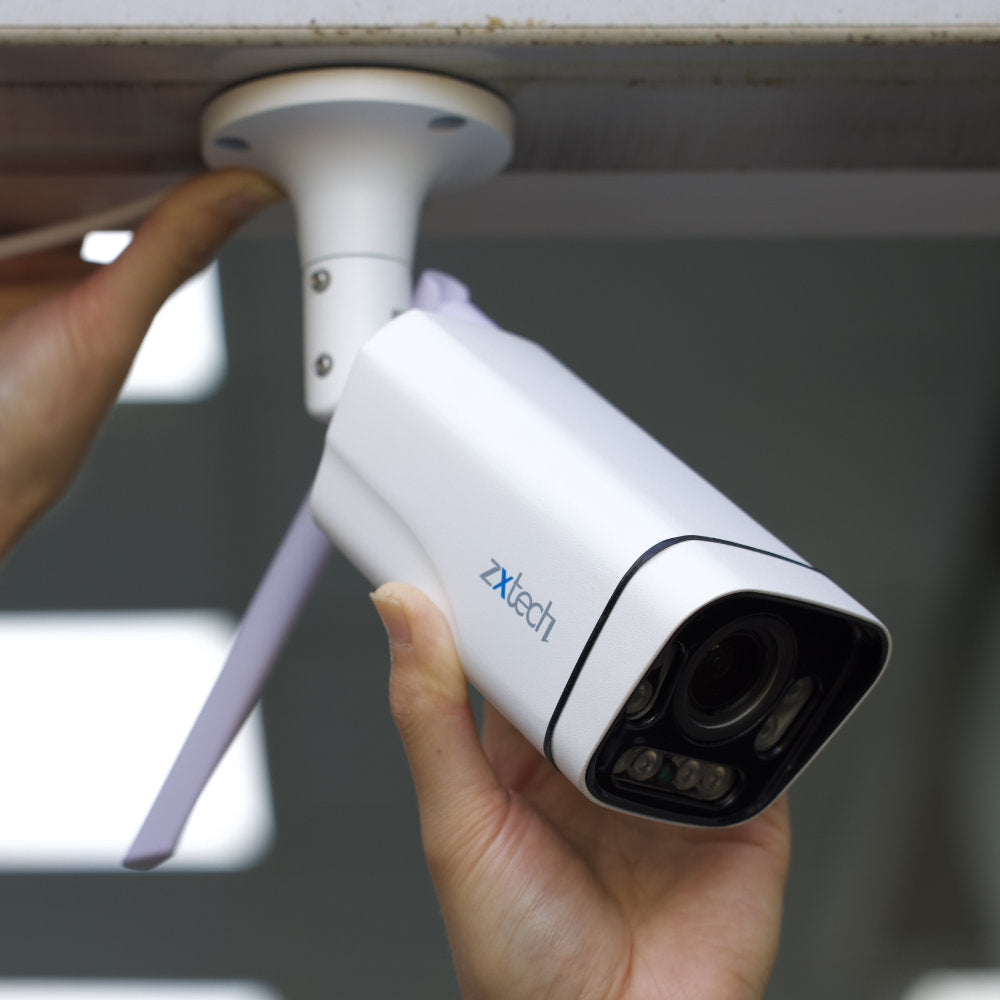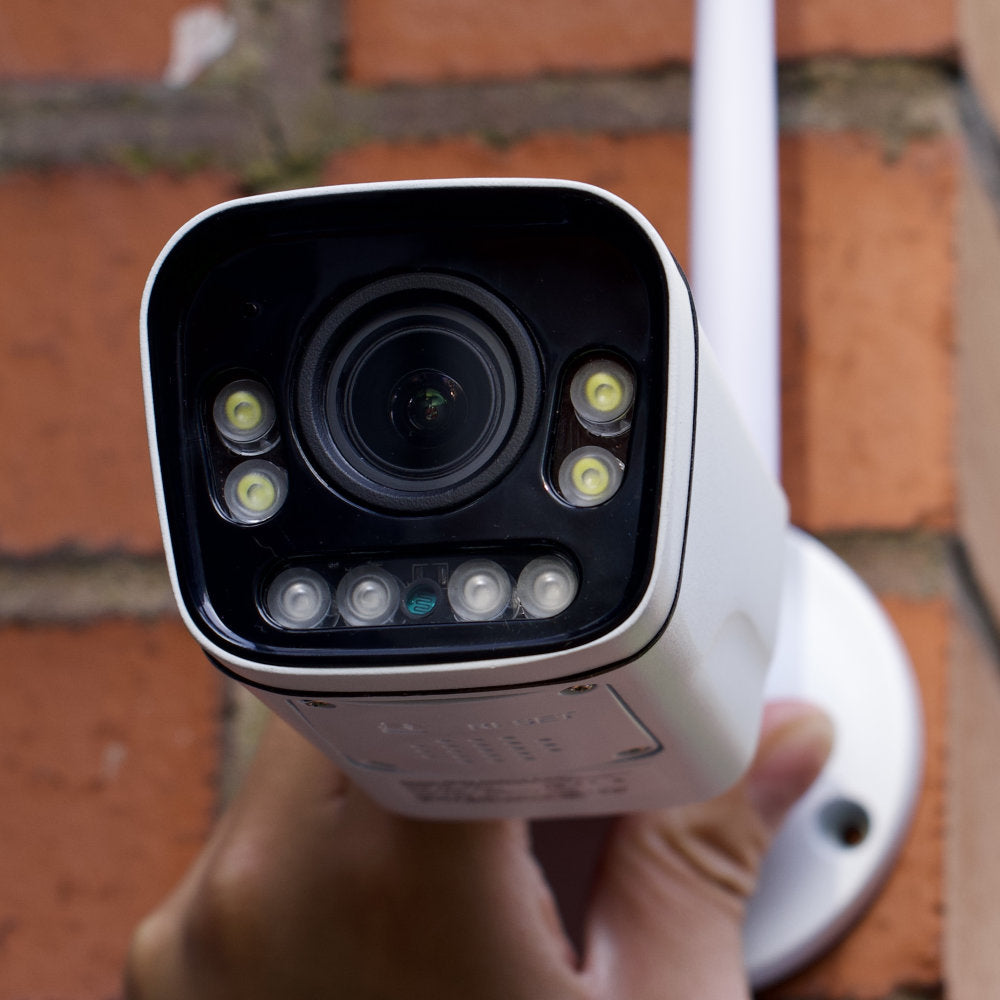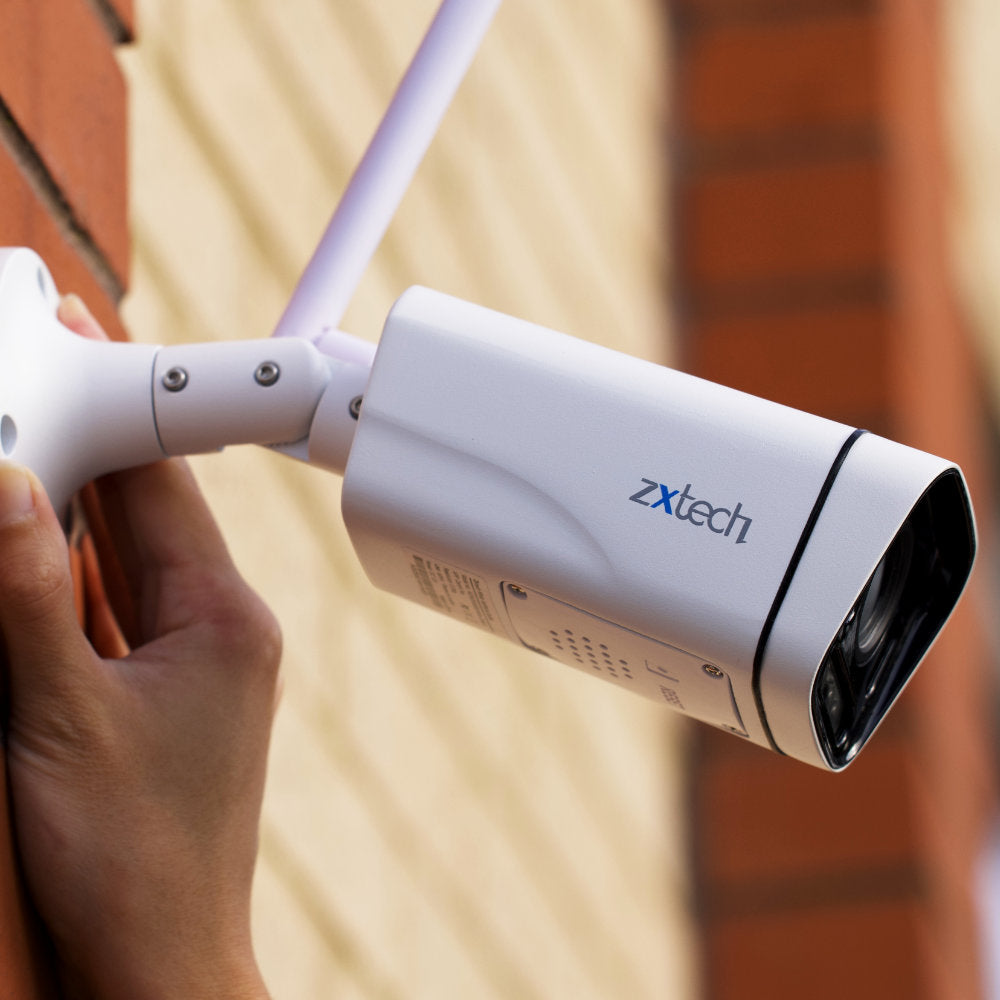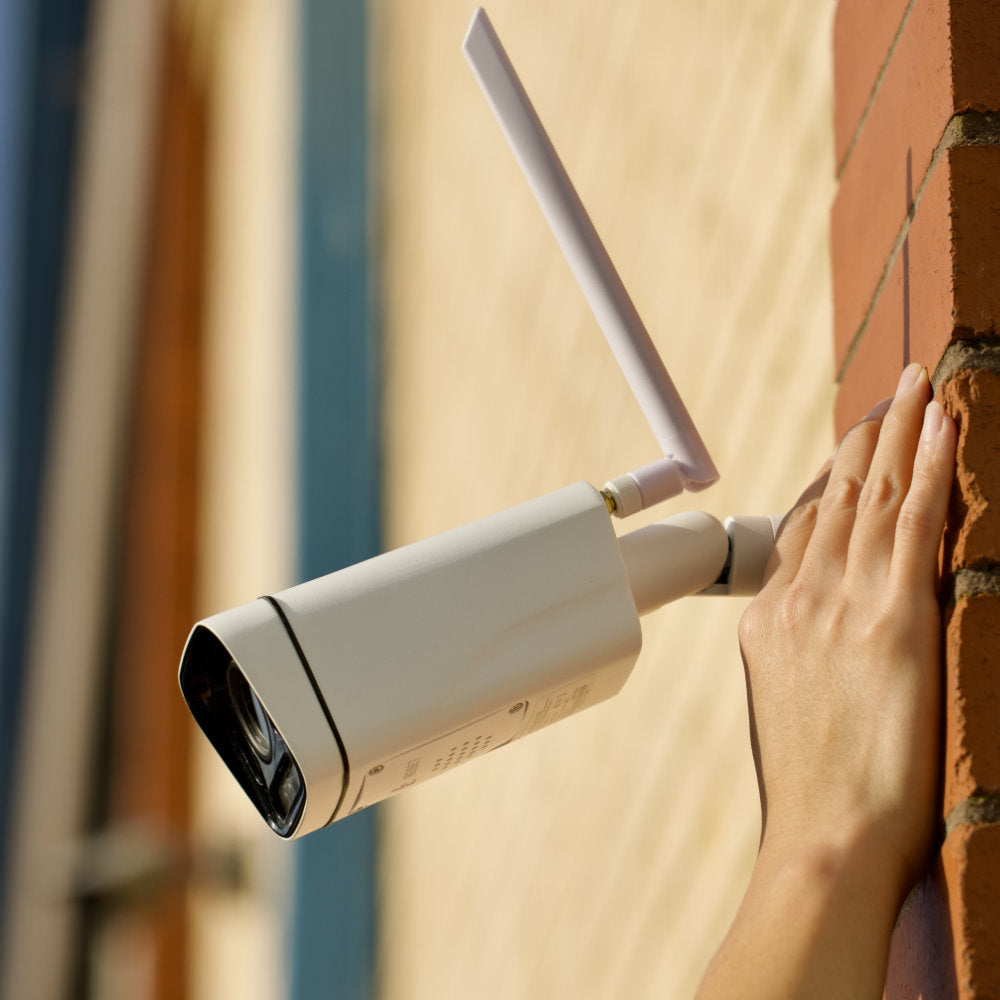 Zxtech 5MP Wireless CCTV System - 6x WiFi Security Cameras Outdoor 2-Way-Audio Night Vision 9CH Sony Starvis | WF6A9Y
SKU: WF6A9Y0
---
UK next business day delivery
UK VAT invoices included
30 days hassle free returns
12 month warranty
In stock, ready to ship
What's in the Box
Option 1: 6 x Zxtech Tropox 5MP CCTV Camera Infrared
Option 2: 6 x Zxtech Tropox Pro 5MP CCTV Camera Infrared+IntenseLED, 5X Auto Zoom
1 x 9CH Zxtech 4K Home NVR
Optional HDD
Power Supply Unit with 1 Metre Lead Included (This is not a battery-powered system)
System Features
【5MP Sony Starvis】5 Megapixel resolution (2560x1920) is 2x crisper than 1080p. With the integrated Sony Starvis Chip, the wide-angle CCTV footage is noticeably better.
【Wireless】With a built-in long-distance antenna on the camera, the Wifi signal strength is sufficient for most British houses. The camera is easy to set up without network video cables; power supplies are provided.
【Waterproof & Vandal Proof】Designed for both indoor and outdoor use. The solid waterproof casing is rated at IP67, and anti-vandal housing ensures it remains robust even in harsh conditions.
【2-Way Audio】The camera offers clear two-way audio communication with its built-in microphone and speaker. Stay in touch with the courier if you miss them. The mobile app is available for both iOS and Android.
【Great Night Vision】Using the Sony Starvis Chipset, the night images outperform many alternatives. Tropox (Option 1) features infrared light enabling long night vision up to 100 ft in black and white. Meanwhile, Tropox Pro (Option 2) offers both infrared and intense LED, giving you the option of black and white or full-colour night vision.
【Humanoid Detection】Intelligent software allows the cameras to distinguish between human figures and other objects, reducing the number of false alerts.
【Lens】Tropox (Option 1) features a wide-angle 2.8mm lens, while Tropox Pro (Option 2) has a 2.7-13.5mm auto-zoom, letting you remotely adjust the view through the app.
【HDD & Onboard SD Card Slot】With up to 8TB HDD on the NVR and 128GB SD storage on each camera, your footage is secure. Furthermore, it will automatically overwrite old data when the storage is full, eliminating the need for manual deletion.
【Remote access】Access, playback, and snapshot your camera or recorder footage remotely via free mobile apps for iPhone and Android.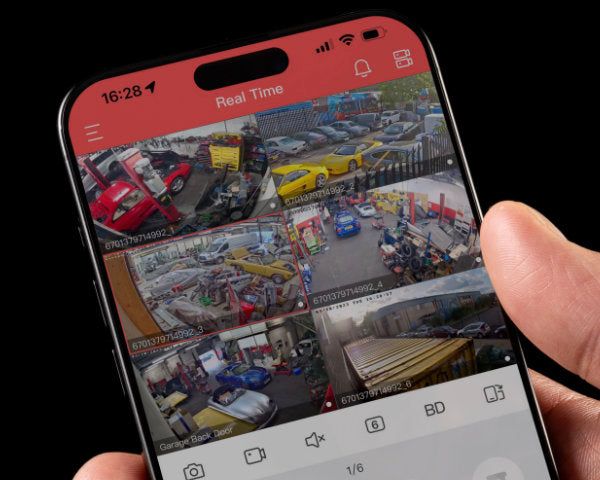 Free App
Stream Live, Receive Real-time Alerts, Snap & Share, and Playback Anytime, Any Where.
Using the free app, stream live in 4K, receive real-time alerts, snap, share, and playback from anywhere. Select channels and times for instant playback, and view multiple cameras simultaneously. For the best view, simply rotate your phone to widescreen.
Wireless CCTV Kits With Top Notch Imaging Hardware
Wireless System Vision Features
Tropox features the 5MP Sony Starvis Sensor, celebrated for its unmatched low-light sensitivity and Super HD clarity. A standout in both home and professional security, this sensor offers superior HDR and energy efficiency. All Zxtech IP Cameras employ Sony Starvis, the industry's diamond standard, ensuring unparalleled footage quality and longevity. Unlike brands that are ambiguous about their sensors, Zxtech exclusively partners with Sony for premium night vision clarity and reliability.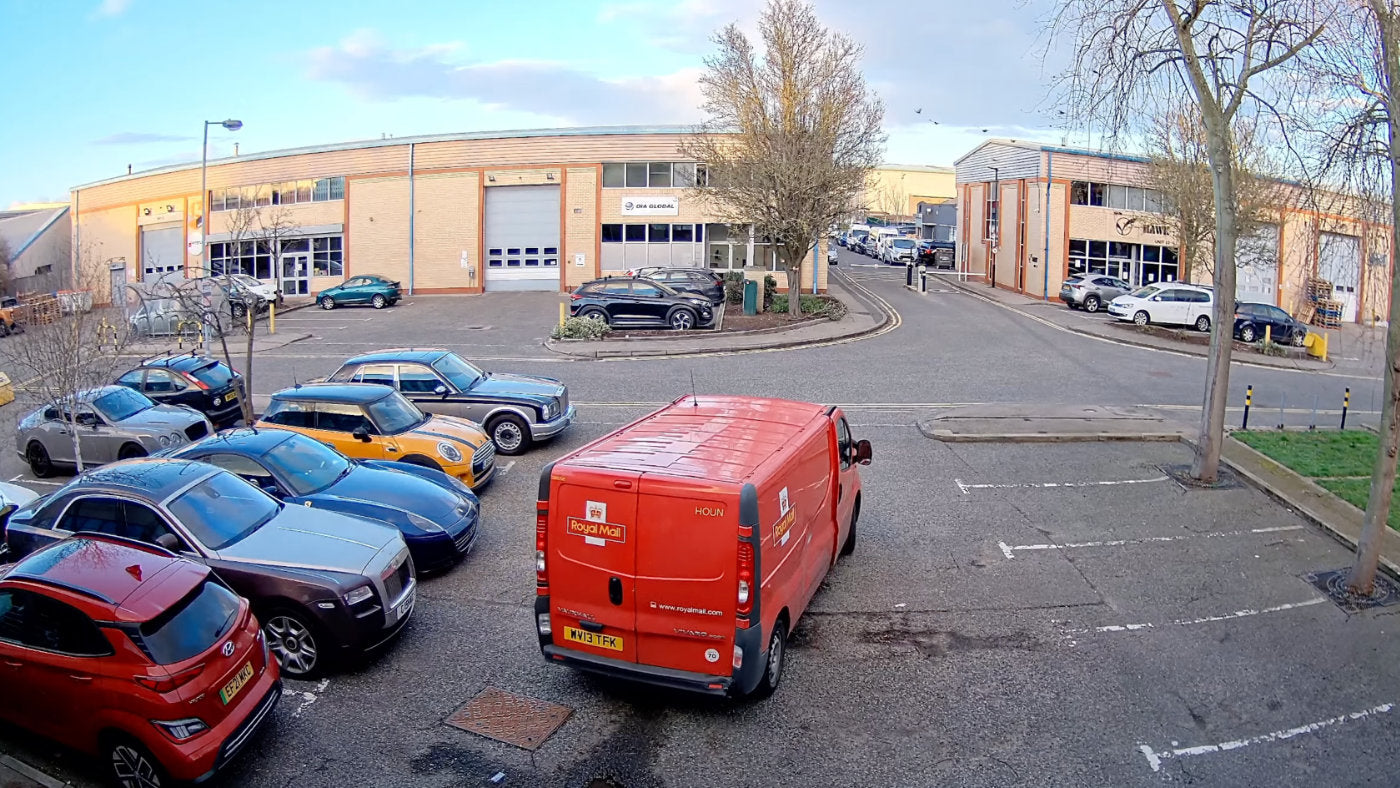 Watch Live Stream
From Zxtech 4K CCTV Camera
Ensure your internet speed is optimal and wait a bit longer for the 4K high-quality stream to fully load on your device. YouTube takes a while to buffer the highest quality image.
2.5X
Shaper than 1080P
5 megapixel
105°
Wide Viewing Angle
Tropox Pro Option*
Infrared v.s. IntenseLED Colour Night Vision
A superior night vision camera excels in the dark. The Tropox features built-in Infrared LEDs, providing clear 100ft black and white night vision. Meanwhile, the Tropox Pro boasts both Infrared and intense LEDs, offering full-colour footage at night up to 130ft, powered by the leading Sony Starvis CMOS Sensor. This sensor guarantees 5MP Super HD clarity even in extreme low-light. Equipped with an IR-cut filter, our cameras ensure optimal night vision. While traditional infrared is discreet for peaceful areas, the bright LED option can deter potential intruders in tougher neighborhoods.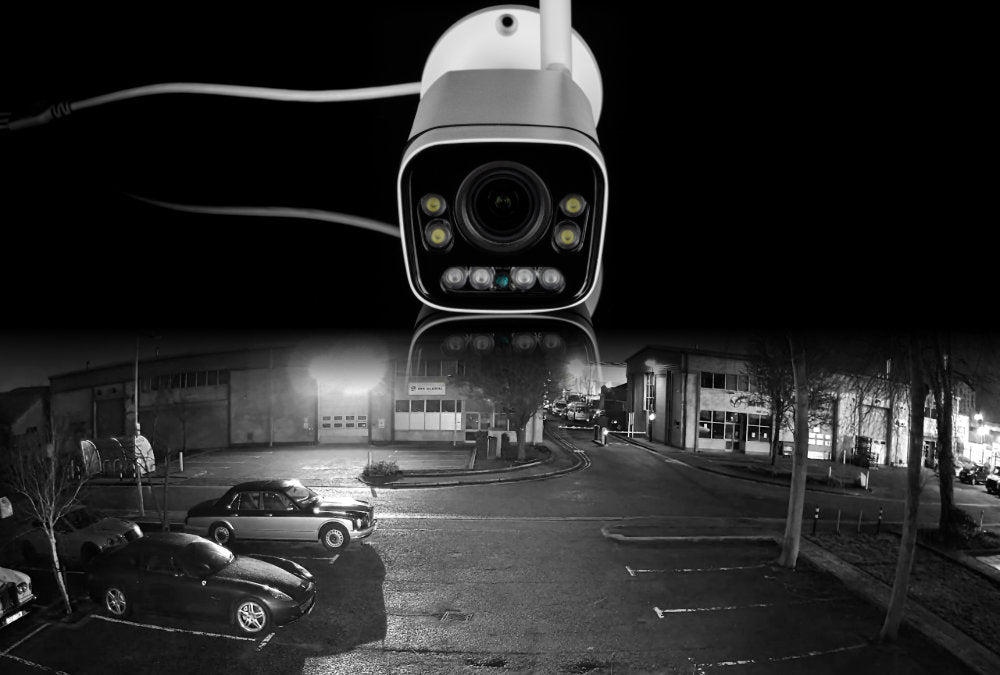 Infrared
Be Ready for the Future
2MP vs 5MP
The 2MP, commonly referred to as 1080p or HD, is today's standard for high-definition CCTV footage. We've elevated this standard to 5MP, also known as 5 Megapixel Super HD. It delivers 2.5X sharper and clearer visuals, making car registration plate recognition more straightforward. While its cost is only marginally higher than traditional 2MP cameras, it stands out as the ideal choice for a contemporary wireless CCTV system.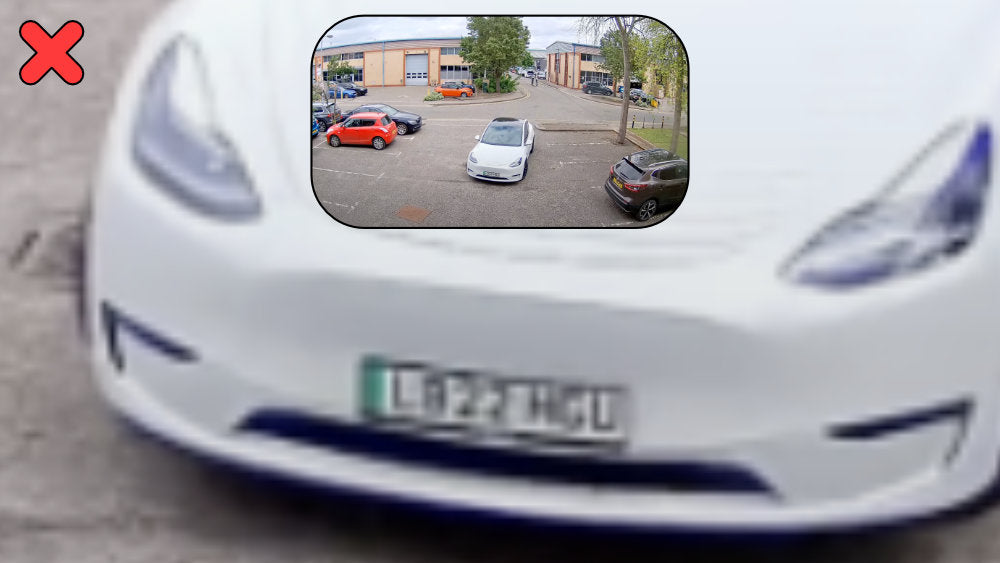 2 Megapixel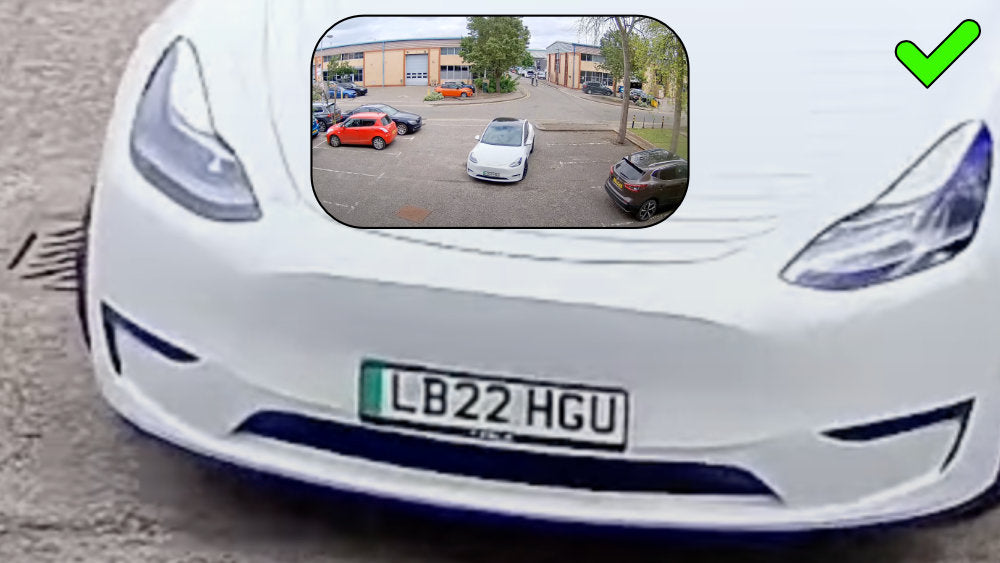 Sorcery of Modern CCTV Technology.
120dB HDR
For the best security footage, it's vital to avoid areas that are overly bright or too dark, as key details can go unnoticed. Zxtech's advanced HDR video processing ensures that images captured at different exposures merge seamlessly, offering consistent contrast and highlighting every essential detail in your footage.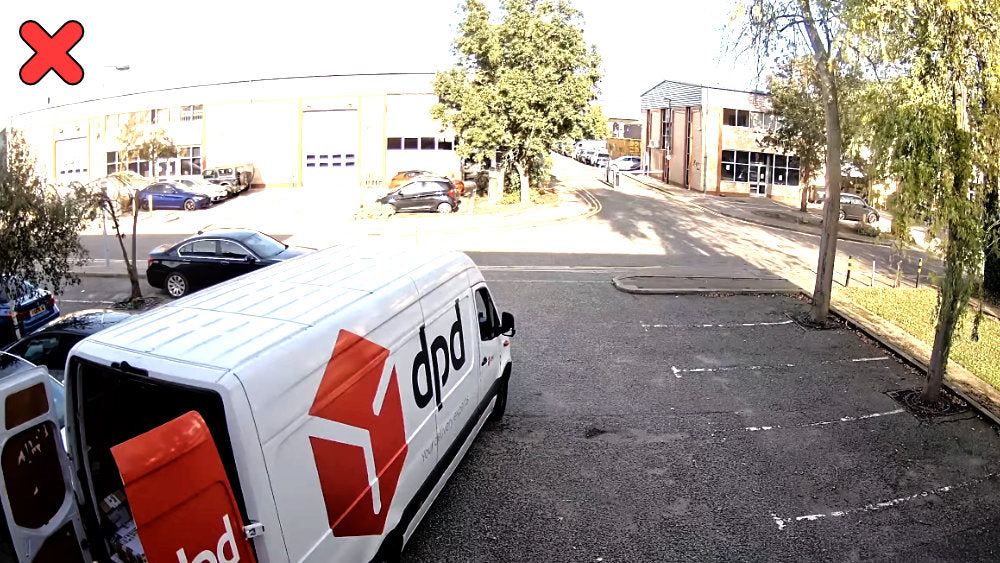 No HDR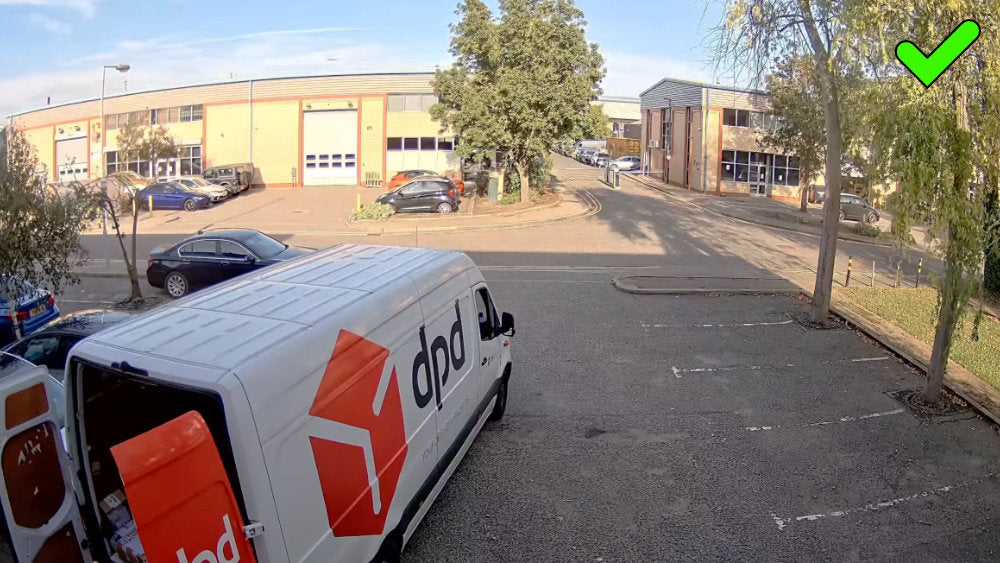 CCTV Kits with the Best Wireless Cameras
Wireless Camera Features
Options Explained
Tropox v.s. Tropox Pro
Choosing the right option is crucial, as each offers its own unique benefits. Review our detailed comparison table to make an informed decision. Avoid the hassle of lengthy exchanges by selecting the right product from the start
Available Option
Tropox
Tropox Pro
Lens
2.7-13.5mm Varifocal Lens
Zoom
Optical 5X Motorised Zoom
Wireless Strength
5dB Longer & Directional Coverage
Wireless CCTV for All Situations, All Weather.
Crafted for any situation and all weather, our wireless CCTV cameras are housed in robust metal casings to deter vandalism and ensure longevity. Designed specifically for the unpredictability of British weather, from Inverness to London, these cameras boast an IP67 rating, ensuring resilience against both rain and snow. Whether mounted on a wall or ceiling, indoors or out, Zxtech's compact yet durable design guarantees protection and versatility for any property.
Metal Casing
Anti-Vandal Design
Every wireless camera in our range boasts a sturdy metal casing, meticulously crafted to enhance resistance against vandalism. This robust design not only ensures durability but also significantly extends the camera's lifespan. These cameras, with their compact size and strong metal casing, are adept at resisting most forms of destruction, making them suitable for both indoor and outdoor placements.
IP67
Waterproof Design
Designed with the unpredictability of British weather in mind, our cameras are equipped to handle everything from the rainy conditions in Inverness to snowy days in Swansea, thanks to their IP67 rating. Whether it's for an AirBNB, a car park, or a terraced house, Zxtech ensures outdoor protection against all weather extremities. Their weatherproof nature allows for versatile mounting options, be it on walls or ceilings.
Built-in Mic and Speaker
Two-way Audio
Upgrade your security with our wireless cameras featuring built-in microphones and speakers. Use the CamHiPro App, available on Apple and Google stores, for real-time two-way communication. Whether it's greeting a friend or instructing a postman, transform your CCTV into a 2-way communication tool. Speak, listen, record, and playback effortlessly, anytime, anywhere.
Note: Avoid Connecting to Mesh
Ultra Strong Wireless Signal
The wireless camera features an enhanced 3dB antenna on Tropox and 5dB antenna on Tropox Pro, allowing connectivity to your router for distances up to 300 metres in open spaces. It boasts one of the most robust signals in the CCTV market. However, the presence of walls or doors can significantly impact its range. It's important to note that connecting the cameras to a mesh router isn't recommended. The nature of mesh networks can result in frequent reconnections, jeopardizing the continuity of your footage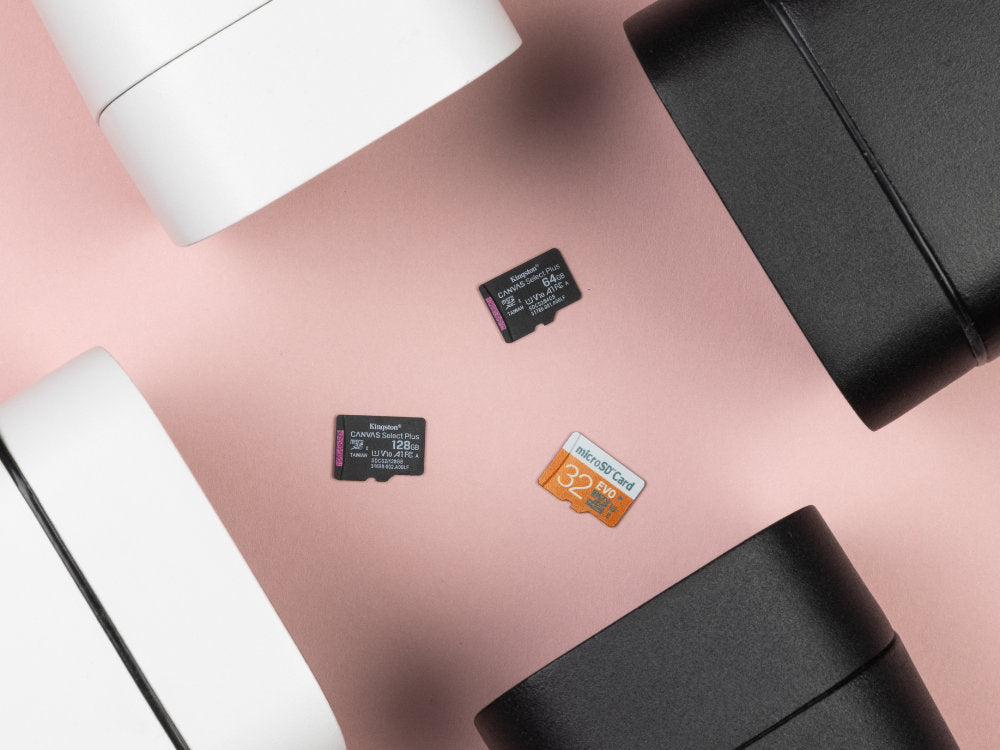 128GB SD Card Slot
Each wireless camera is equipped with a dedicated SD Card slot, allowing you to insert a memory card of up to 128GB. This serves as a backup to capture temporary footage should the recorder malfunction.
Tropox Pro Feature
5X Auto Zoom, with Extra Digital Zoom
The CCTV system is equipped with 5X auto zoom with a varifocal lens from 2.7mm to 13.5mm. The 5X optical zoom and extra digital zoom allows you to clearly see license plates up to 35 meters away.
CCTV Kits enhanced by AI Technology
Wireless System Motion Detection Features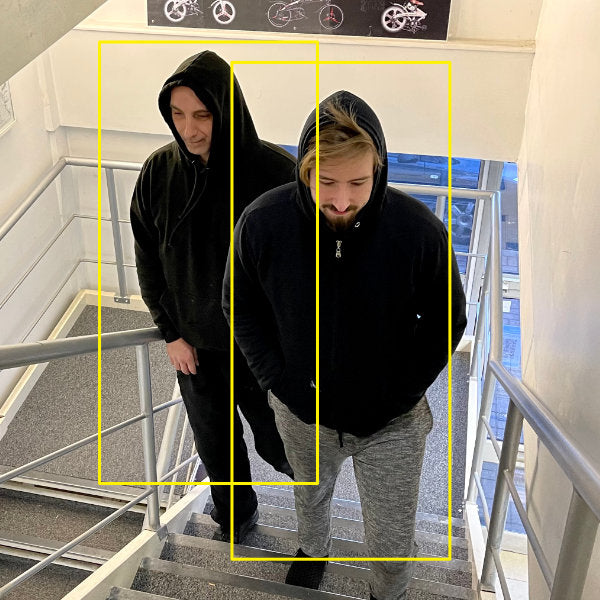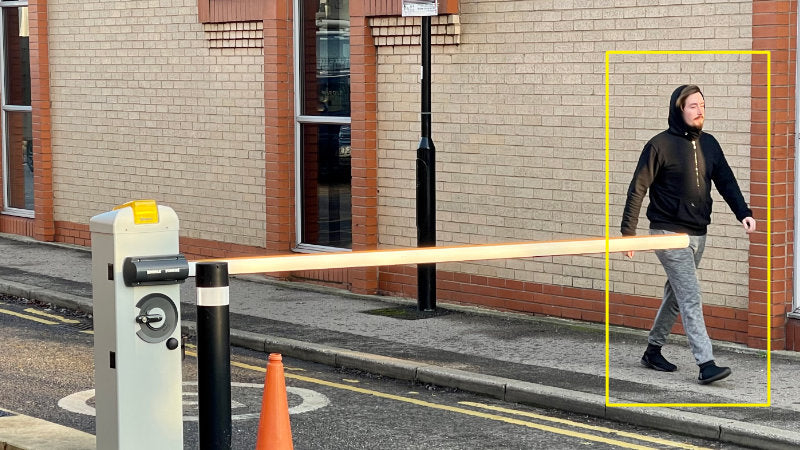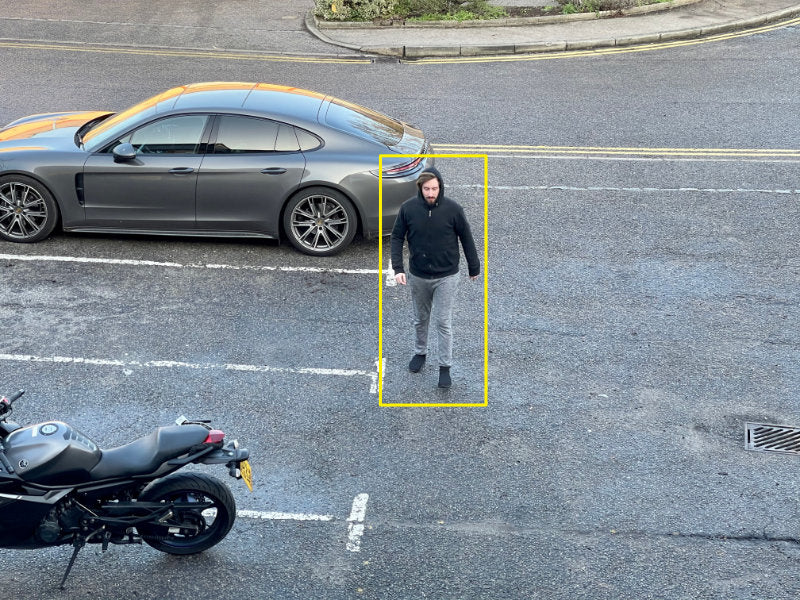 Loaded with AI Features
Smart Humanoid Detection.
Beyond the trusted motion detection, this wireless CCTV system offers highly accurate humanoid detection. With a quick setup using our free app, the camera identifies human shapes and records when they enter its frame. When a human figure appears in the video, it's highlighted in real-time with a rectangle, ensuring you're promptly alerted.
Wireless CCTV System backed by the Best Zxtech NVR
Wireless System NVR Features
The Zxtech 9 Channel 4K CCTV recorder delivers crisp, real-time Super HD recordings. Compatible with most ONVIF 2.4+ IP CCTV cameras, its advanced software ensures easy local and remote management. Schedule recordings or use motion detection to save storage while capturing key events. Simply scan the NVR's QR code with the free Bitvision app for instant live views, playback, and real-time mobile notifications. Choose a pre-installed hard drive option of up to 8TB.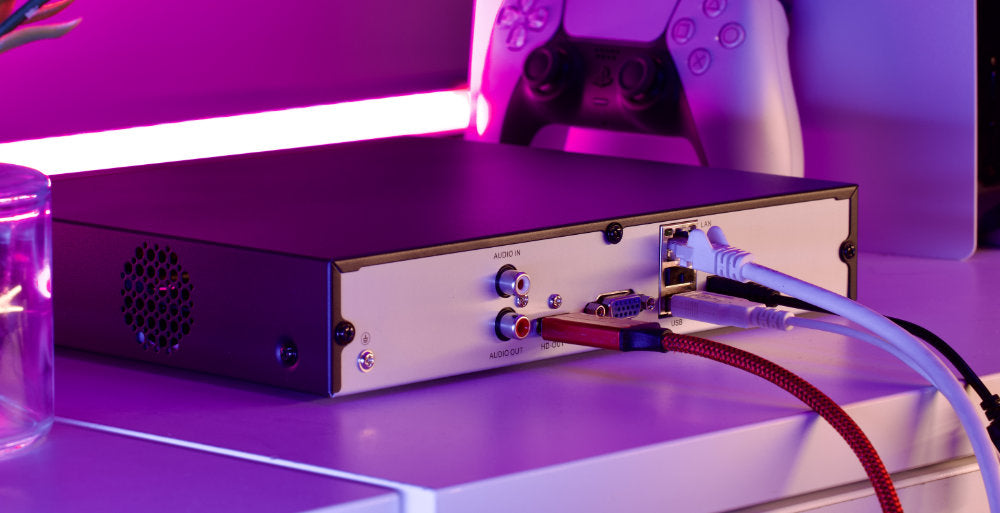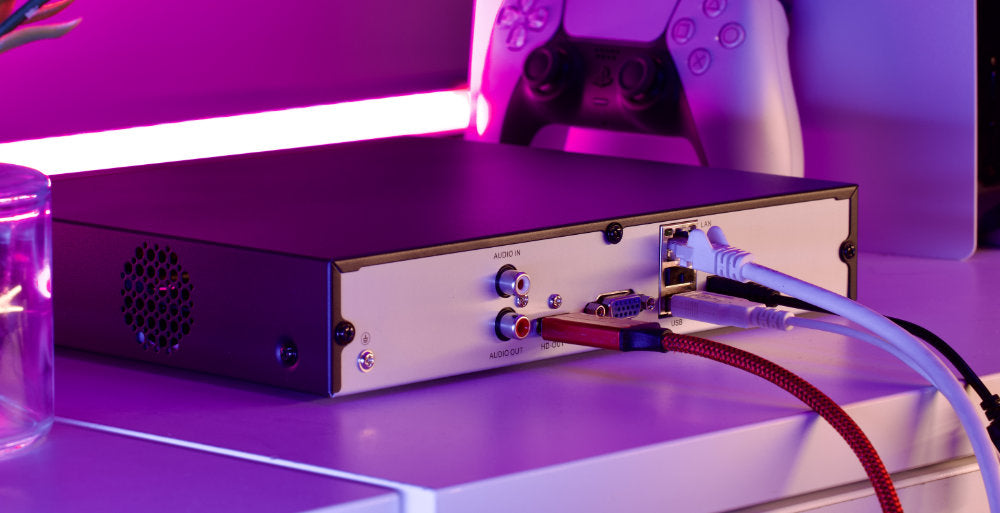 Network Connection
Connect your home router or switch to get online.
HDMI + VGA
You can connect up to 2 displays or monitors at the same time.
2x USB
The NVR has a USB port on the front and another on the back, allowing for easy connection of a mouse or memory stick to seamless extract CCTV footage from the hard drive.
Audio Out & Audio In
Connect external speakers to playback sound if the camera supports audio recording. Also you can connect external microphone to the recorder.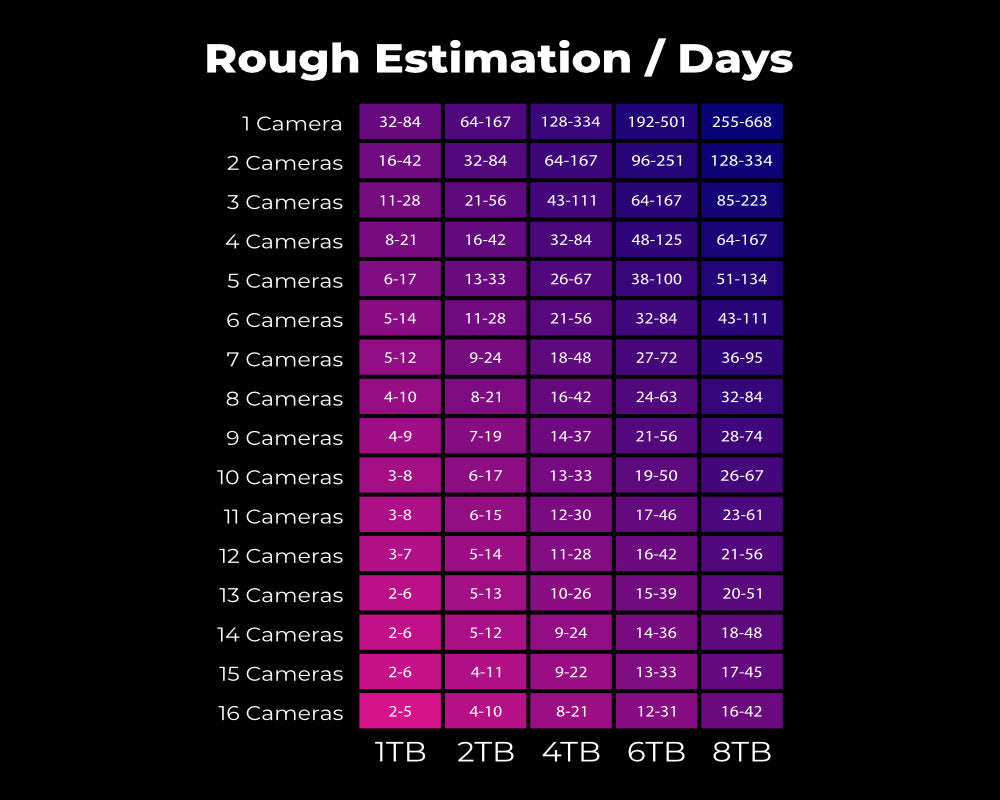 With Loop Recording
Maximized HDD for "Marathon" Recording.
Our advanced wireless CCTV system boasts up to 8TB of hard drive storage, optimized with H265+ compression for space-saving efficiency — storing up to 4 times more footage than H264 formats. With automatic loop recording, you'll never miss vital moments. Additionally, our cameras feature an SD Card Slot for up to 128GB local backup and can be used standalone or with the included 9CH recorder. Easily access and playback videos through the CamhiPro or Bitvision Apps on mobile and PC.
Complete Wireless System Enhanced by the Latest Technology
Wireless System Features
Prioritize privacy with Zxtech's GDPR-compliant CCTV system. Easily anonymize unimportant scenes or sensitive areas in your footage. Receive prompt mobile notifications for detected motion. Benefit from an intuitive video management system offering seamless viewing, replay, and alert functions. With support for over 20 languages, Zxtech ensures user-friendly operation for global users.
Mac, PC, Smart Phone, TV
Access on Any Device, Any Time
Stay connected with the indispensable BitVision app, allowing you to monitor, view, and share CCTV footage on-the-go. Enhance your surveillance with features like motion detection, alerts, and scheduling. Simply scan to access footage on any smart device, including iPhones, Androids, and PCs. For deeper integration, download the iVMS software for your computer. The included NVR offers HDMI and VGA ports, supporting dual display setups for versatile viewing options.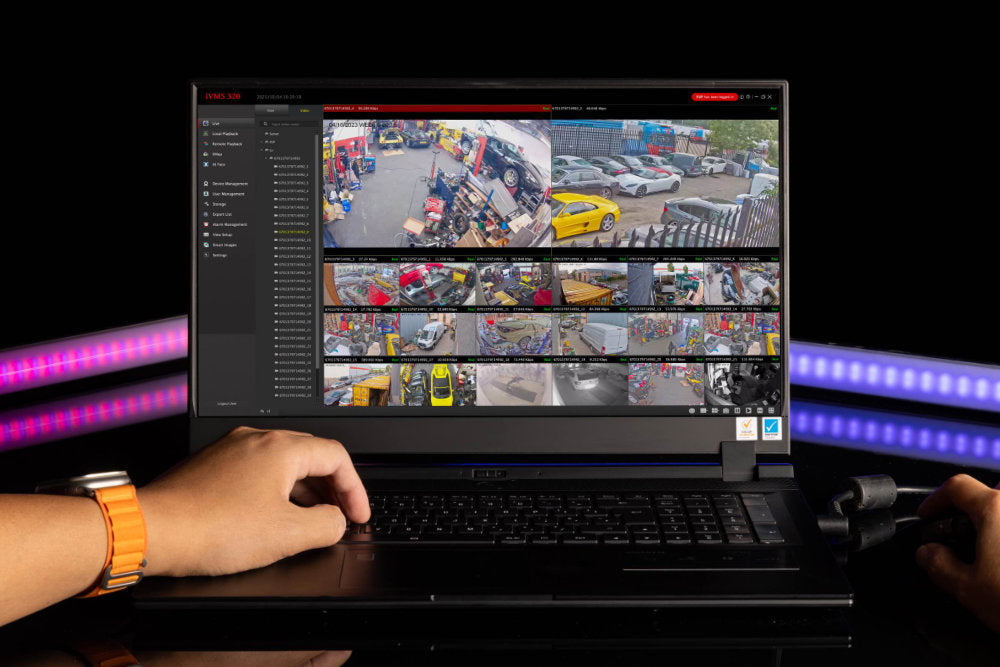 PC, Mac
Download the latest version of the iVMS software for your PC or Mac. This allows you to remotely monitor and review footage from your CCTV system, ensuring you stay connected wherever you are, anytime you need.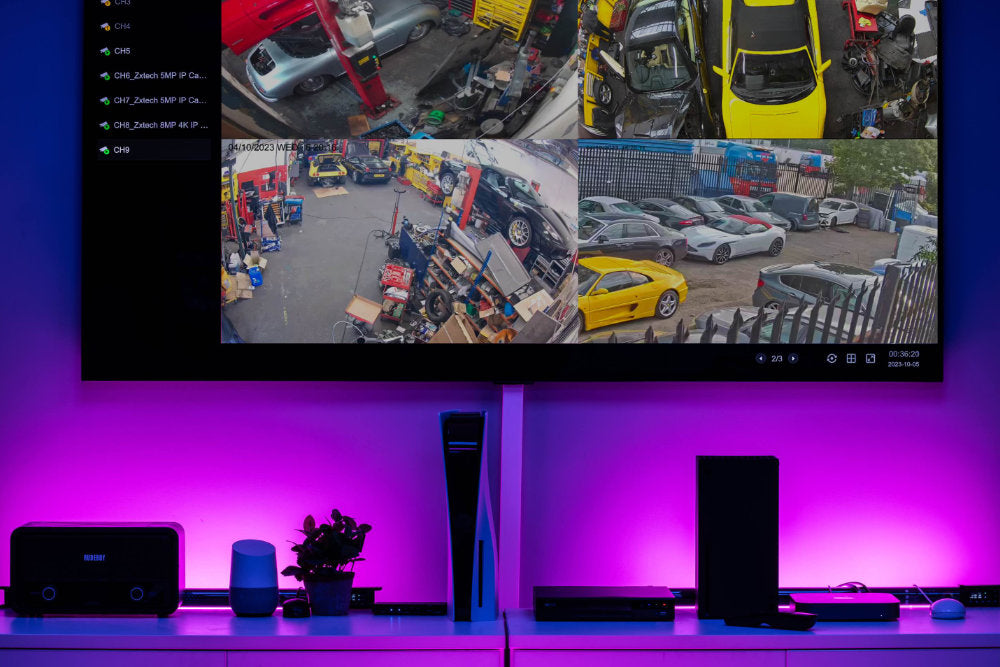 2 Screen TV Setup
The NVR included with the system boasts both HDMI and VGA ports on the back, enabling simultaneous connection to two external monitors or TVs. For instance, with a sufficiently long cable, you can have one display in the kitchen and another in the living room.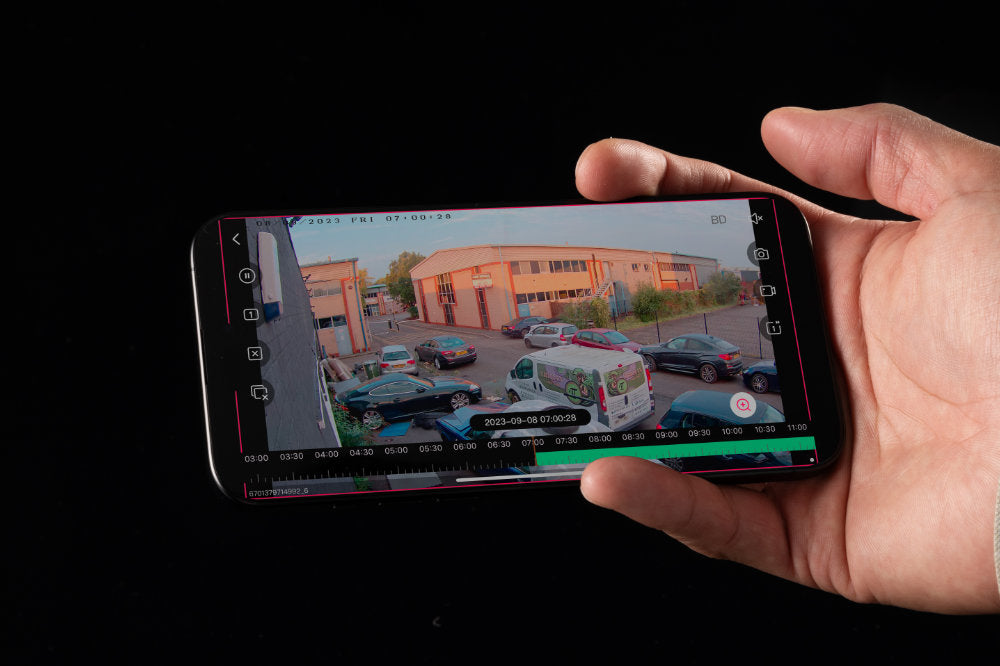 Smart Phone
In today's world, smartphones are indispensable, and so should your CCTV system be. Download the latest BitVision app to monitor, view, playback, and share your CCTV footage anytime, anywhere.
| | |
| --- | --- |
| Image Sensor: | 1/2.7 "Color CMOS sensor SONY Starvis IMX335+Huawei Hisilicon |
| Display resolution: | 2560 * 1920 (5.0MP) |
| Lens: | f: 3.6mm, F:2.0 |
| Minimum illumination: | 0.5Lux |
| Input/output: | Two-way audio (built-in microphone and speaker) |
| Audio compression: | AAC(Advanced Audio Coding) |
| Video compression: | H.264/H.265 |
| Lighting frequency: | 50Hz, 60Hz |
| Image resolution: | Super HD 5.0MP(2560*1920) |
| Image adjustment: | Brightness, Contrast, Saturation, Sharpness |
| White balance, BLC: | Automatically |
| Night vision: | 10pcs SMD array infrared LEDs, IR distance: 20 meters |
| Wireless networks: | WiFi(IEEE802.11b/g/n), External antenna |
| Ethernet: | 10/100Mbps RJ-45 interface |
| Protocols: | TCP/IP, UDP/IP, HTTP, DHCP, RTSP, RTMP, MUTP |
| IP address: | Static IP address and dynamic IP address |
| Alarm Detection: | Motion detection Snapshot, audio/video record |
| Alarm linkage: | Support snapshot, audio / video |
| Alarm notification: | Real-time App push notifications |
| Power: | 1DC 12V / 2.0 A, power consumption < 7W |
| Buttons | A reset button, a WPS (WiFi Protected Setup) button |
| Network interface | One 10/100 Mbps RJ-45 self-adaptive interface |
| WiFi | External antenna |
| LED instructions | Network signal/power/network function |
| Video storage | Micro TF card (max 128 GB) storage, |
| Work temperature | 0° ~ 55°C (32°F ~ 131°F) |
| | |
| --- | --- |
| Product Feature | 5X optical zoom, LED Lights+Infrared Lights, AI human detection |
| App Feature | Snapshot, Alarm notification, Playback, Video |
| Sensor | 1/2.8" IMX335 CMOS 3516EV300 |
| Frame Rate | 5mp, 2560*1920@20fps |
| Image Adjustment | Brightness, Contrast, Saturation, Sharpness |
| Video Format | H.265 compression |
| White Balance, BLC | Automatically |
| Lens | 2.7-13.5mm |
| IR LED | 8pcs White color LEDs+Infrared IR lights |
| Motion Detection | AI Human Detection |
| Buttons | A reset button, RJ45 port, power supply button |
| Network Interface | RJ-45 port |
| WiFi | External antenna |
| Night Vision | IR Range: 40-60M |
| Audio Type | 2-way audio with noise-cancellation |
| Audio Hardware | One Microphone and one speaker |
| Alarm | Alarm detection, Human detection alarm, APP alarm notification, upload pictures and videos to the FTP server, Siren alarm |
| Storage | TF Card Max support 128G |
| Network WiFi (2.4GHz) | Wi-Fi 802.11b/g/n |
| Ethernet | 10/100Mbps |
| Protocols | TCP/IP, UDP/IP, HTTP, DHCP, RTSP, RTMP, MUTP |
| ONVIF Protocol | Support ONVIF 2.4 |
| Software Download | iOS in App Store, Android in Google Play |
| App Name | Camhipro |
| CMS | HiP2P |
| Notification | Push notification within 1-2 seconds |
| Power | 12V DC |
| Waterproof Rate | IP67 |
| Materials | Full Metal housing |
| Temperature | 0~55 °C |
| Humidity | 10-95% RH |
| | |
| --- | --- |
| Main Processor | ARM Cortex A7 Processor |
| Operating System | Embedded Linux |
| Video Input | 9CH (2592*1944, 2048*1536, 1920*1080, 1280*960, 1280*720, etc.) |
| Video Output | 1 VGA, 1 HD |
| Audio Input | / |
| Audio Output | 1 Port RCA (Linear, 1 k) |
| Audio Bit Rate | 64 Kbps |
| Audio Compression Standard | G711u, G711a, G726 |
| Alarm Input | No |
| Alarm Output | No |
| Motion Detection | 9 Channel, MD Zones: 396 (22x18) |
| Trigger Events | Recording, Email, FTP, Snapshot, Buzzer and Screen Tips |
| HD Output1 | 1920*1080/60Hz, 1280*1024/60Hz, 1280*720/60Hz, 1024*768/60Hz |
| HD Output2 | / |
| VGA | 1920*1080/60Hz, 1280*1024/60Hz, 1280*720/60Hz, 1024*768/60Hz |
| Display Split | 9CHxD1/ 8CHxD1/ 4CHxD1/ 1CHx1080P/ 1CHx3MP/ 1CHx4MP/ 1CHx5MP |
| Digital Zoom | Yes |
| OSD | Camera Title, Time, Recording, Motion Detection |
| Video Compression | H265/H264/H265+/H264+ |
| Resolution | 5MP (2592*1944), 4MP (2688*1520/2560*1440), 3MP (2048*1536), 1080p (1920*1080), 960p (1280*960), 720p (1280*720), D1 (720*576/720*480) |
| Record Rate | PAL: 5MP@9*25fps, 4MP@9x25fps, 3MP@9x25fps, 1080p@9x25fps, 960p@9*25fps, 720@9x25fps, D1@9x25fps NTSC: 5MP@9*30fps, 4MP@9x30fps, 3MP@9x30fps, 1080p@9x30fps, 960p@9*30fps, 720@9x30fps, D1@9x30fps |
| Record Mode | Manual/ Timer/ Motion Detection/ Smart Alarm |
| Local Sync Playback | 1CH 5MP@30fps, 1CH 4MP@ 30fps, 2CH 3MP@30fps, 4CH 1080P@30fps, 4CH 960P@30fps, 4CH 720P@30fps |
| Decode Capability | 4CH 1080p@30fps |
| Remote Sync Playback | Yes |
| Search Mode | All, Channel, Manual, Time, Date, Motion Detection |
| Playback Functions | Play, Pause, Stop, Rewind, Fast Play, Slow Play, Full Screen, Frame Play, Frame Rewind, Digital Zoom |
| Backup Mode | USB Device/Network |
| Interface | 1 RJ45 10M/100/1000M Adaptive Ethernet Interface |
| Incoming Bandwidth | 60MB |
| Network Functions | TCP/IP, HTTP, UPnP, DNS, NTP, SMTP, PPPoE, DHCP, FTP, DDNS, RTP, RTSP, RTCP, p2p |
| Onvif Version | Support Onvif 2.4 |
| Web Browser | IE8-11, Google Chrome (lower than Ver44), Firefox (lower than Ver53) |
| CMS Software | Support Windows 7/Windows 8/ Windows 10/MAC OS |
| Cloud Support (P2P) | Yes |
| Smart Phone | iPhone, iPad, Android, Android Pad |
| Interface Type | 1 SATA Interface |
| Capacity | Up to 8TB Capacity |
| Language | Chinese, English, Polish, Czech, Russian, Thai, Hebrew, Arabic, Bulgarian, Farisa, German, French, Portuguese, Turkish, Spanish, Italian, Hungarian, Romanian, Korean, Dutch, Greek |
| USB Interface | 2 USB 2.0 Interfaces |
| Power Supply | DC12V/2A |
| Dimension (WxDxH) | 219x217x40 (mm) |
| Weight | 2.0 kg (without HDD) |
| | |
| --- | --- |
| Image Sensor: | 1/2.7 "Color CMOS sensor SONY Starvis IMX335+Huawei Hisilicon |
| Display resolution: | 2560 * 1920 (5.0MP) |
| Lens: | f: 3.6mm, F:2.0 |
| Minimum illumination: | 0.5Lux |
| Input/output: | Two-way audio (built-in microphone and speaker) |
| Audio compression: | AAC(Advanced Audio Coding) |
| Video compression: | H.264/H.265 |
| Lighting frequency: | 50Hz, 60Hz |
| Image resolution: | Super HD 5.0MP(2560*1920) |
| Image adjustment: | Brightness, Contrast, Saturation, Sharpness |
| White balance, BLC: | Automatically |
| Night vision: | 10pcs SMD array infrared LEDs, IR distance: 20 meters |
| Wireless networks: | WiFi(IEEE802.11b/g/n), External antenna |
| Ethernet: | 10/100Mbps RJ-45 interface |
| Protocols: | TCP/IP, UDP/IP, HTTP, DHCP, RTSP, RTMP, MUTP |
| IP address: | Static IP address and dynamic IP address |
| Alarm Detection: | Motion detection Snapshot, audio/video record |
| Alarm linkage: | Support snapshot, audio / video |
| Alarm notification: | Real-time App push notifications |
| Power: | 1DC 12V / 2.0 A, power consumption < 7W |
| Buttons | A reset button, a WPS (WiFi Protected Setup) button |
| Network interface | One 10/100 Mbps RJ-45 self-adaptive interface |
| WiFi | External antenna |
| LED instructions | Network signal/power/network function |
| Video storage | Micro TF card (max 128 GB) storage, |
| Work temperature | 0° ~ 55°C (32°F ~ 131°F) |
| | |
| --- | --- |
| Product Feature | 5X optical zoom, LED Lights+Infrared Lights, AI human detection |
| App Feature | Snapshot, Alarm notification, Playback, Video |
| Sensor | 1/2.8" IMX335 CMOS 3516EV300 |
| Frame Rate | 5mp, 2560*1920@20fps |
| Image Adjustment | Brightness, Contrast, Saturation, Sharpness |
| Video Format | H.265 compression |
| White Balance, BLC | Automatically |
| Lens | 2.7-13.5mm |
| IR LED | 8pcs White color LEDs+Infrared IR lights |
| Motion Detection | AI Human Detection |
| Buttons | A reset button, RJ45 port, power supply button |
| Network Interface | RJ-45 port |
| WiFi | External antenna |
| Night Vision | IR Range: 40-60M |
| Audio Type | 2-way audio with noise-cancellation |
| Audio Hardware | One Microphone and one speaker |
| Alarm | Alarm detection, Human detection alarm, APP alarm notification, upload pictures and videos to the FTP server, Siren alarm |
| Storage | TF Card Max support 128G |
| Network WiFi (2.4GHz) | Wi-Fi 802.11b/g/n |
| Ethernet | 10/100Mbps |
| Protocols | TCP/IP, UDP/IP, HTTP, DHCP, RTSP, RTMP, MUTP |
| ONVIF Protocol | Support ONVIF 2.4 |
| Software Download | iOS in App Store, Android in Google Play |
| App Name | Camhipro |
| CMS | HiP2P |
| Notification | Push notification within 1-2 seconds |
| Power | 12V DC |
| Waterproof Rate | IP67 |
| Materials | Full Metal housing |
| Temperature | 0~55 °C |
| Humidity | 10-95% RH |
| | |
| --- | --- |
| Main Processor | ARM Cortex A7 Processor |
| Operating System | Embedded Linux |
| Video Input | 9CH (2592*1944, 2048*1536, 1920*1080, 1280*960, 1280*720, etc.) |
| Video Output | 1 VGA, 1 HD |
| Audio Input | / |
| Audio Output | 1 Port RCA (Linear, 1 k) |
| Audio Bit Rate | 64 Kbps |
| Audio Compression Standard | G711u, G711a, G726 |
| Alarm Input | No |
| Alarm Output | No |
| Motion Detection | 9 Channel, MD Zones: 396 (22x18) |
| Trigger Events | Recording, Email, FTP, Snapshot, Buzzer and Screen Tips |
| HD Output1 | 1920*1080/60Hz, 1280*1024/60Hz, 1280*720/60Hz, 1024*768/60Hz |
| HD Output2 | / |
| VGA | 1920*1080/60Hz, 1280*1024/60Hz, 1280*720/60Hz, 1024*768/60Hz |
| Display Split | 9CHxD1/ 8CHxD1/ 4CHxD1/ 1CHx1080P/ 1CHx3MP/ 1CHx4MP/ 1CHx5MP |
| Digital Zoom | Yes |
| OSD | Camera Title, Time, Recording, Motion Detection |
| Video Compression | H265/H264/H265+/H264+ |
| Resolution | 5MP (2592*1944), 4MP (2688*1520/2560*1440), 3MP (2048*1536), 1080p (1920*1080), 960p (1280*960), 720p (1280*720), D1 (720*576/720*480) |
| Record Rate | PAL: 5MP@9*25fps, 4MP@9x25fps, 3MP@9x25fps, 1080p@9x25fps, 960p@9*25fps, 720@9x25fps, D1@9x25fps NTSC: 5MP@9*30fps, 4MP@9x30fps, 3MP@9x30fps, 1080p@9x30fps, 960p@9*30fps, 720@9x30fps, D1@9x30fps |
| Record Mode | Manual/ Timer/ Motion Detection/ Smart Alarm |
| Local Sync Playback | 1CH 5MP@30fps, 1CH 4MP@ 30fps, 2CH 3MP@30fps, 4CH 1080P@30fps, 4CH 960P@30fps, 4CH 720P@30fps |
| Decode Capability | 4CH 1080p@30fps |
| Remote Sync Playback | Yes |
| Search Mode | All, Channel, Manual, Time, Date, Motion Detection |
| Playback Functions | Play, Pause, Stop, Rewind, Fast Play, Slow Play, Full Screen, Frame Play, Frame Rewind, Digital Zoom |
| Backup Mode | USB Device/Network |
| Interface | 1 RJ45 10M/100/1000M Adaptive Ethernet Interface |
| Incoming Bandwidth | 60MB |
| Network Functions | TCP/IP, HTTP, UPnP, DNS, NTP, SMTP, PPPoE, DHCP, FTP, DDNS, RTP, RTSP, RTCP, p2p |
| Onvif Version | Support Onvif 2.4 |
| Web Browser | IE8-11, Google Chrome (lower than Ver44), Firefox (lower than Ver53) |
| CMS Software | Support Windows 7/Windows 8/ Windows 10/MAC OS |
| Cloud Support (P2P) | Yes |
| Smart Phone | iPhone, iPad, Android, Android Pad |
| Interface Type | 1 SATA Interface |
| Capacity | Up to 8TB Capacity |
| Language | Chinese, English, Polish, Czech, Russian, Thai, Hebrew, Arabic, Bulgarian, Farisa, German, French, Portuguese, Turkish, Spanish, Italian, Hungarian, Romanian, Korean, Dutch, Greek |
| USB Interface | 2 USB 2.0 Interfaces |
| Power Supply | DC12V/2A |
| Dimension (WxDxH) | 219x217x40 (mm) |
| Weight | 2.0 kg (without HDD) |