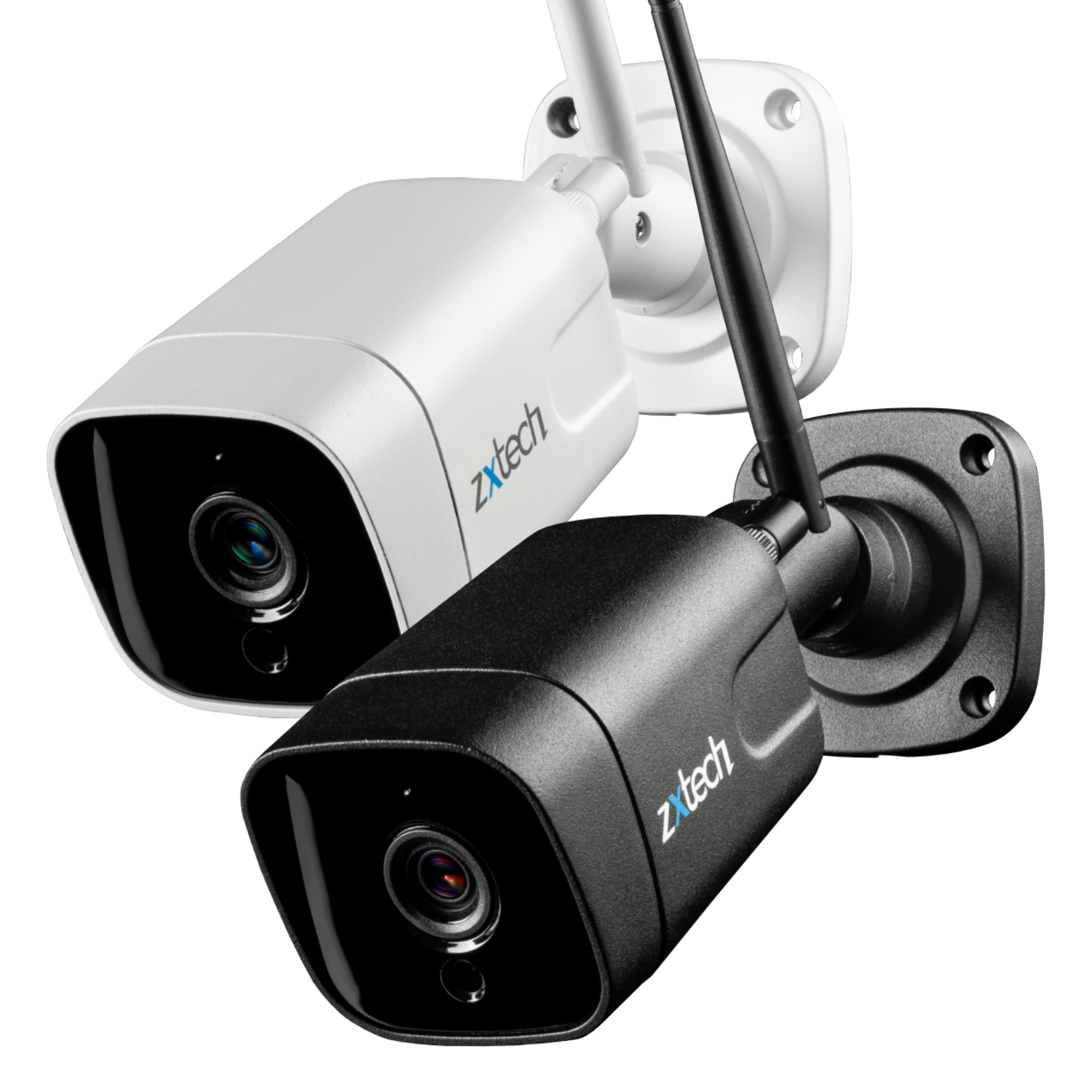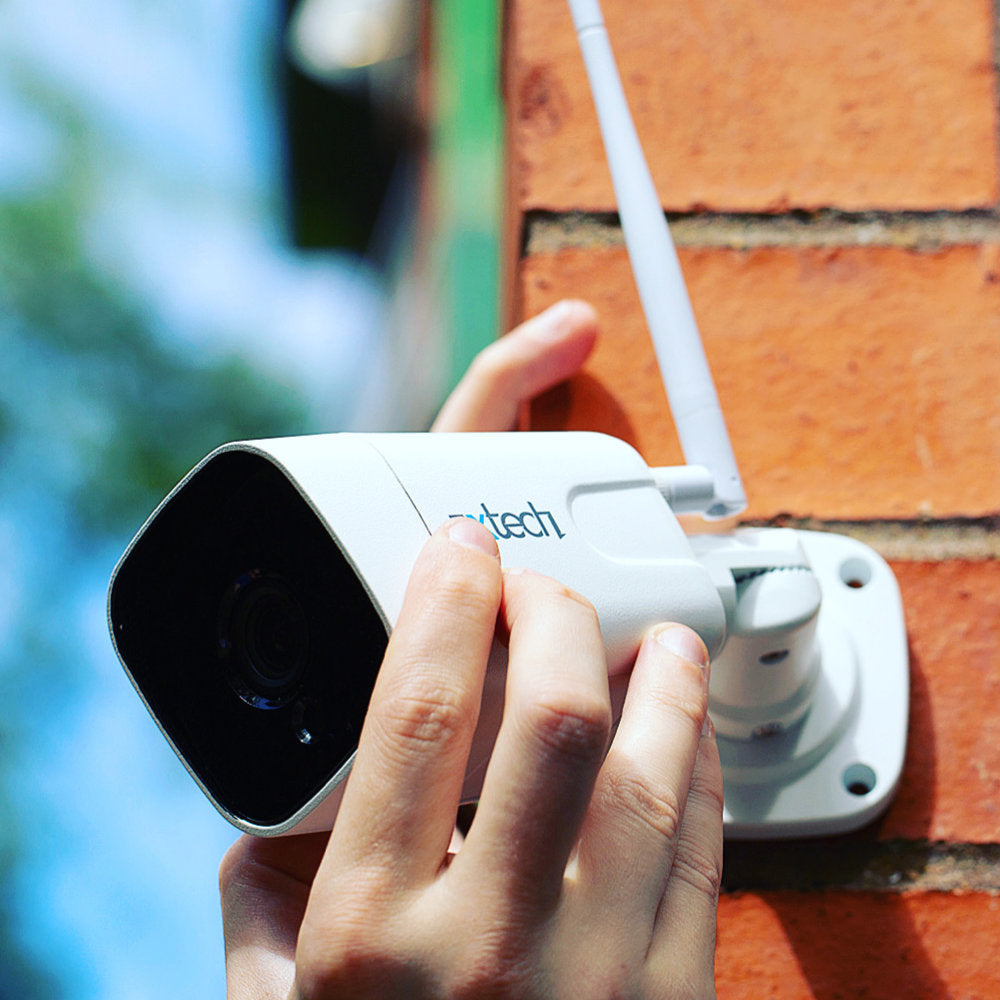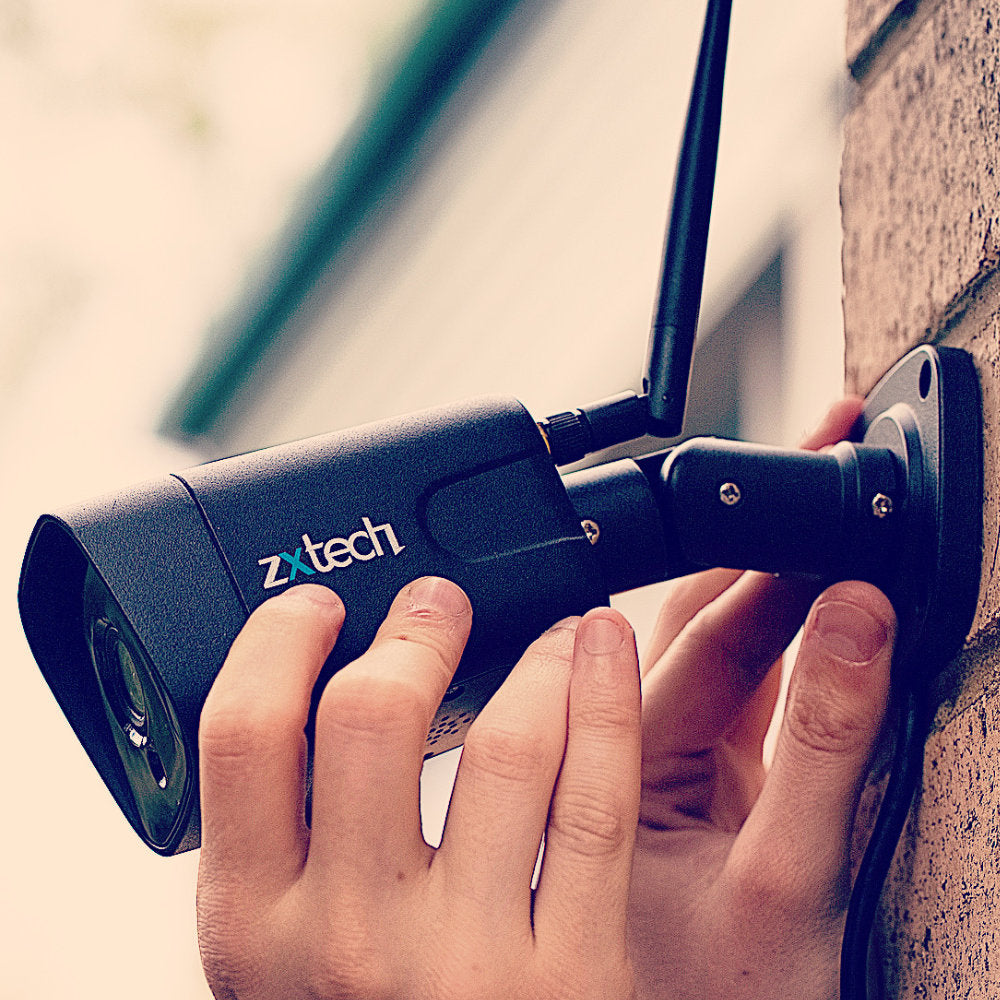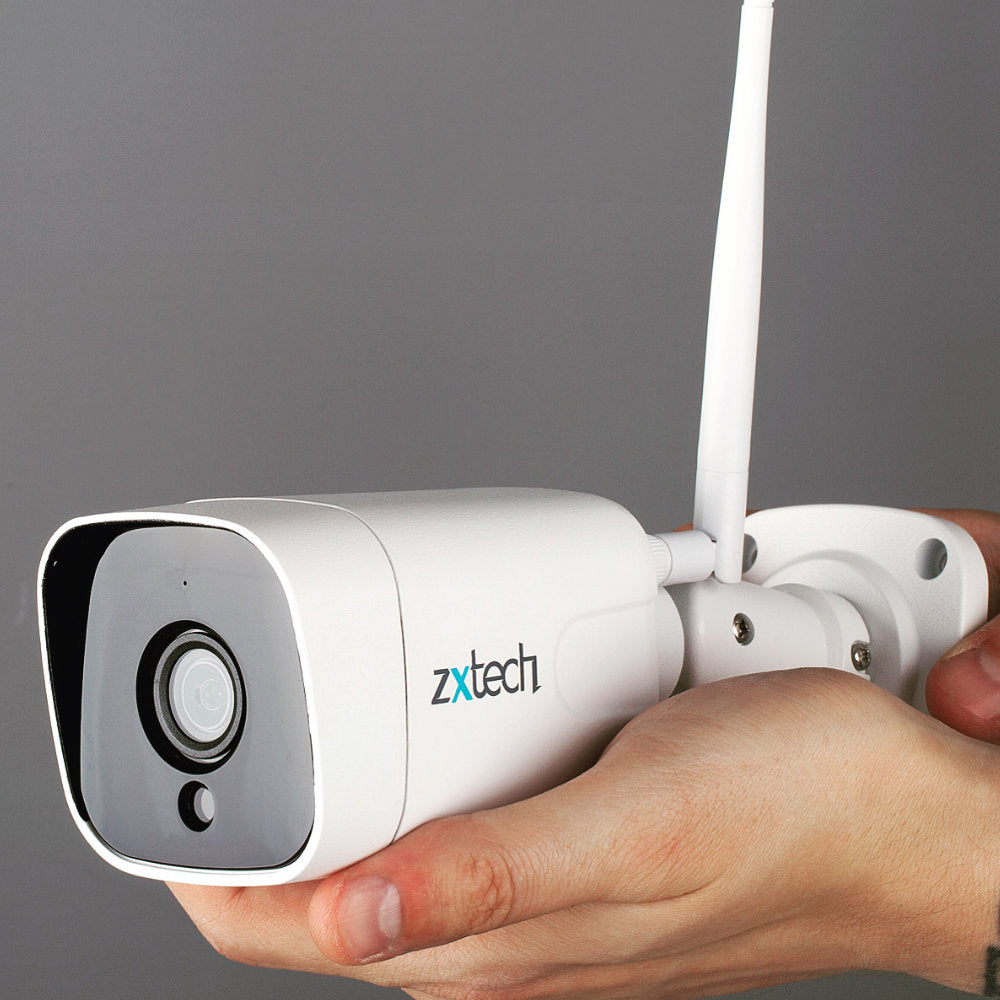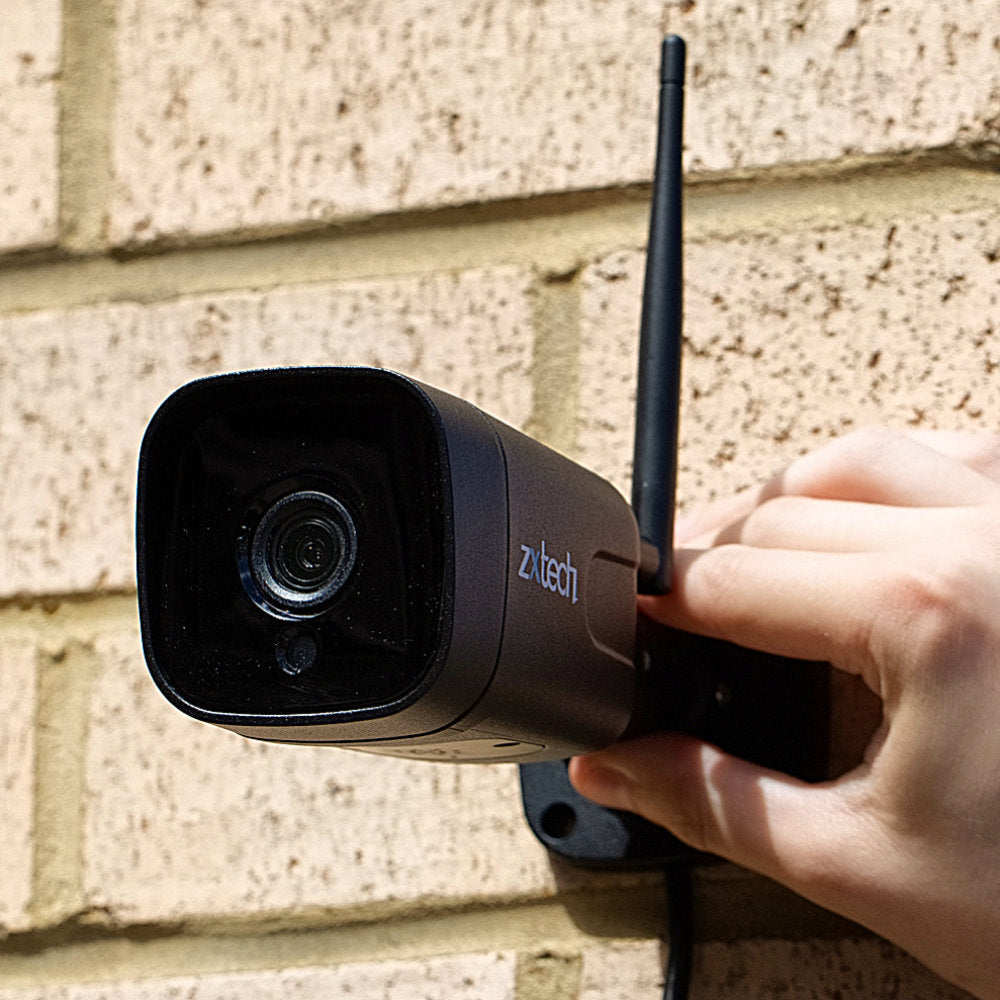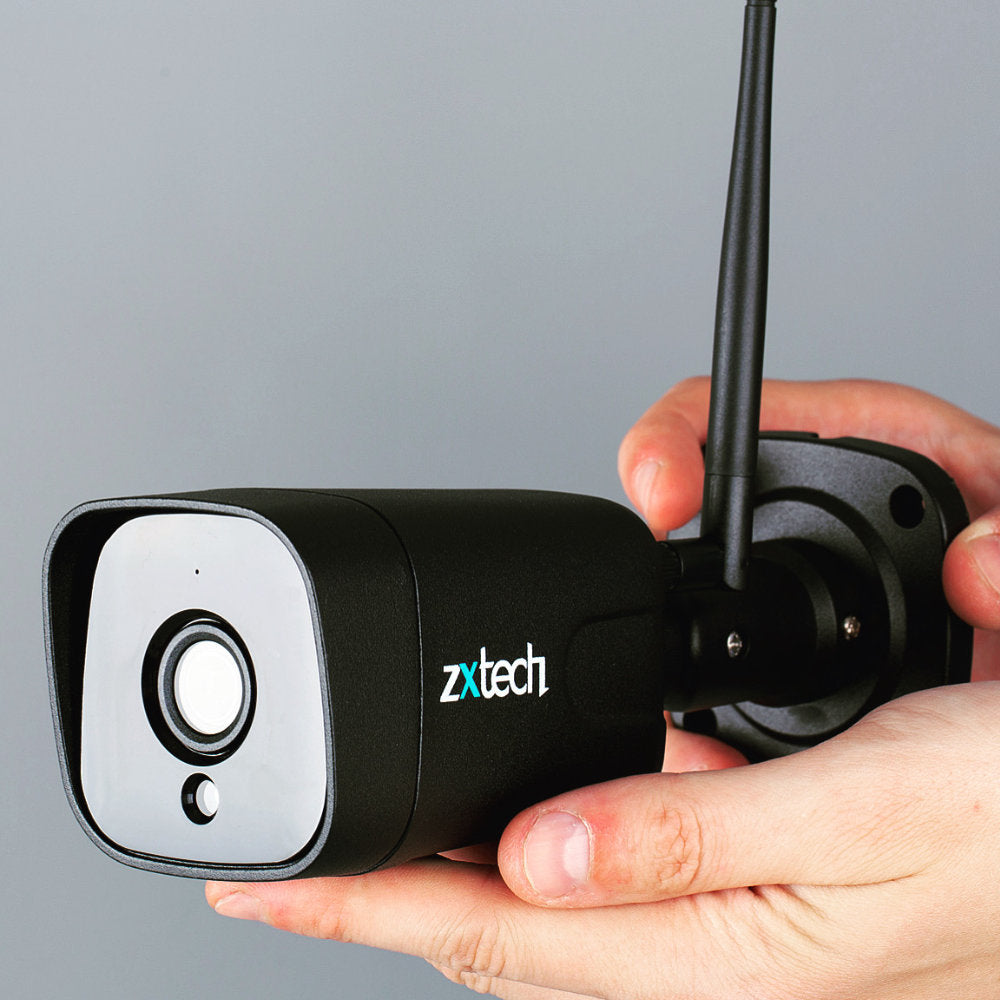 Best Wireless CCTV Camera Outdoor 5MP 30M Night Vision Motion Detection Stand Alone
SKU: MCWBW52A
---
UK next business day delivery
UK VAT invoices included
30 days hassle free returns
12 month warranty
In stock, ready to ship
5 Megapixel Wireless CCTV Camera Zxtech Tropox comes with a high-performance SONY Starvis Sensor. High Definition 5.0MP for 2.5x clearer image than 1080p, Built-in Mic and Speaker for 2 way audio, Wifi Wireless Built-in connection, Great night vision, Support TF card up to 128GB storage, echo cancellation, noise suppression, comfort noise, silence suppression. Wide Angle with 3.6mm.
Features
High Definition 5.0MP, clear image
Built-in Mic and Speaker for 2 way audio
Wifi Wireless Built-in connection
Support Android, iOS mobile devices, remote real-time monitoring
Motion detection, real-time app push notifications
Great night vision
Support TF card up to 128GB storage
Support QR login
P2P technology, plug and play, no settings
Support two-way audio, telecommunication level of signal processing (echo cancellation, noise suppression, comfort noise, silence suppression)
Super Wide Angle with 3.6mm 

What's in the box
1x Zxtech 5MP Wifi CCTV Camera Outdoor UK Stock
Wall mounting screws, Antenna, Network Cable
Connector Protection Accessories
QSG
Power Supply Unit included (This is not a battery-powered camera)
Best Wireless CCTV Camera Outdoor 5MP 3.6mm 30M Night Vision Motion Detection Stand Alone Security Equipment
With a small budget, you buy and install one of the best wireless CCTV cameras outdoor or indoors. This outdoor CCTV camera is a great option for those who want to stand alone Wireless CCTV System for Home. The unit eliminates the need for a recorder as it has a built-in external SD slot. Hassle-free SD card installation. Wifi outdoor CCTV camera is easy to set up and can be installed anywhere as long as you have access to power nearby. The camera also has an additional audio cable and a reset button.
Human Body Detection and Highlighting
Different from face detection, human body detection cleverly notices the human body and highlights the moving body. Nothing much to say: It just works.
Wifi CCTV Camera Outdoor UK Stock
Pre-order our 5MP Series Wifi CCTV Camera Outdoor UK Stock it cannot be more affordable. The Zxtech 5MP Camera does not need cables to transmit the data.
The Wifi range can reach up to 300M if no obstacles such as walls, doors, windows and makes it the best Wireless CCTV Camera Outdoor & Indoor. Place your new 5MP Camera anywhere there is a Wifi Signal. As long as you have a power source and a Wifi signal nearby, your wireless camera will serve you well.
Remote Viewing - Wireless CCTV Camera Outdoor
Zxtech 5MP Series Camera work on all relevant computer and mobile devices. This includes PC, MAC, iPhone and Android devices. It is an easy and quick setup, allowing you to be proactive in viewing your CCTV footage in real-time anywhere, anytime. Zxtech Cameras casings are created with intense care. Our Wireless CCTV Camera Outdoor is strong, seamless, tough and highly polished. This gives the inner components long-lasting protection against vandalism and British weather. Our precision leaves no imperfection.
Wifi CCTV System UK with Wide Angle
The new 5MP Series Wifi CCTV System UK will give you a Wide Angle with Expanded Degree View. The lenses can create a great viewing angle that is enough for rooms, offices, gardens, vehicles, alleyways, standard ceilings. A great solution for domestic and small business use.
Zxtech strongly believes in a wireless future. That is why we embedded the special 5MP Sony Chipset in the best Wireless CCTV camera Outdoor or Indoor. We are committed to cut the cord on our future devices and make the setup and installation as simple as possible. Recorder footage to NVR, XVR, NAS, VMS and Web through Wireless Network.
The Best Outdoor Security Cameras UK
We don't use the word best easily. Comes with 2 Way Audio, 5 Megapixel Resolution, Outdoor IP67 Waterproof housing, SD card compatibility, This is easily the best outdoor security camera UK has seen.
Powerful backend software for the 5MP Series Wifi CCTV Camera Outdoor UK provides universal compatibility with common routers and modems such as Cisco, D-link, BT, Virgin, Netgear, TP-Link and more. This means your wireless CCTV camera outdoor can work stand alone without any additional special equipment.
5 Megapixel a.k.a 5MP has in total 5 million pixels. It is a double step-up version of the Full High Definition standard that is used in super-premium TVs. It is nearly 5.4x sharper and clearer than the traditional HD concept and 2.4x sharper than Full HD.
Wireless Security Cameras Outdoor UK
Zxtech 5 MP Wireless CCTV Camera Outdoor has fixed 3.6mm Lens for Brighter and Clearer Image. Easy Installation, instant sharpness. Fixed lens kick starts your installation with instant sharp vision. The popular 3.6mm lenses make your camera hassle-free to install. Fixed lenses have a less light loss, it creates better colour and brighter picture.
Zxtech 5 MP Wireless Security Cameras Outdoor UK version has equipped with wider angle lens.
Wifi CCTV System UK can make invisible, visible
The Wifi CCTV System UK including the new 5MP Series camera has a great 30 Metre Night Vision Enabled. Zxtech Infrared technology gives your camera brilliant night vision. Whilst infrared light is invisible to human eyes, the camera can see it clearly. Even when it is near-pitch-black, your camera can still see what is going on. Even perfect for long gardens.
The Zxtech team is involved in every part of the product development. From blueprint, 2D conception, 3D rendering and mould creation. We make sure our badge is printed on a product which we are proud to sell and proud to show our friends and family. We want our Wifi CCTV Camera Outdoor UK not only to be aesthetically pleasing but also functional, flexible and future-proof.
British weather is unpredictable. Outdoor Wifi CCTV Systems have tightly sealed bodies for even the toughest weather. Having a properly sealed camera housing is vital to prevent water damage. We have invested in developing a waterproof structure that has an IP67 rating. Install your camera indoor or outdoor, exposed to the elements with peace of mind.
Greater Colour with IR Cut Technology
Infrared Filter Enhances the Vibrance of your CCTV Footage. Extra IR- Cut Filter Removable a.k.a an ICR uses a mechanical shutter. It is controlled by a dedicated motor. In daylight, it automatically switches on to block infrared light allowing only natural light to pass through creating beautiful natural footage. At night time, the ICR switches off to allow infrared light to fall on the sensor, creating a sharp and crispy night vision image.
Wifi CCTV Camera Outdoor UK - Zxtech Next-Generation Chip with Sony Processor
By working with great chipset partners, the Zxtech chipset turbocharges your CCTV setup. A good chipset removes the bottleneck of your Wifi CCTV System UK allowing your camera to achieve its maximum potential. We only use the most appropriate chipset to be the brain of your cameras.
Outdoor CCTV Camera - Zxtech 5MP Compact Bullet Wireless security camera
Many people are worried to use their cameras outside. Not with this masterpiece. Elegant design, compact shape, IP67 rated for toughest weather. This camera is great for your conservatory, garden or patio.
2-Way Audio
Benefit from Built-in Mic and Speaker. Have a conversation with the person when they approach your camera. Convert your one-way monitor system into a 2-way communication tool. Great for friends. Awesome for Postman. Speak and listen. Record, play and speak with an inbuilt speaker and microphone.
Camera

Image Sensor
1/2.7'' Colour CMOS sensor Sony Starvis IMX335 +Huawei Hisilicon
Resolution
5MP 2560x1920
Lens

Focus Length
Broad lens 3.6mm F2.0
Focus Control
Fixed
Lens Type
Fixed
Minimum Illumination
0.5Lux
Audio

Input/Output
Two-way (built-in microphone and speaker)
Audio compression
AAC (Advanced Audio Coding)
Video

Video Compression
H.264/H.265
Lighting frequency
50Hz, 60Hz
Image resolution
HD 5.0MP (2560x1920)
Image adjustment
Brightness, Contrast, Saturation, Sharpness
White balance, BLC
Automatically
Night Vision
10pcs SMD Array infrared LEDs, IR distance, 30 metres
Internet

Wireless Networks
WiFi(IEEE802.11b/g/n), External antenna
Ethernet
10/100Mbps RJ-45 interface
Protocols
TCP/IP, UDP/IP, HTTP, DHCP, RTSP, RTMP, MUTP
IP Address
Static and Dynamic IP Adress
Alarm

Alarm Detection
Motion Detection Snapshot, audio/video record
Alarm Linkage
Support Snapshot, audio/video
Alarm notification
Real-time App push notification
Interface

Power
12V DC/ 1Amp
Buttons
Reset button, a WPS (WIFI Protected Setup) button
Network Interface
1x 10/100 Mbps RJ-45 self-adaptive interface
Wifi
External Antenna
Video Storage
Micro TF card (up to 128GB)